Legendary Member
RPF PREMIUM MEMBER
Anakin Starkiller Darth Maul EP1 Tutorial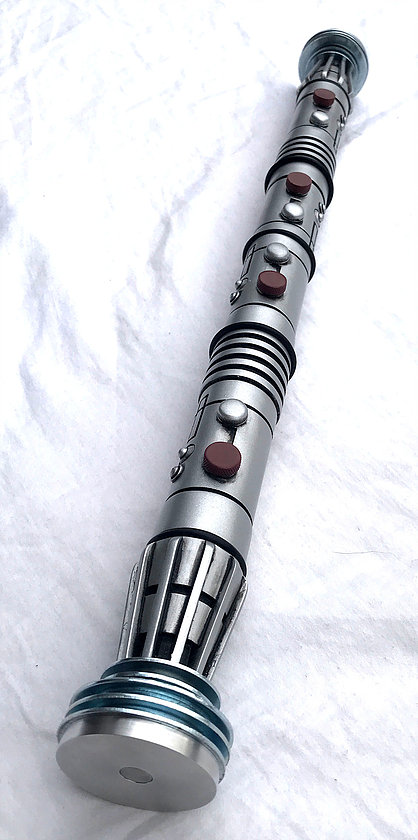 Video
Anakin Starkiller Darth Maul TPM Lightsaber
___Parts Needed___

3/8-16 threaded rod (little over 20" long)
Nylon washer (lowes
H#881539
)
x2 3/8-16 nuts (used as a guide to cut the rod)
__Tools
_
__
Hack saw
Sand paper (to de burr edge)
Old shoe lace ( to pull the O rings over the hilt)
__Weathering
_
__
Chemical Aging
​
Ok gang! so this is long over due, but here goes nothing! First lets spread out our parts and get that 3/8-16 Thread rod ready to cut.
Next get the Ol' Tape measure out and mark it at 20-1/4" or 20-1/2" i ended up going 20-1/4", but wouldn't recommend going any longer then 20-1/2'!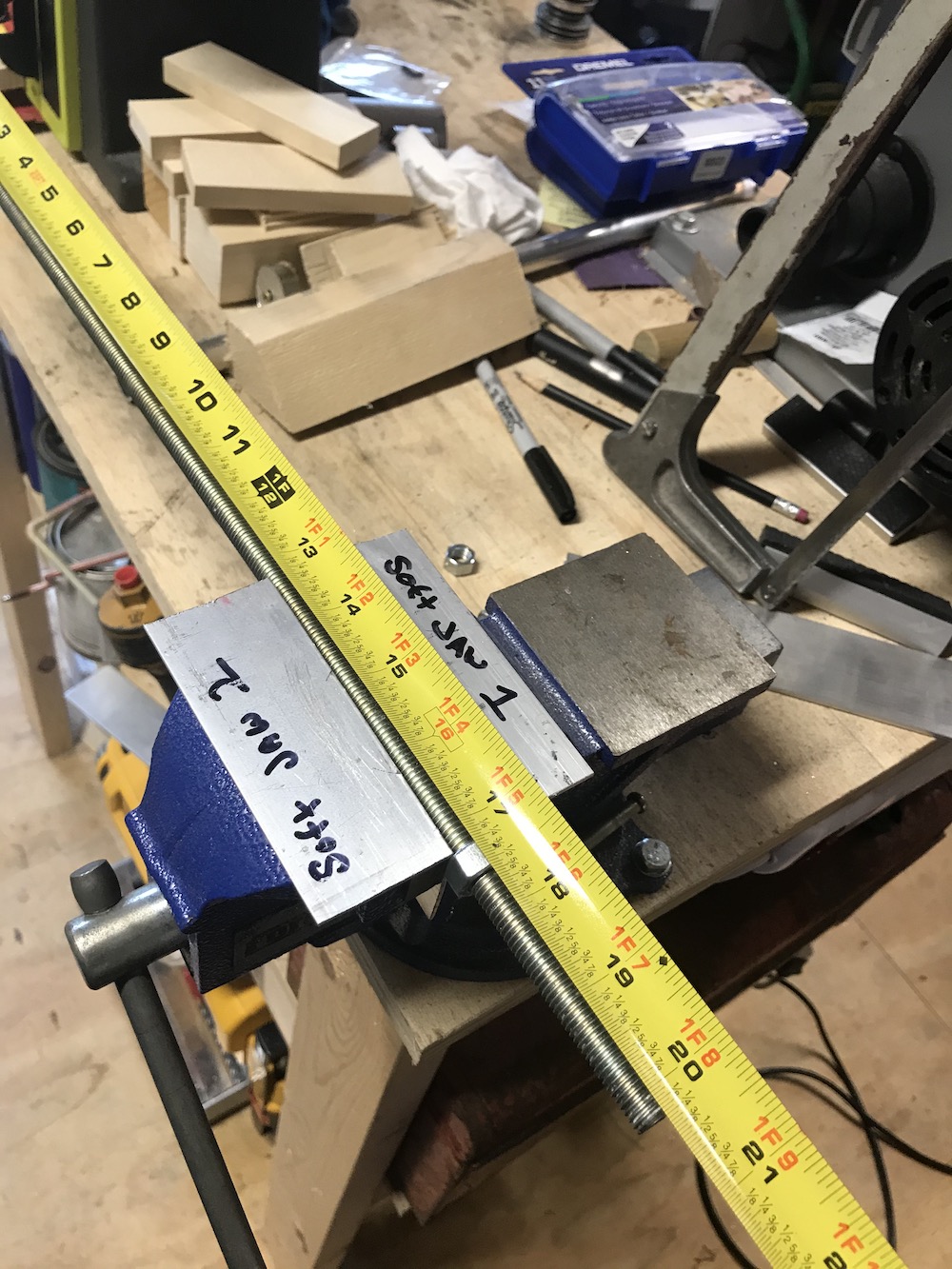 Next thread those x2 3/8-16 nuts we picked up before onto the edge of the rod, and leave the black line we just marked out so we can cut it off. we are going to use the nuts as a guide to help cut the rod.
after you are done cutting, unthread the nut(s). this actually helped re thread it a little bit, and then lightly brush the end with some 120 sand paper and you should be able to thread the nut back on with ease. MAKE SURE to test this with the nut first, you can easily ruin your emitter end cap if its not clean enough. just light sanding until you get it to thread on.
Ok so now all we have to do is assemble it! there is a certain order to the washers and I explain this better in the video, but here is a photo of them spread out, and numbered on the order. again this is easier to understand in the video
but from the emitter back, or like in the picture below, Emitter to the left the order goes
1Large, 2 Medium, 1 Large, 2 Medium, 1 Large, 1 Medium, 1Small, 1 Medium, 1 Small, 1 Medium, 1 Small, 1 Medium
They should now look like this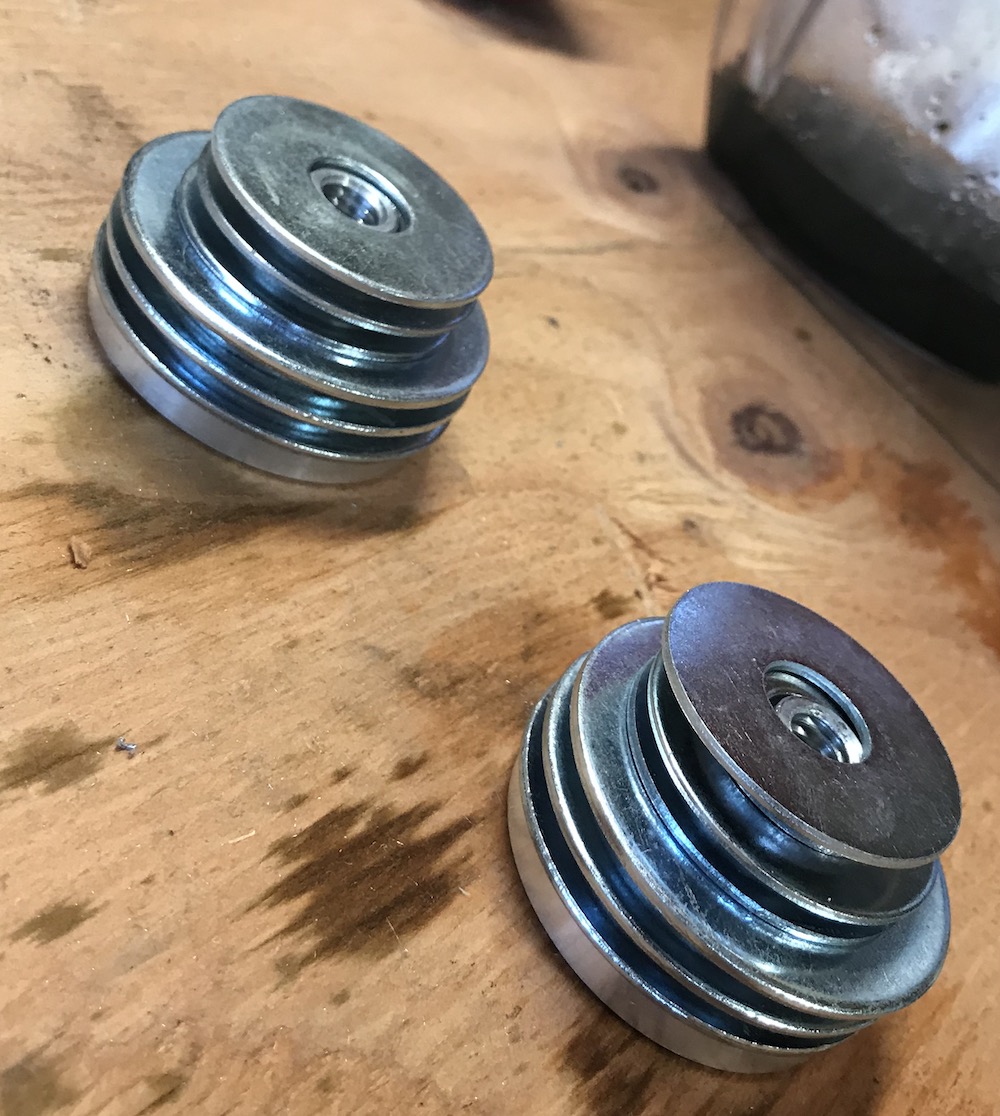 Next we have to install the O-Rings, in the video i do with with fishing line, but if you have a shoe string or ribbon it goes pretty easy.
If you watch the video its pretty simple, there is 5 O-rings, and there locations can be found here.
Now just thread the ends on, leaving enough room on the another end of the other emitter.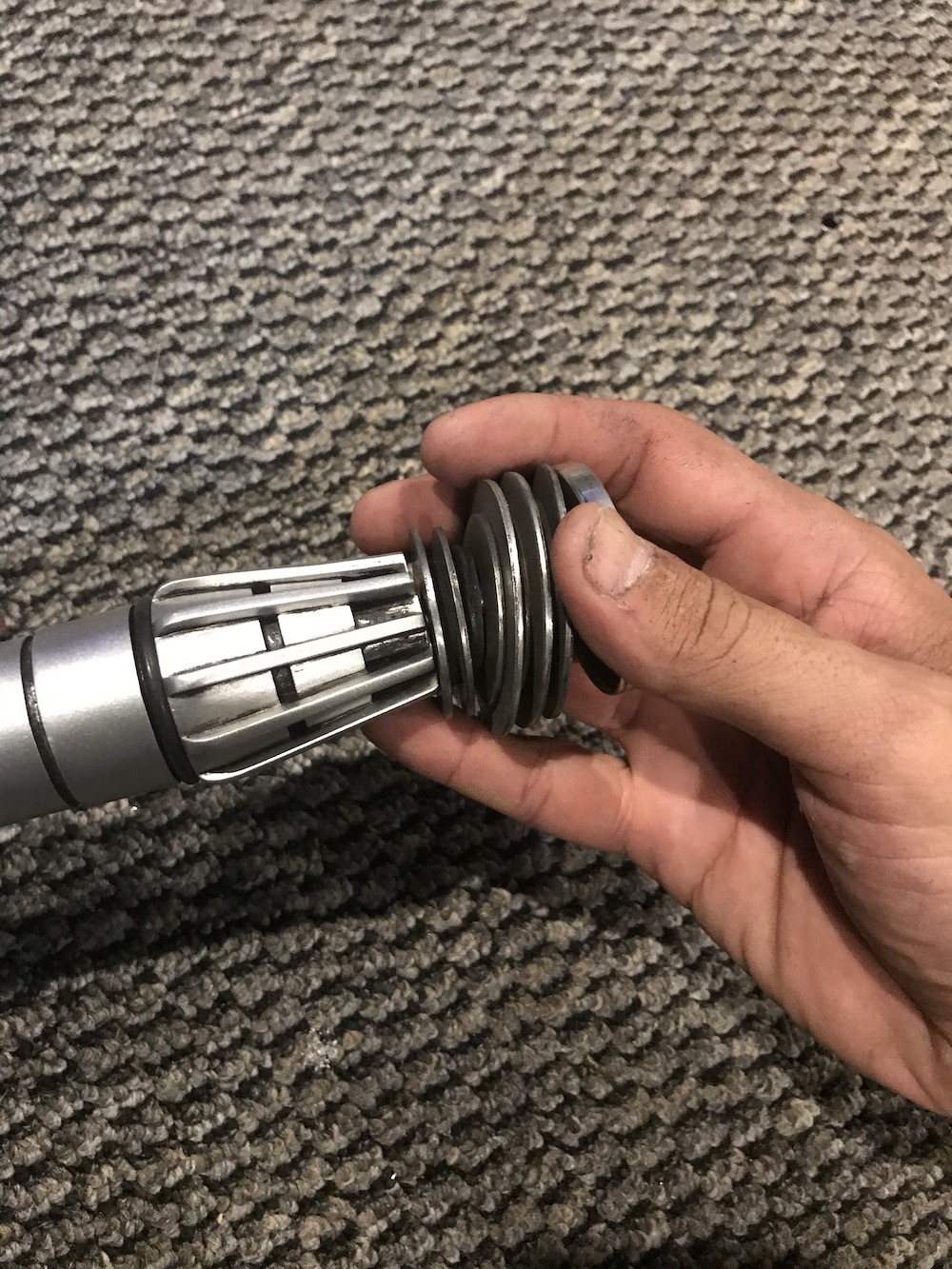 You Should now have a completed Darth Maul Double Bladed light saber!! Congratulations!!!

​
5-1-19
hey gang. I wanted to start this thread alittle early. I have yet to finish my written tutorial but the video is up
Until then here is some great reference of the original prop
I hope everyone will share their finished Maul sabers here, and share how and what you did for weathering
I got a covertec clip coming in the mail. Once I get it I can finish the written tutorial but until then we got a video of this tall boring guy blabber around while his 44lb beagle barks upstairs...
THIS THREAD IS A WORK IN PROGRESS
Last edited: