Well-Known Member
RPF PREMIUM MEMBER
Hello all, been on the backburner for awhile but it now looks like this project of mine will be moving forward. had some good resources here on the Replica Prop Forum notably
http://www.therpf.com/f9/terminator-story-45-longslide-laser-sighting-81684/
did try to purchase this on a firearm auction site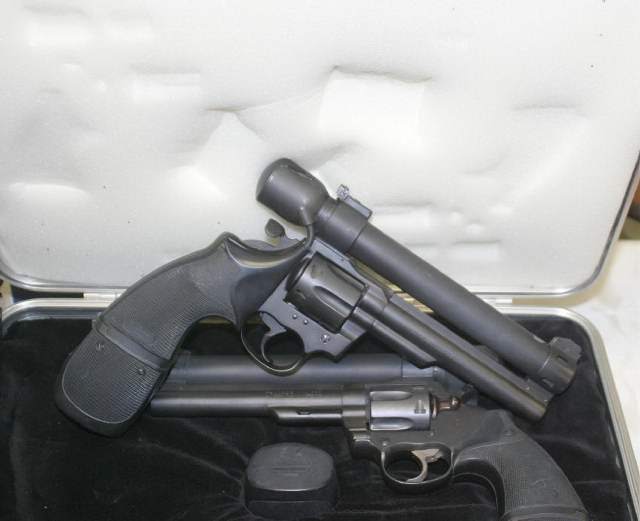 Wanted to split this purchase but did not pan out. I believe this Laser Products Corp. model 7 laser tube was used for the Longslide version, will need to have someone build a copy. I dont think it will have the wire "Nub" protrusion on the rear bell that can be seen in the film closeup of the gun during the "Alamo gunshop scene"
So my hunt turned to finding the base for the gun. and I did manage to find an aluminum conversion kit for the WA longslide GBB . I have since gotten some parts added but need to find a suitable Hardballer trigger. as the one that was found is not accurate.
I will post pics when the gun is prepped, although I am afraid that it will not fire BBs. it will reside on my wall to be admired:love
the gun below is not mine but the Original gun I post it here to give you some reference to compare
against the grip mount I found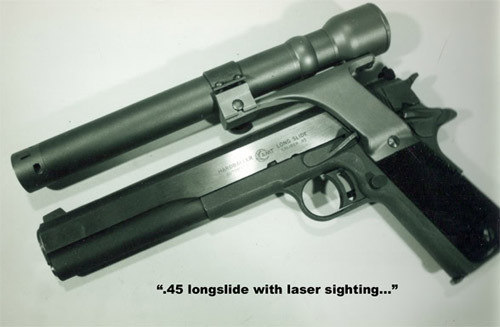 as for the scope mount that fits to the grip base screws, I had always thought that they were custom made.
I have recently just won a set off of Evilbay and I cannot wait to begin filing off that "NPC" and shining the piece. I also need some thoughts on whether or not to cut off the rear portion as seen in the "Hero" closeup or leave it be as the practical version. any thought? I will post progress pics this time around
Last edited: