I've decided to try my hand at a new project idea which came to me yesterday, a 1:4 scale wolf from 'An American Werewolf in London'.
I want this to be a 'mixed media' kind of deal, mostly resin but with real fur hand layed onto the body.
I started with making a basic armature and am currently building up the body: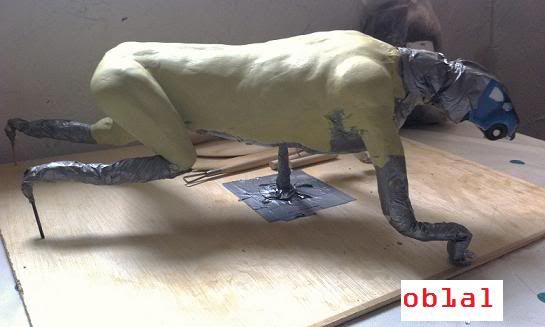 There is still a way to go until the muscles and proportions are correct to the screen used wolf puppet.
Once the body is finished, I'll be sculpting the paws and head seperately and casting them in resin.
At 1:4 scale, this is already looking
big
. I'm hoping it will make a nice display piece for my collection.
Ignore the temporary head - it's an egg cup shaped like a car which just happens to be the right size, looks a bit like a transformer-wolf at the moment.:lol It's just to help out with the body proportions as I sculpt.