Visor Tint and Mirror Tests
Hello everyone,
I have read through a few threads here on tinting and mirror visors. I have also researched this topic on a few other forums and I thought I would do some test and share the results with you all. I decided to do this test because of how unsatisfied I am with my mirrored green tint visor for my Mandalorian build. The full build can be found here:
https://www.therpf.com/showthread.php?t=278366
So for my visor I used this clear safety face shield from lowes, it cost around $15.00 For the test I used a similar face shied from Harbor Freight that cost just over $3.00.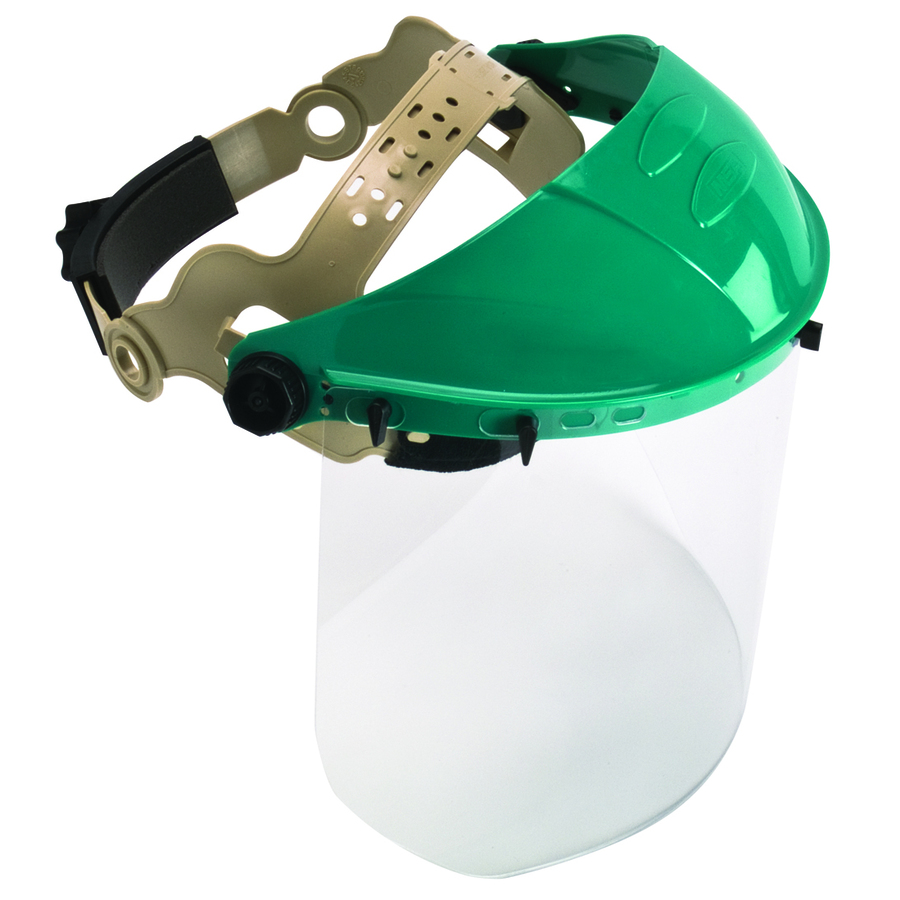 Once I cut the face shield to fit inside my helmet, I applied a green mirrored window tint. The tint I used was this:
https://www.amazon.com/gp/product/B01D3J4JGA/ref=oh_aui_detailpage_o00_s00?ie=UTF8&psc=1
So this seems to be the most common method used for these type of visors; however, I ran into some issues and I wanted to see if there was a better solution. I am aware that a lot of the Halo cos play visors are tinted with mirrored paint so that is where I am looking to test.
The issues with the window tint option are:
1. If the visor is bent to insert it inside the helmet or fit over bolts, the tint has a propensity to delaminate from the visor plastic.
2. Removing all the bubbles from the tint is really hard (for me at least)
After three failed attempts at mounting a visor that looked good, I ended up applying the tint once the visor was installed inside the helmet. I was able to achieve a somewhat successful outcome with this method but I was not fully happy with it, hence this test.
Here is a picture of the window tint visor in my helmet.
And here is how it looks from inside the helmet.
And this is the visor out of the helmet.
And here you can cee the bubbles and delaminated areas.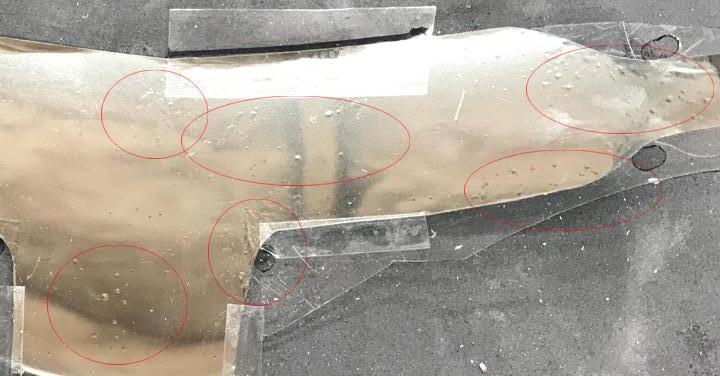 So, for this test I will evaluate three mirror paint products. Krylon Looking Glass Silver, Rust-Oleum Mirror Effect, and Spaz Stix Ultimate Mirror Chrome. I am sure there are other options out there and from what I understand, Alclad is the same thing as Spaz Stix. I used the spray paint version of Spaz Stix because I did not want to clean my air brush. I have the airbrush paint as well and it's the same thing. There are a ton of videos of these products on youtube. All of these products are designed to be painted on the back side of a transparent substrate and they will produce a mirrored look to the other side of the substrate. Both the Krylon and Rust-Oleum products seem to work well on glass but how do they work on plastics? I also wanted to experiment with some transparent paints to tint the visor so I also tested Testors Transparent Green Enamel (1601T), Tamiya Transparent Green Polycarb Spray (PS-44), and Krylon Stained Glass (Summer Green).
I will be testing all these products on a variety of plastics that may be used for visors in various cos play projects. Standard Plexiglass, Safety Face shield plastic, Duraplex, Plakolite (with one non-glare side), and Styrene.
So for these tests, I wanted to first establish what products worked on what plastics so I applied each product according to the directions. This means that they all were fairly thick and non-transparent just to see which products produced a mirror type effect. Also, for the Spaz Stix, I used a black backer paint as directed by the instructions. I only painted the black backer on about ½ of each sample, that area is marked by the arrow and dotted line on each Spaz Stix sample.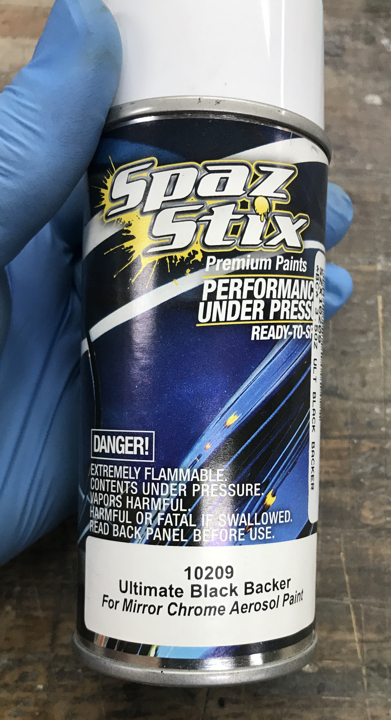 Ok so first up was the plexiglass. I used some boxes with text and color on them to judge the reflectivity of the paint. Here you can see that Rust-Oleum was only somewhat reflective and very dull. Kind of like a stainless Steel or brushed steel look. The Kyrlon was a bit more reflective like a shiny steel look. The Spaz Stix was very reflective and clear.
Next up is the face shield plastic. On this medium, the Rust-Oleum failed to produce a reflective look. The Krylon was only barely reflective; however, the Spaz Stix was once again a mirror finish.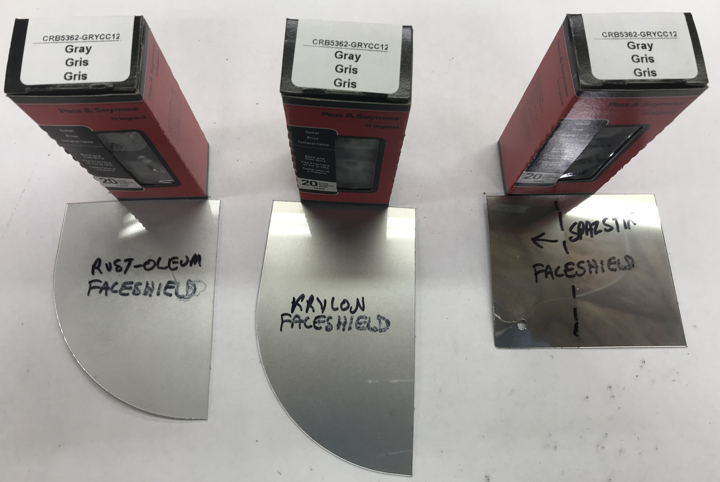 Next was the Styrene, on this medium, both Rust-Oleum and Krylon failed to produce even a semi-reflective finish. The Spaz Stix, continued to produce a mirror on everything I threw at it.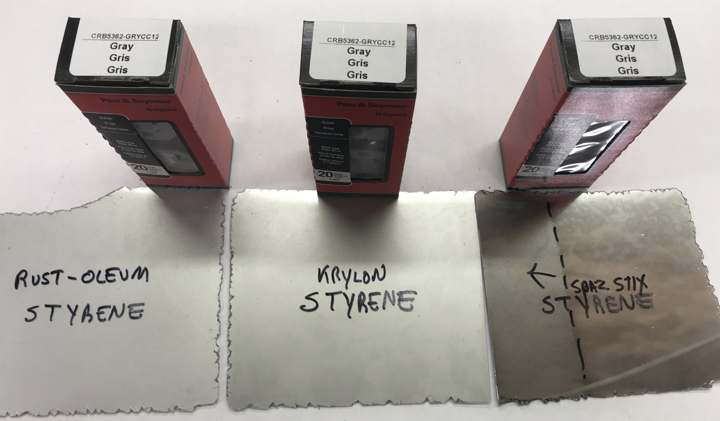 Next was the Plaskolite non-glare polystyrene. On this medium, like the styrene both the Rust-Oleum and Krylon failed to produce a reflective finish. The Spaz Stix only produced a very dull reflective finish, this may have been the results of the non-glare properties of the Plaskolite.
Lastly, on the Duraplex Acrylic, all three products produced a reflective finish. The Rust-Oleum was a dull mirror finish. The Krylon was a v3ery clear mirror finish but not quite perfect. The Spaz Stix was flawless.
So what I learned was that the best plastic medium for the Chrome paints was Acrylic and of the three paints tested, the Spaz Stix performed the best and the Krylon was a close second.
Pricewise, all three of these small cans of paint cost about $11.00-$12.00 each. Both the Rust-Oleum and Krylon are 6oz. and the Spaz Stix is a 3.5oz.
Availability, All can be ordered online and Amazon sells them all as well. Locally, I found the Rust-Oleum at Home Depot, but I had to hit three different locations to find one that had it. I found the Kyrlon at Michaels and Hobby Lobby, and I found the Spaz Stix at a local hobby store and at Hobby Town USA.
More to come