Hello, everyone. I just wanted to share a project I'm working on for my daughter. Both of my girls have been recently introduced to the original 80's TMNT cartoon series. I guess you could say I've been re-introduced as well. Man, it's been a long time! After starting with season 1 for the first few days I couldn't get that freakin' theme song out of my head!
So one of my girls is a little more on the action/fighter side than the other and she quickly became fond of the turtles, especially Raphael. Or "Ralpheon" as she calls him. (Theres a boy in her Pre-K class named Ralpheon. Maybe his parents are fans of the series? I dunno) It's funny because Raphael and my little girl almost have the same personality... "He's cool but rude, dad!" :confused
So being like every kid who has ever watched TMNT before her. After the show was over she and her sister would pretend ninja turtle fight! Not each other though. Pretend foot soldiers, I'm guessing. One is "Ralpheon" and the other is Leo. Being the father who has no son and would love to relive my childhood fantasies through them. I came up with the idea to create TMNT costumes for my daughters! :thumbsup
One said yes the other said not interested, "I want to be a princess...". I'm hoping that once the "Ralpheon" costume is done she will be easily convinced she needs a Leo costume. I've already bought blue fabric just in case.
So being a new member to the RPF I wanted to share a small, inaccurate costume job I'm working on for my daughter(s). I've been a member since last year and really haven't shared much and I wanted to contribute something to the great site here. Just to show that I'm not only a silent gawker of other peoples work, but I'm trying to use methods I have learned here at the RPF.
Thanks for reading and here are some pictures. Basically I only have the shell finished but I have the torso cut and sealed. I need to work on the belt and mask.
Basic Harbor Freight foam mats cut and shaped with a heat gun.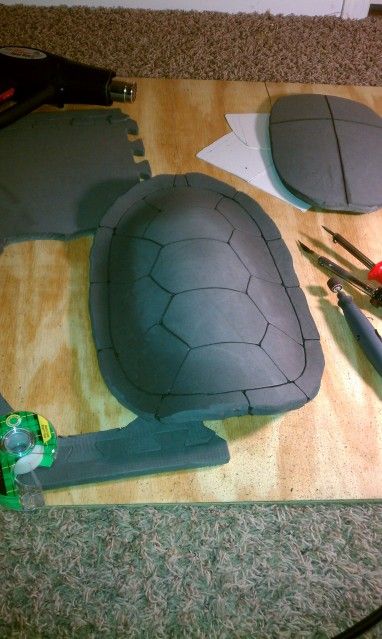 Checking scale
Sealed with some glue sealer, painted with acrylics from Micheal's then sealed again with gloss glue sealer.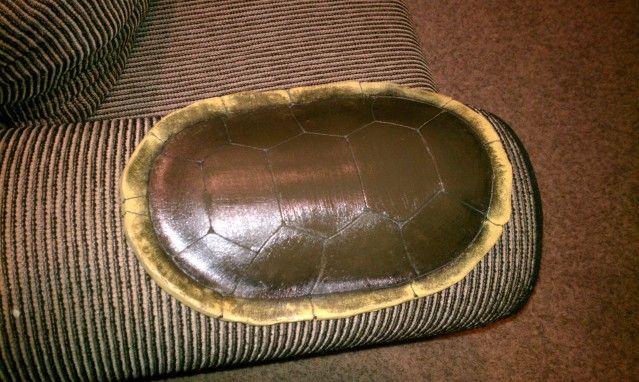 I will post some pics as I get the rest done. Also I should mention I won't be making a foam muscle suit for her, LoL! No turtle head mask either... just a simple costume. :thumbsup