Hey guys! I noticed a lot of Red Hood builds here, so a few months ago I started this Red X build. This is my first time attempting to build props and a costume like this so I learned a lot in the process and reading various threads on the boards. Having finished it, there are plenty of things I would do differently, but I enjoyed the results regardless.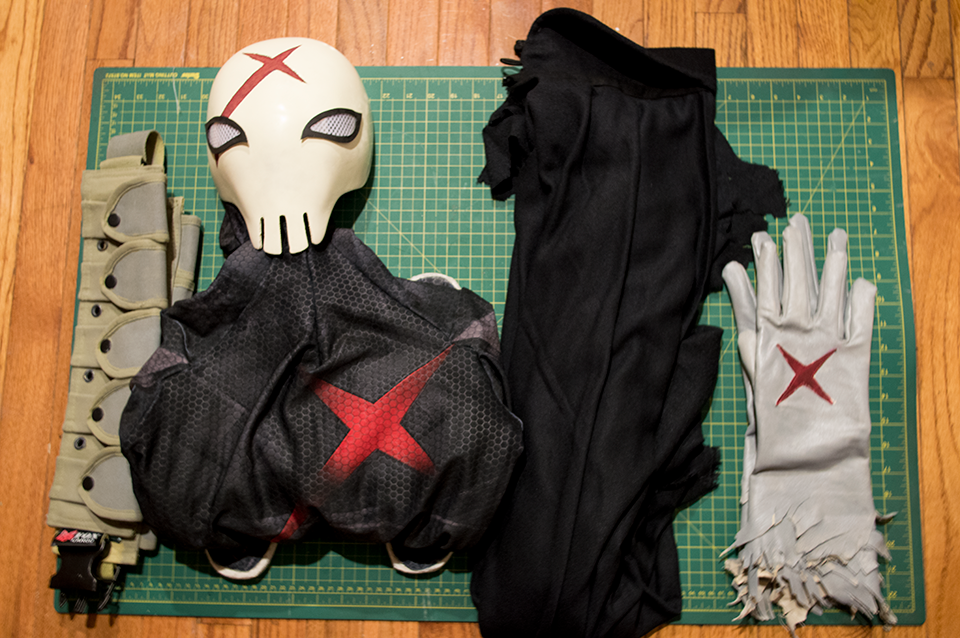 FACE MASK

Process Pics
I knew I had to get something to fit my huge dome appropriately, so I asked
i.mark from
Treatstock
to make a model so I could 3D print it.
Link
I spent hours sanding it down and trying to smooth it out with bondo. When it came to painting it though, I kept messing it up whenever I would go to fix some dents and craters on the mask. This led to me going through multiple cycles of bondo, sanding and spray paint. I eventually got to a point where I gave up. (and ran out of spray paint, lol)
I carved the lens frames out of plastic sheets and heated them up to curve to the mask. I used an old soda bottle and some mesh fabric from a laundry basket for the lens themselves.
CAPE

The cape is just a half circle I cut from some fabric I had laying around. Got a collar added to help hold it together with rope.
SUIT

Inspiration
Sub Dye Pattern
I went to the RPC Studio to get the suit done. I knew this part was beyond me and wanted a professional touch. I contacted Orhadar to design the suit for me based on the animated design from Teen Titans with some flavors of Nightwing from Young Justice and The Batman Beyond Skin from the Arkham City video game. I was very pleased with the results. I snipped off the kungfu slipper soles and attached them to the the suit with a glue gun. The mask part of the suit was detachable so I glued the fabric along the rim of the facemask with Spirit Gum. Worked wonderfully.
GLOVES


Most store-bought gloves never fit my hands, so I thought to make a pair of leather gloves would be a great idea.
Wrong
. Making a proper pair of gloves is difficult, lol. I spent a week and some change researching and trying to make sense of the different patterns and technique. I ended up with this
very easy glove pattern.
Even after making multiple prototypes, I still ran into issues when the final leather glove came together. It burst at the seams on both gloves at the ball of my thumbs. Patched them up though. I ended up ruining them even further imo trying to color them with a mixture of Angelus "Leather Dye" and their Fabric additive. (It looks like normal acrylic paint. I didn't notice much of a difference, really") They were still flexible as before, but they dried really sticky, even after wiping them down with soapy water. I used the remaining scraps to make the torn layers you see in the photo.

BELT


It was crunch time and I needed this done before Halloween weekend. So I got this
cheap tactical belt
from Amazon and used the same paint for the gloves on the belt. The paint actually performed better here *shrugs*.
Critiques,questions and suggestions are very welcome. I eventually want to redo this build in the future much better. Fit pics will come soon
Last edited by a moderator: