Master Member
RPF PREMIUM MEMBER
Teecrooz's Prop Thread
This thread was initially about my Obi builds but has expanded. Now this is my general collection update thread, mainly Star Wars with other random updates as I feel like posting them.
Original post:
I've had various versions of Obi-Wan's lightsaber over the years. I started with an Icons, which I traded away quite some time ago.
After that, I purchased the MR. It is still one of my favorite pieces in my collection (I will have to take pictures of the whole collection some day once it's unpacked and displayed nicely again).
About five or six years ago, I purchased a set of parts from Roman's Empire. The multi-piece emitter, brass windvane, "weathered" anodized aluminum grenade, spacer, weathered aluminum booster, and chromed pommel were the most accurate I could afford at the time, and I had a great time putting this piece together.
Now, over the course of the past year I have been collecting Russ' parts. I have a steel emitter which I blued and then burnished with steel wool (just did this today, so I'm not sure if I'm done or how much more work I'll do on it at this point). For the grenade section, I soaked this inwater, buried it in the yard, removed most of the rust with steel wool, let it sit around for a bit, kicked it around the driveway, blued the steel, burnished it with steel wool and did some weathering with a ball peen hammer. The brass was soaked in "Easy Off" oven cleaner and rubbed with steel wool until I was happy with the finish. I just started on the clamp today. I've drilled some holes and added one of Phillip's bubble strips, but there is still plenty of work left to do until I'm happy with it. The booster is one of Russ' anodized aluminum pieces. I've knocked it around a bit to remove some of the black and add a few dents, but it probably could use some more work. The tap has made it through unharmed up until now. The entire piece is held together by one of simplyprops adapters.
From top to bottom: MR>Roman>Russ> Russ spare parts
I'm considering putting together a display that shows each part separately, along with a completed lightsaber, and having each of the parts identified from their original source.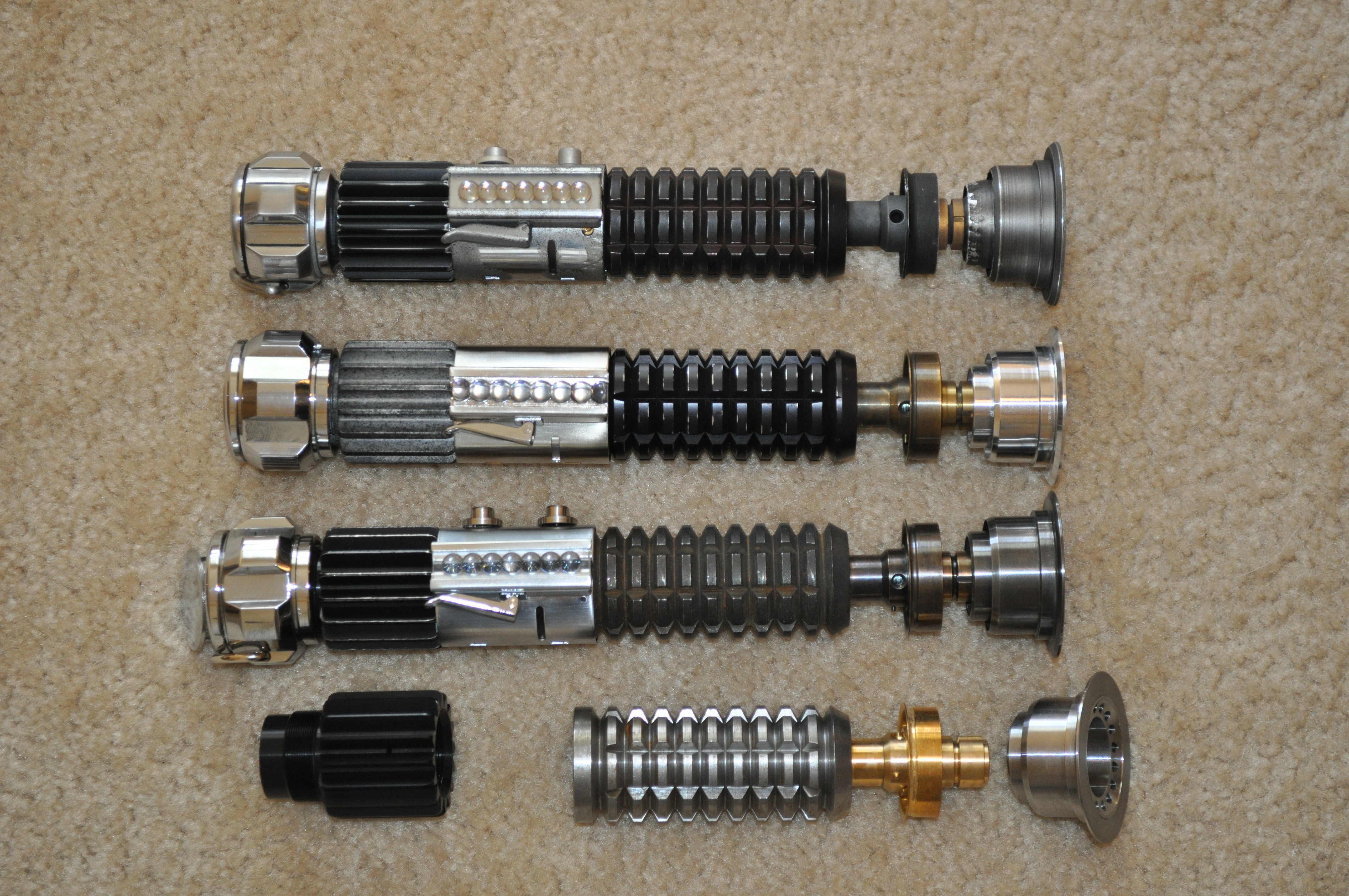 Last edited: