Hey everyone,
I came across these the other day and figured some of you may find them useful. I was wandering around the thrift store "Value Village" looking for random parts for 2 simultaneous build projects I have on the go and found these gloves for $10 Cdn. They are called "Glow in the dark monster hands" and can be found in their Halloween section. I have seen them at 3 different stores, they weren't just a one-off find with the donated stuff. They are see through, which is lame. But the pattern and detail on them lends itself perfectly to both my Predator build and a Lycan/Werewolf suit I have in the works.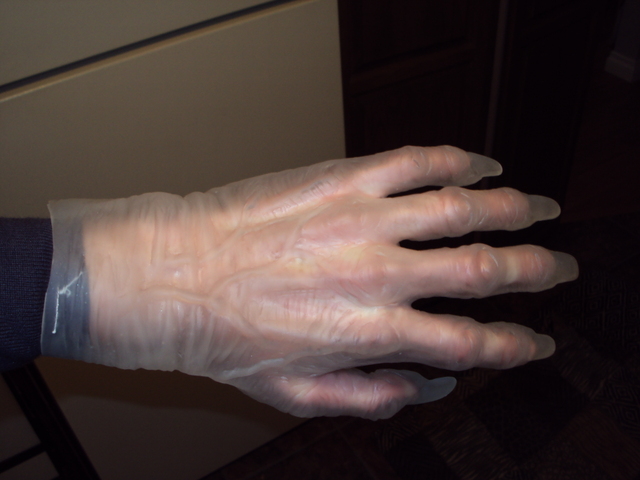 They fit pretty snug, and have decent movement. I believe they are Vinyl but I'm not certain. I know they can hold a stitch, so If you wanted to sew them straight to your gauntlets, that is a definite option. I don't think they should be to difficult paint, as long as you use something that can flex. Like Plasti-Dip or vinyl paint, or paint them the same way you would paint a Latex mask. I think painting over them should remedy the "Glow in the dark" issue as well. I don't know the colors of either of my suits right now, so I'm going to hold off painting them just yet.
Anyway, just thought I would share. I know a lot of the monster gloves used have nylon on the bottom, whereas these are 100% plastic/rubber. They will definitely save me some time in regards to sculpting and molding and casting my own at this point in time.
Cheers.
And if anyone picks a pair up and paints them, post a pic so I can see how they turned out.
(BTW, the right hand is a bit smaller then the left, so make sure you try them on. I have a plastic cup forced into the right glove to stretch out the opening a bit, but I may cut part of the wrist to make them fit the suit better.)