After my
Three Legged Tank
, I thought I'd better make a matching Martian adversary, so, armed with some random plastic shapes, I started on my own version of the Martian's tripod war machine: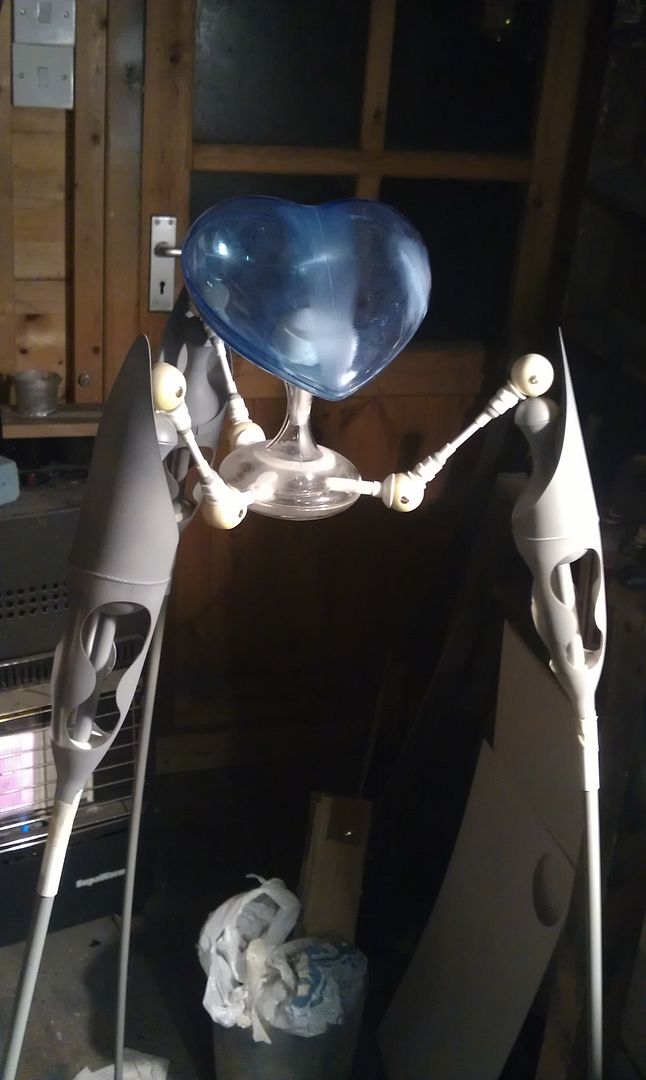 The head started out as an acrylic heart shaped box, I *think* it may have originally had scented soap in it; for the leg joints I went with balls with 'suckers', so it looks like the joints can slide all around each sphere, taking into account the description that Martians never made use of the wheel and made singularly little use of the fixed pivot- this picture shows moving joints, I've abandoned them, as it's too top heavy, and will now be totally static.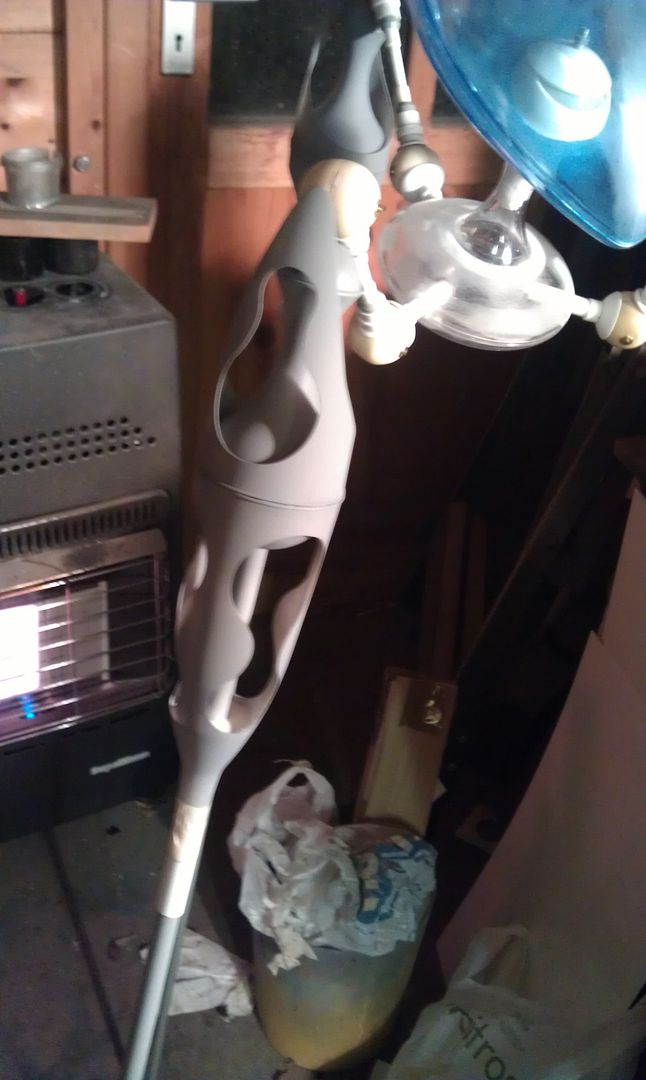 Cut-outs on the thighs, to give it a light, almost gossamer like weight, to contrast with the almost brutal metalwork of the British tank. The thighs are made from thin acrylic disposable champagne glasses, with inserts made from those same whacky vases I used for the shins on my British tank, with another one for the neck.
I know what you're thinking; Where are the tentacles? Well, after a trip to poundland- incidentally, the branch in WOKING, it found the first pair of 'em: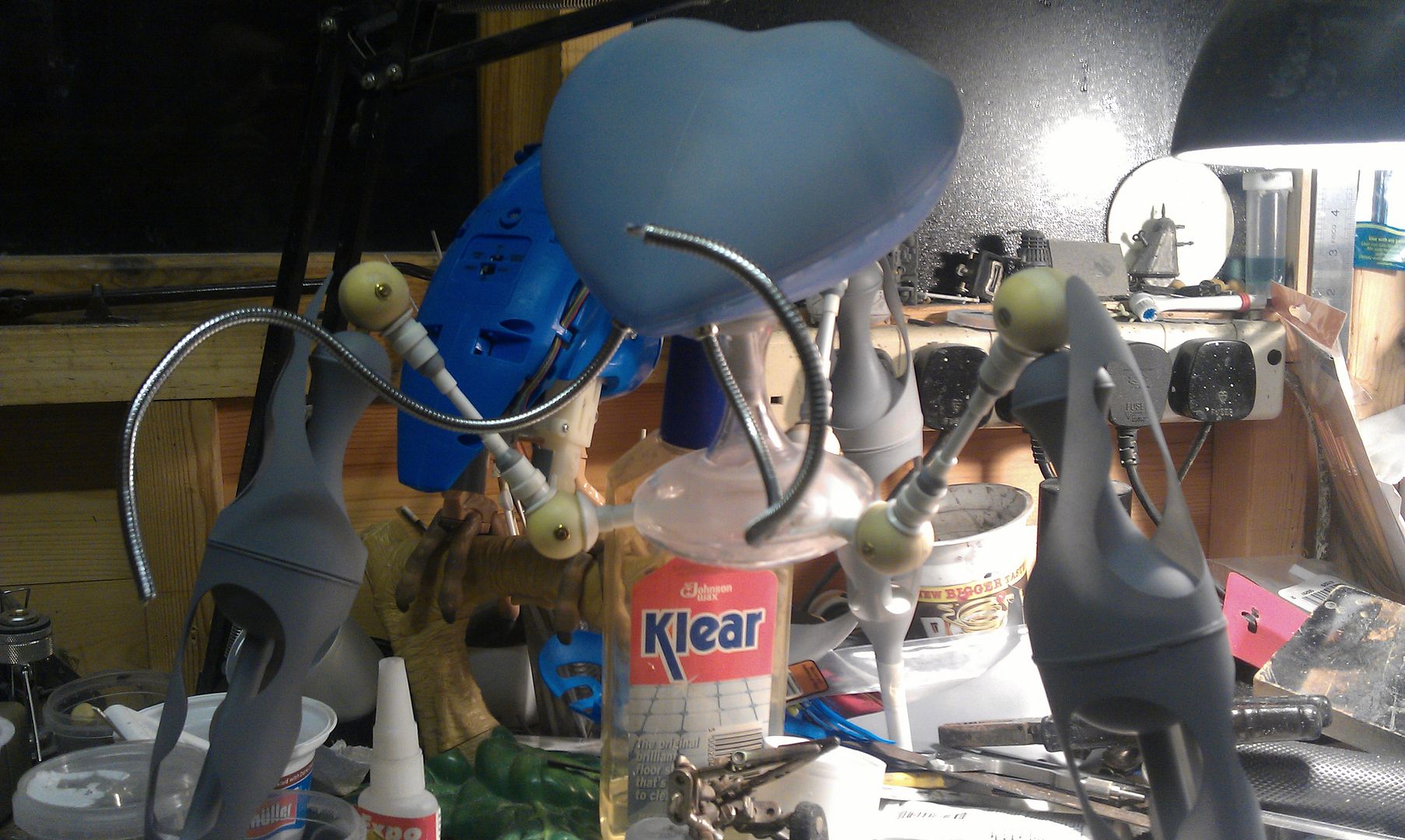 Plug-in USB LED lights for laptops, with gooseneck shafts! With the wiring intact, I can still run power down them...
And, after several other poundlands, it found the rest: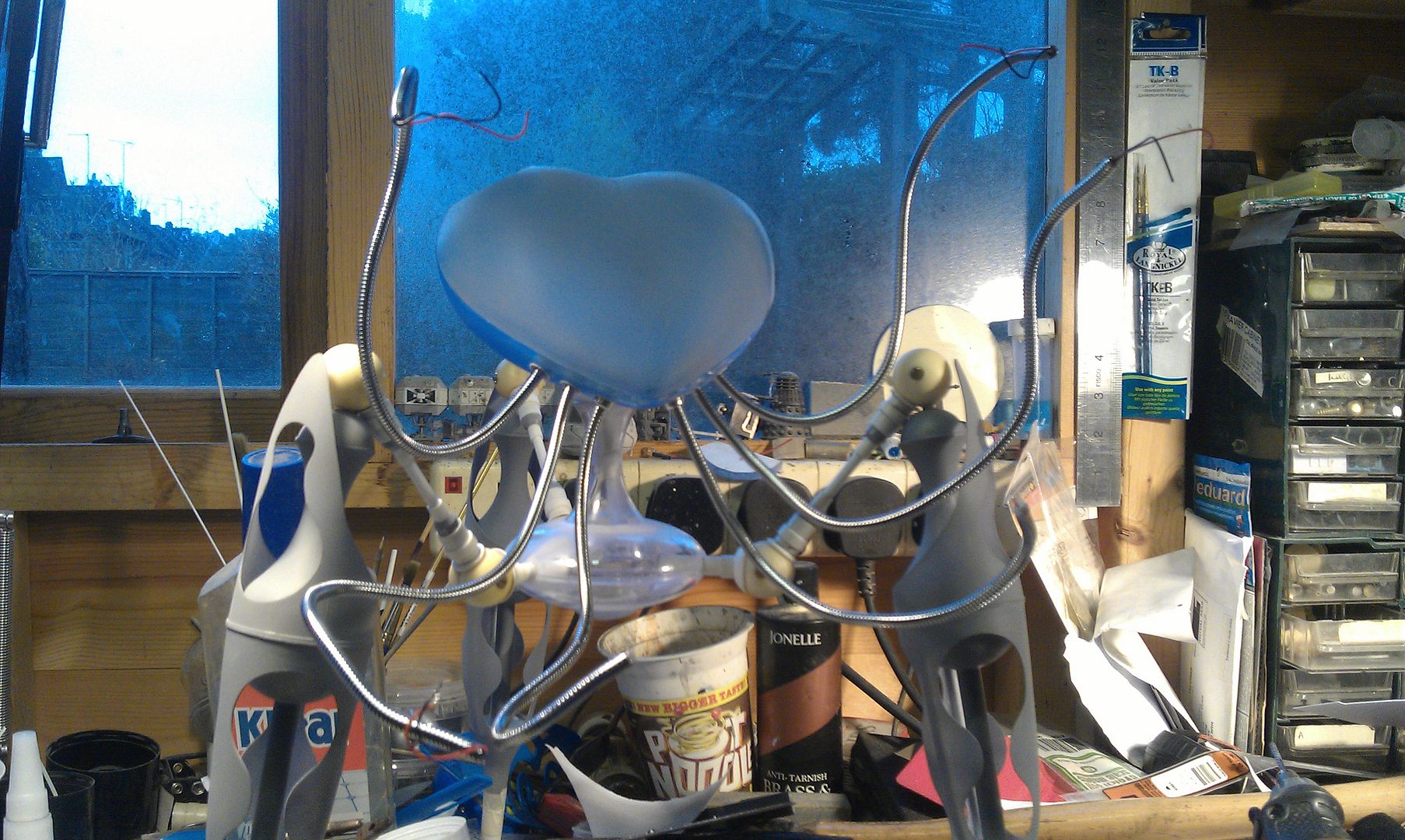 But the poor blighter can't see- better give him some eyes: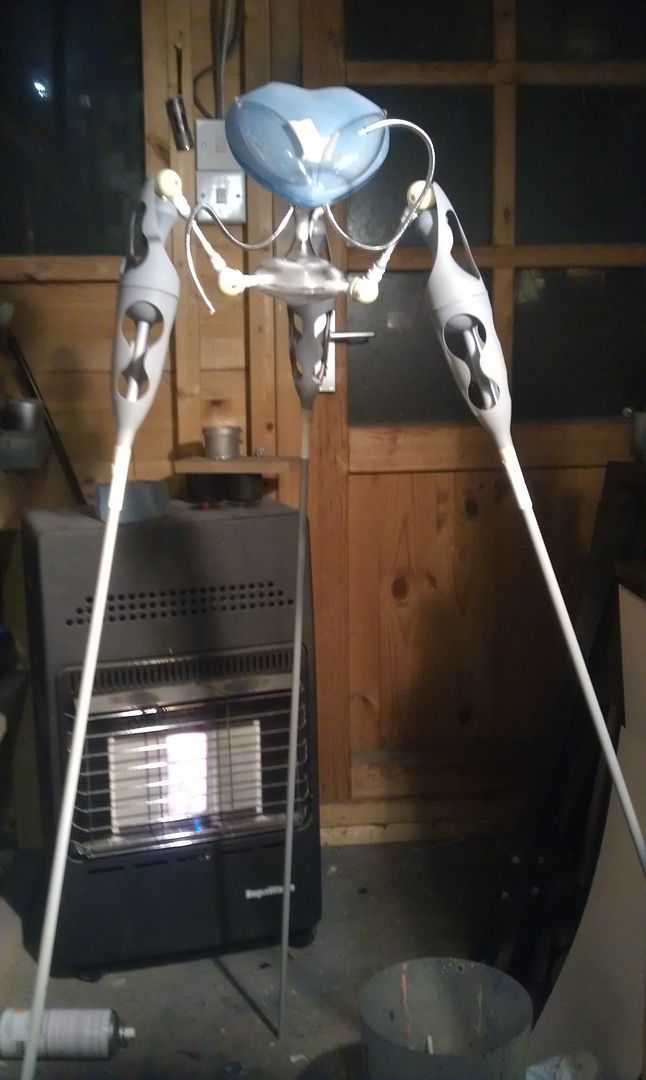 Ok, so here they are just taped on, anyone else getting a grey Alien feeling? Any way, I used two halves of an acrylic Xmas decoration, which I then used to push mould two thin styrene shapes, cut out, er, cut outs on the head, and cut three eye-holes in each one before fitting them in: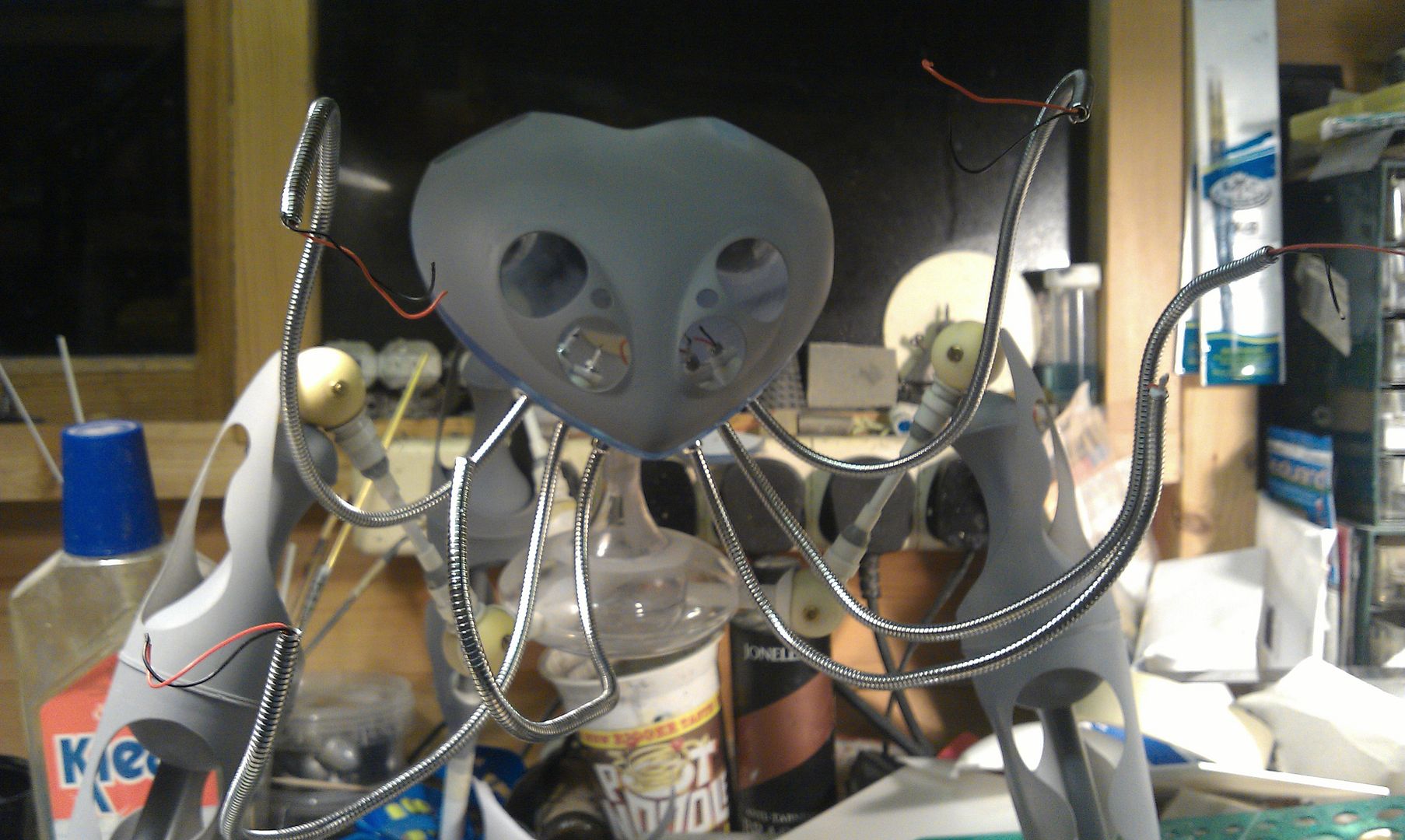 Next up, some streamlining to the tops of the legs:
Just some 1mm styrene, cut to the profile of the legs, which by now are a mixture of ABS and styrene tube, around a 6mm carbon fibre rod- it was originally steel, but that was too heavy, and prone to bending.
Three-toed feet: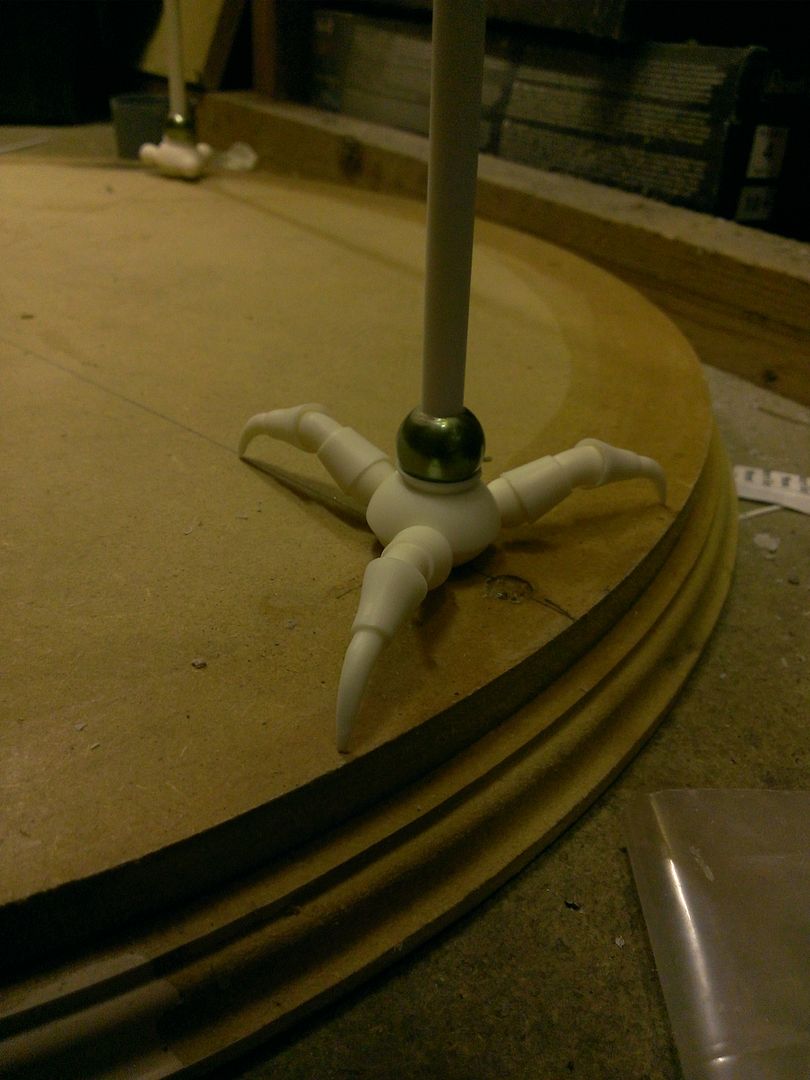 Made a master from random hemispheres and styrene, and took a silicone mould to make multiples, now it can stand on it's own three feet!
In all it's malign glory:
Currently it's standing on a base the same size and style as my British tank, I'm thinking of using a 1/35 scale farmhouse, with a confused looking farmer looking at a sprouting red weed on his garden path, with the Martian focusing it's heat ray on the back of his head- maybe using a laser pointer in one of the tentacles, and the back foot of the tripod on a squashed a donkey behind the farmhouse...