I just thought I'd post this for others thinking of one day building a functioning or blank Mal pistol, should brass body pieces become available. Apparently there was some confusion at one point over whether the original Taurus used was a clone of a J or N frame revolver. So....
Here we have a j-frame hammerless model (S&W model 640) overlaid with phillippes wonderful cast of the hero:

Not only does the trigger line up, but the
barrel
lines up. Yippee. That means for those of us who want to get close to the "real thing" it should be possible to use either a narrow round barrel and sleeve like the original prop, or perhaps have the factory barrel replaced entirely with an octogon barrel blank (available from Track of the Wolf and Dixie Gunworks, among others)
(I know the "hump" of the hammerless model wouldn't quite fit, but I figure with all the other major surgery the gun would have on the grip and barrel, that wouldn't be much of a problem).
Meanwhile, the very next size up, a K-frame (S&W Model 19-3) is clearly far too big to fit in the Mal pistol shell: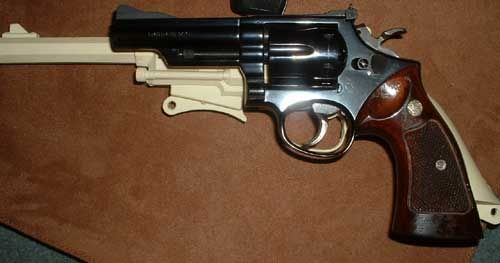 An N-frame is larger still, and there's just no way it could be shoehorned into there.
Also, note the different shapes of the triggerguard: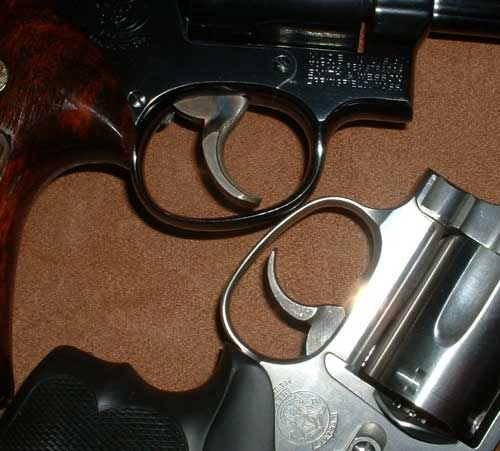 Now, I just traded my way into the little j-frame today with the intent of eventually using it in a Mal pistol.. I got the .357 model because it seemed rather out of place to have a big ol' hogleg like Mal's only shooting .38s. But on closer inspection, I'm not sure that would work -- the cylinder is only 1/8" shorter than the boxy areas on the side of the Mal gun -- I'm not certain anything cast could accomodate that without risking binding.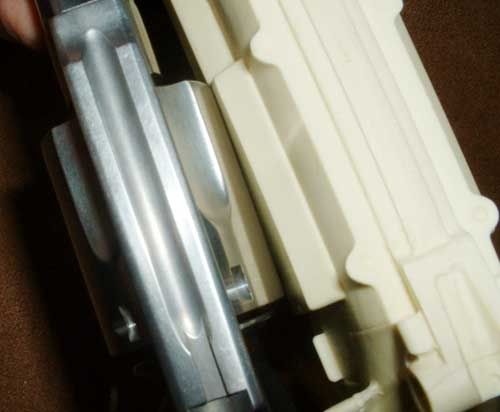 So.. the slightly smaller .38 only j-frame (or Taurus clone) is the only way to go, I think. (Think model 36 or similar for a smith, or model 85 or similar for a taurus)
I do hope this helps a little.
edit -- a little more digging shows that S&W enlarged even their regular j-frames a tad at some point. I'm not sure of the details... but it might be wise to look for the Taurus or older Smith to be sure.
http://www.thehighroad.org/showthread.php?t=123809