It is no surprise to discover that with a large number of unfinished projects... I started a new one.
I always liked the Livery Ship from the original series of Battlestar Galactica. The myth was always that the three disc like structures on the top were made from motion picture film cans. The reality is that they were made from wood and perspex. I thought it would be fun to make a spaceship using actual film cans and I managed to get hold of a couple of large 16mm plastic cans for free.
Pictures below show the original studio miniature.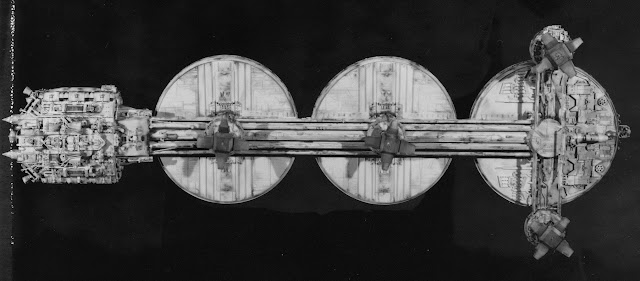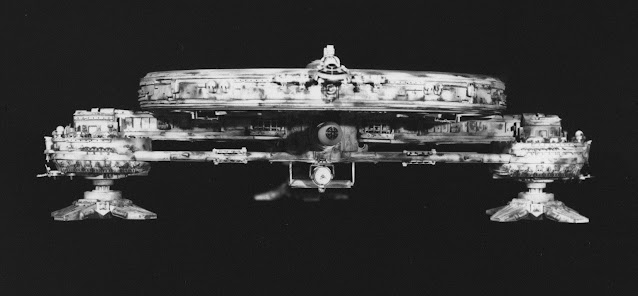 As usual for me, I am not making a replica of the BSG Liberty ship, I am just using it as inspiration, a starting point for my own freely interpreted design using components I have on hand. Originally I was going to make do with the two disc shapes for my model as that's all the cans I could get hold of but at a model kit swap and sell I found an old AMT Reliant model kit very cheap and I instantly thought that this could provide the third disc like shape and a bridge section for the front of my film can spaceship model.
The picture below shows an early arrangement of parts I was considering to build the model. The two film cans are happily made from styrene The Nerf Nitron disc gun (also made from styrene) I found in a charity shop minus the magazine for 2 dollars. I thought it would make a suitable fuselage. the other two discs at the bottom are a couple of wheels made of ABS from an old vacuum cleaner. I planned to add them to the underneath of the film cans. The other two parts were possibilities for a command section and engine pod. These were subsequently rejected with the modified Reliant kit a replacement for the bridge and a larger plastic (acrylic) jug for the engine section.
The Nerf gun has been butchered to remove the handles and trigger section. All the resulting holes will be filled with styrene panels.
The Reliant has had the rear top section cut from the saucer section and lifted with the whole thing increased in depth overall. It is now reversed and minus the engines. The docking bays have become the windows for the bridge. It weirdly looks a bit Millenium Falcon-ish which I wasn't expecting.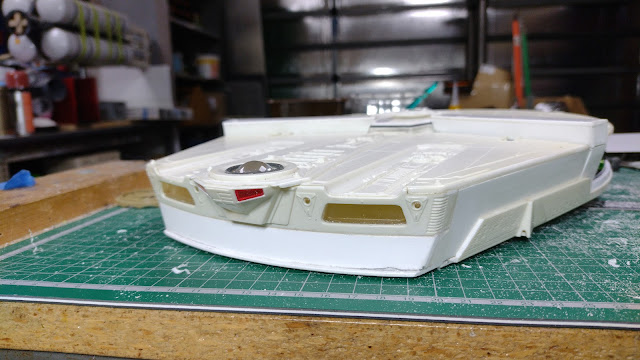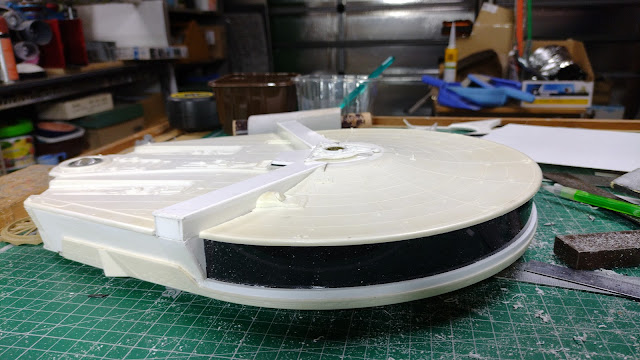 12 volt lighting has been installed and a bridge interior back wall detailed and painted along with some 1/72 figures from a Hasegawa Morser Karl KIT.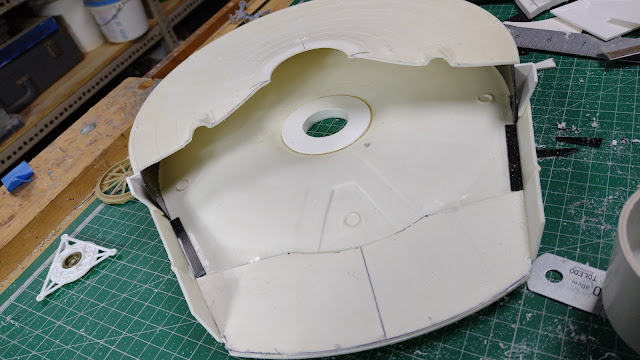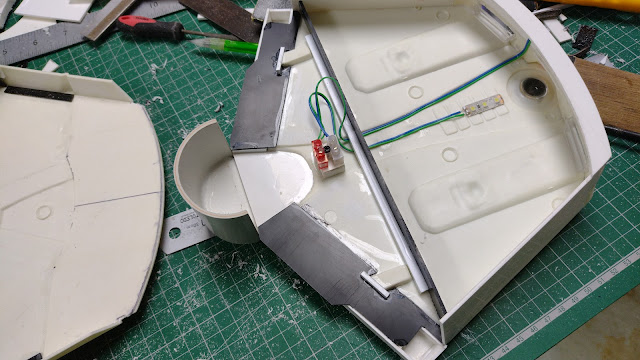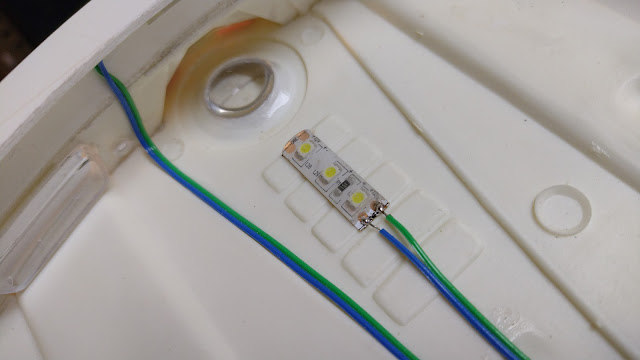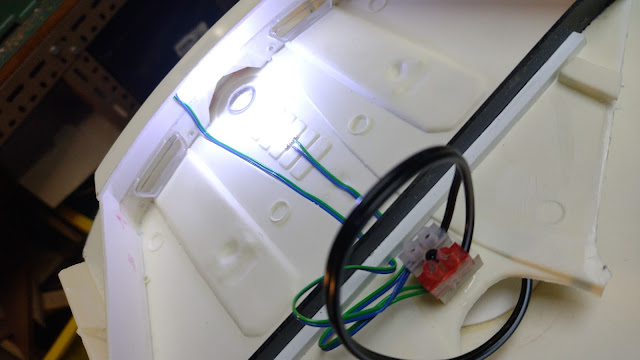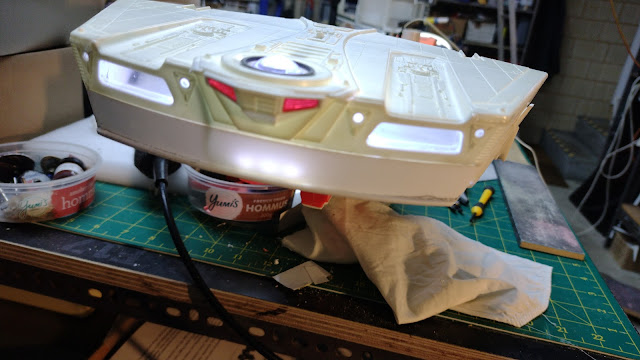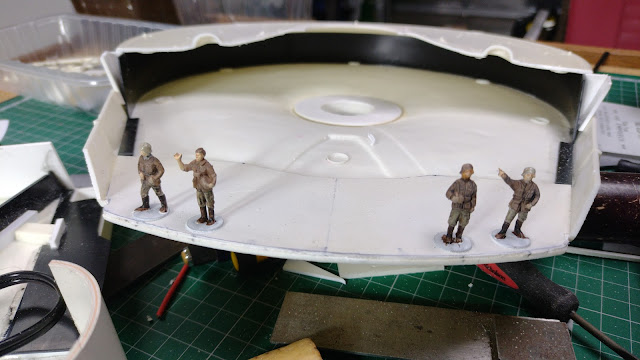 The back wall has been painted and weathered, installed into the bridge and sealed up with no further access.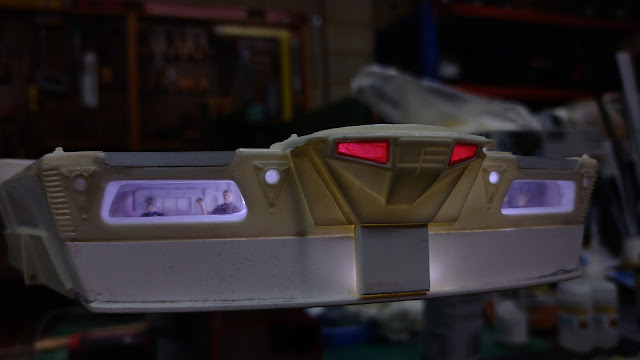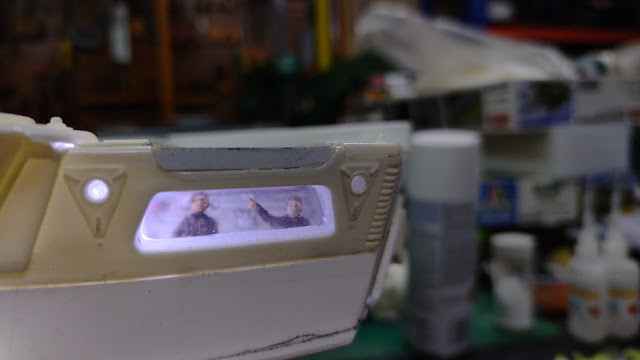 To be continued...