Doomguy, the orginal badass! I've always wanted to do the costume, but there is the difficulty with what we saw in the games and what would be an interesting costume.
A shot from a multi-player game of Doom 2: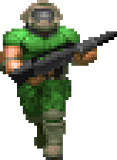 Someone extrapolated that it would look like this in "high-def":
I'm hoping to come up with something close to the second picture, but remaining faithful to the in game model.
Starting with the helmet. There are several paper models of it on-line. I found a Pep model of it, unfolded it, and produced this: