Sr Member
RPF PREMIUM MEMBER
I'm a big fan of the
Child's Play
movies and the later
Bride of Chucky
and
Seed of Chucky
, and have always wanted my own lifesize Chucky. There are some fantastic replicas available, but almost all are about half size or smaller. The lifesize Sideshow Collectibles Chucky would be my holy grail, but considering that it's going for about $1000 these days, it just ain't gonna happen....
So..... I snagged myself the 26" Bride of Chucky doll (just 2" short of lifesize - I can live with that!) for a reasonable price and have started modifying it.
Here's the doll as it arrived: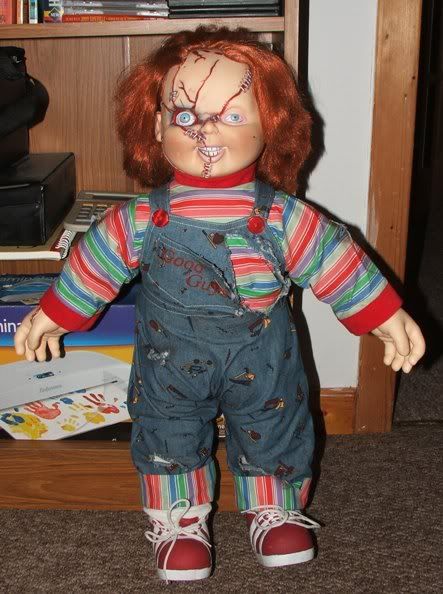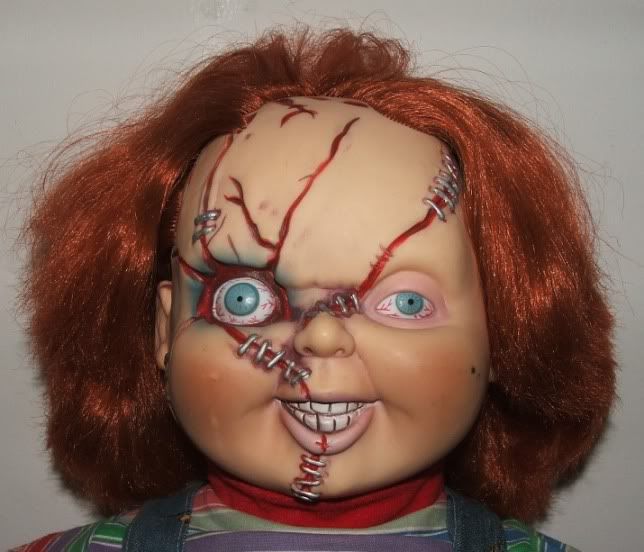 It's really rather good sculpt-wise, but those metal staples are wrong (they should be black thread stitching) and those eyes are TERRIBLE (they're not looking in the same direction, the paint job sucks and one iris is way bigger than the other).
So first I removed the head (a simple snip of a cable tie) and then I sliced out the eyes (the head is hollow vinyl):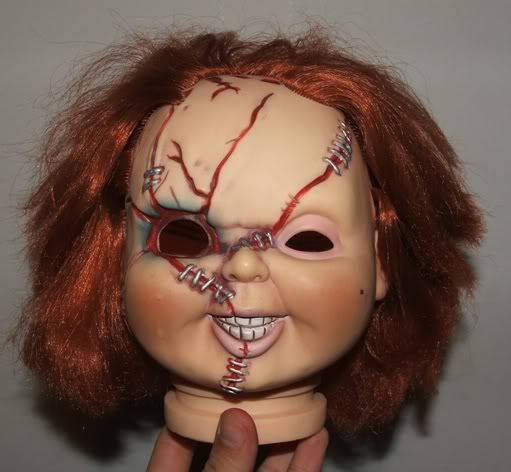 Later I'll sculpt that left eyelid closed more.
Next I gave the face a quick flesh-toned base coat and shaved off the hair that was rooted in the wrong place (this doll's hairline was all wrong):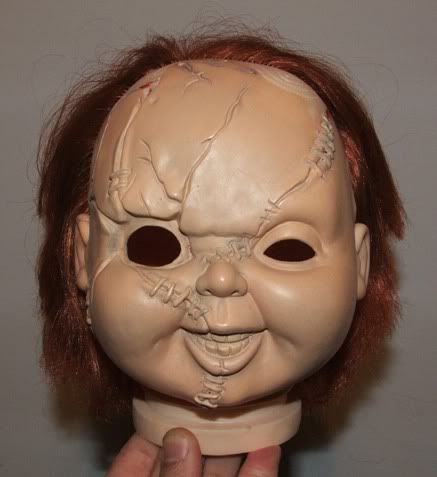 Then came the really tedious bit - individually removing each clump of hair stubble so it can be smoothed over. This was done using a mixture of tweezers to pull hair out, a needle and hobby knife to push hair in, and my girlfriends tiny hands to fit inside the head and remove hair. :lol
So that's where I'm currently at.
22mm acrylic eyes have been ordered. Need to fill the hair root holes (Milliput?) and then finish painting the rest of the basecoat (ran out of paint - need to buy more).
More updates to come.
thumbsup
Last edited: