Sr Member
RPF PREMIUM MEMBER
IRON BANNER MEDALLIONS

"A symbol of perseverance and determination, qualities sought by the Lords of Iron. You will earn bonus event standing for each Medallion you carry upon victory in the Iron Banner. You can carry up to 5"
(but you're welcome to buy more than that, lol).
Medallions of Iron from Lord Saladin for each Crucible match you lose during the Iron Banner event in Destiny. This is purely an interest run at this point, but I would need a minimum of 50 orders to pull the trigger on this. They would be stamped full metal medallions, one sided and antiqued. Approximately 1.75" in diameter (unless there is a majority of interested ones that want it bigger).
Price per medallion would be $25 each (I might be able to make them cheaper)
Post your interest and possible quantity you'd want below.
-----------------------------------------------------------------------------------------------------------------------------------------
INTEREST LIST:
-Guardian Devil 2+
-Ariannus 1
-BigJoe88 1+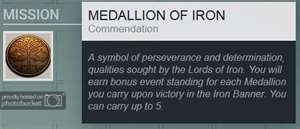 Last edited by a moderator: