Hi Everyone, this is my first build thread. Unfortunately I forgot to take pictures from the start of my build but here is where I am at right now. I have a cobra, boomerang, and dolphin phaser kit from stapleton. The kits were in great shape when I got them but needed a little touching up. I unfortunately forgot to take pictures of filling some holes and sanding. Here you can see all the kits laid out. Almost all parts have been primed and ready to paint.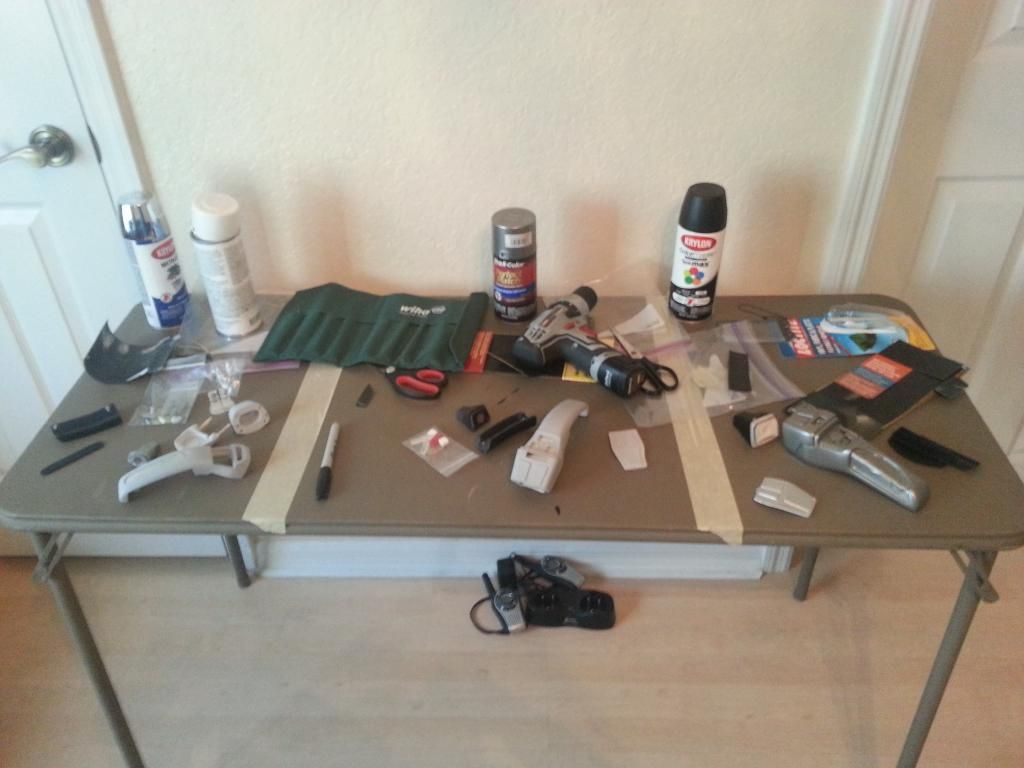 Now I started with the Cobra Kit it has the most amount of work that needed to be done to it. I admit I should have spent some more time cleaning up some of the grooves but I improved on the others. As for paint we all know that the original colors have been discontinued. I heard some recommendations for Krylon Bright Silver in various threads so I did my first try with it. After drying I really didn't like the look of it. Although there were no drips marks it just made the prop look cheap because it was so shiny in a candy wrapper foil kinda way. Now maybe someone can chime in that has used Krylon bright silver.
After the disappointment of the color I went searching for a new paint. Found a few threads buried where someone mention duplicolor BGM 0347. I ordered 2 cans from Amazon, while waiting I sanded down the Krylon. This time I used Duplicolor BPR0031 Primer and Applied the Duplicolor GM 0347 after a few days of letting it cure. I tried it out on the cobra phaser first. I really like the look of it but it does look nemesis dark so not exactly screen accurate. Accidentally I forgot to sand down the door for the electronics so here is a direct comparison of Krylon Bright Silver and Duplicolor BGM 0347 Marblehead Grey.
What do you guys think? I personally like the darker color the finish seems better. Of course bits and pieces need to be painted like the button area. I plan on doing a clear coat after I let it cure of Duplicolor BCL0125 Clear coat. I have also ordered electronics from GMprops but wanted to get a jump on the painting process.