OK I thougth the build would become a hybrid in which a predator and another race would be mixed. But I went back to the drawing board and simplified the idea. That is why I put it on the Overall Work in Progress.
Some parts of the armor which were a part of the Zulu pred part 1 have been changed, some are still in planning. After the first latex molds and ideas I got the latex-pour-vibe now.
Some parts are ready some are still in the planning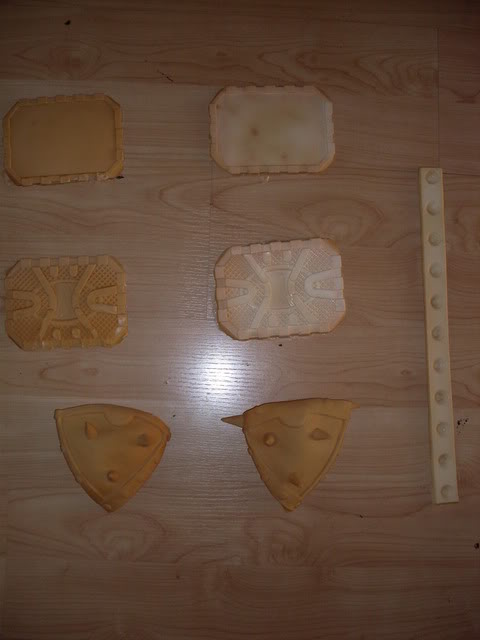 The 4 above and the long latex part are the first pulls. Thet will be used as chestarmor and the top and middle will be linked withshoe-laces. The 2 parts will be linked to each other with a elastic, just as a bra. (Got the idea from the clothesline of my neighbours.
) and the top will be made outof some black cloth. I poured also one middle part which will be used as crotchflap, the long latex part will be clipped in 2 and will be linked at the crotchflap as adornement.
For size the 2 traingle parts are for the knees, the rond dots which are at the side will be cut in which some long black hais (the wig which is also on one of the foto's) will be put in. You get the style of the legarmor of Zulus
The backarmor + an alien looking dried fruit, an odd shaped branch and 2 parts which will be the opening flaps of 1 of the gauntlets (the bom part)
armor for the arms (1 part has to be cut into a smalle piece, and the upperleg armor
the wig for the leg zulu armor, the boots
Still have to choose which helmet I will use. I think I'll use the alienone, but I have to cut an opening in the mouthpart and put some fine mesh beneath the opening.
The next one will show you the swords + claymores and there will be no plasma gun! But a cool stack of skulls. Also the medkit will be totally different, because it will hold a scroll written in yautja and english.