I want to share with everyone one of the most exciting and unusual projects I've ever undertaken. It's the Vulcanesque objet d'art seen in just about crewmen's quarters from the original Star Trek. Dr. McCoy had it first in The Man Trap – as a pair of bookends, then it was placed in several locales of Kirk's quarters for The Enemy Within and The Ultimate Computer. In the end, the bust finds a home with Spock in The Paradise Syndrome.
Was this figurine a white elephant gift passed along in of those infamous Christmas parties Dr. Helen Noel mentioned? Who knows, but I love it!

I'm an avid tiki maven; my passion's as big for those Neolithic idols from Polynesia, as it is for our original Star Trek. So when I discovered the bust has more than a passing resemblance to an Easter Island Moai, I knew this was on the top of a to-do list!

Just a brief bit about the original piece seen in the TV series:
The sculptor was Jan De Swart, a Dutch artist who made his home in Los Angeles and worked in the style of Modernism. From what I've been able to learn, his wooden bust - created in 1933 - somehow found its way into the prop department of RKO Pictures. Undoubtedly, this little guy must be in a sea of movies…somewhere.

Since RKO property was rolled into Desilu Productions in mid-1958, it's easy to understand how the bust ended up where we see him today…sort of. There is no reason to believe the original wood art was used on the show, but instead reproductions. Prop departments and their custodians are notoriously loathsome when it comes to permanently altering pieces, like painting them green! Likely the Trek copies were plaster casts. Yes, copies. Think: Dr. McCoy had a pair on his bookshelf. And then there was the bust's walk-on in Here's Lucy. The poor little guy was hollowed-out and given a face job, all in order for Mr. Mooney to retrieve a hidden "something". Not something that would have been done to an original.
So here's how my project rolled out-
Research for the bust begin in August of 2012, at the same time I was tooling the molds for the first Vulcan statuary I reproduced. A fellow member, Gschnitzer, was kind enough to shoot me a couple of clean shots. These, from Here's Lucy, are better than anything we get from TOS. With scale info provided by the auction catalog of the De Swart original, I worked up the rest of its proportions. My first stab at the project required building an armature for which the clay could build upon. This was a cost saving measure so as not to invest a sizable wallet in Plasticene. Start-stop-start again, 20+ months of this poor sap glaring at me, as if asking if he's every gonna get finished. When time and spirit permitted I'd go back to the idol. Gestalt never took hold.

Flash forward to December of 2014. A voyage to Kaua'i and The Big Island. Every time I tuned around and saw one of the grimacing Polynesian idols, I could just hear the god bellowing: "Why haven't you finished him?" What was I waiting on, a human sacrifice or something?
When I returned I threw myself back into the assignment. I knew I was needing help, seeing the tiny Golem had as many technical hurdles as it did. So I enlisted the help of 2 friends: Mitch and Patrick. These guys are geniuses at project management, i.e. when it comes to NOT screwing things up!

After a new attempt at sculpting, resulting in what you see here, a decision had to be made as to what the final piece would be cast in. Although resin would not be out of the question some day, the final piece should radiate an appearance of centuries'-old bronze. This bust was to be extraordinary.
Fired ceramic was the only way to go!

Step #1
In order to cast ceramic, a porous mold must be used. This will be made from an extremely dense and resilient cousin to plaster: Hydrocal. But to get there, a flawless buck is needed…unless you want to destroy the original clay model. And I didn't!
The model is covered in 4 heavy coats of tinted silcone (red, blue, red, and finally blue again). Multiple layers insure tensile strength. The alternating colors allow for identifying any areas that were not coated with the previous batch.

Once all the layers are cured, a 2-piece mother mold is made over the every-building mound. This jacket will ensure the silicone mold remains in its correct shape for everything that follows.
When the plaster mother mold has set, it is removed and put to the side. The silicon "condom" is then carefully pulled up and off the clay model. If you do your work carefully, the model is untouched, undamaged and is now ready to be archived.

To be sure the mold was properly made and without flaws, 2 test casts were made: a hollow resin version and a solid plaster copy. In my case, all couldn't have been better.

STEP #2
Moving ever-closer to making the Hydrocal mold, we need that flawless buck I mentioned. We placed the silicone condom, er mold, in the mother mold and injected it with a liquid rubber. I believe this material is used in the construction of anatomical prosthetics because of its ability to reproduce extremely fine detail. After a bit, the somewhat hollow form is injected with an expanding foam rubber. This will insure my copy is rigid enough for a Hydrocal bath. Look Ma, no seams!

STEP #3
The flawless rubber head is now ready for a 2-piece Hydrocal mold. A dam is built around one half of the head in order to corral the Hydrocal. Coat after coat of Hydrocal is layered until the mold is large enough to accommodate a good quantity of liquid ceramic; about 3" thick.

The reverse side is then poured. My rubber head is now completely encased.

After 3 hours of curing, the mold is opened and the rubber buck is carefully removed. The mold is inspected for flaws and is judged to be USDA Grade-A 100%.

The 2-part, 70lbs mold is put aside for at least a week to completely dry.

STEP #4
Material to be fired comes in a form called "slip", a dense slurry with the consistency of runny pancake batter. Once inside the mold, H2O is drawn out of the slip thru osmosis. This leaves a thick wall of ceramic clay clinging to the now-damp mold.

Here's where things get messy. That god-awful heavy Hydrocal mold is secured with a strap, locking it in place and set bottom-side up. Slip is stirred with a power drill and then several quarts are ladled in. Since the bust has a great deal of detail to capture, as well as a few undercuts, the mold is rocked front-to-back and side-to-side. This assures all surfaces receive a "splash coat". Once satisfied, the remaining volume is filled. The mold remains unmoved for about 45 minutes. Upon checking it, I see that the mold is doing exactly what it's supposed to do: pull water from the slip. The slip level has dropped about ½" and more is added.



The mold is left standing for 2 more hours to yank out as much water as it possibly can. Then the remaining slip is tumpped back into the bucket and left to drain for 30 minutes. After that, the mold is set undisturbed in a cool, dry room for 24 hours to firm-up.

STEP #5
One side of the mold top is gingerly removed and the ceramic clay, now called greenware, is inspected. Minor flaws are repaired. The bust is removed from the other half and inspected, too. It's left to stand 2-4 hours to firm. After that - while the greenware is still pliable - more detailed repairs are done. The flash around the base is trimmed.

When satisfied, greenware is returned to its room for 7 days to dry completely. There is no rushing this, for if pushed too quickly, the greenware will dry at uneven rates, contort, and cracks are guaranteed. A nasty white film will develop on the surface, too, and ruin any texture you spent days on perfecting. Oh, if there's any unexpelled moisture still trapped, the greenware will explode in the kiln and likely destroy other objects being fired at the same time.
STEP #6
Now completely dry, a final inspection is done. I go over the greenware with ultra-fine sandpaper, steel wool, and a selection of tools to insure everything looks good. Reinforcing any lost details is also tackled here.

The last task I do before going off to the kiln is to plane the base. This ensures the bust will sit completely flat and not rock.

STEP #7
The greenware bust goes into the kiln and the temperature is slowly raised to over 1800F. In this raging Hell for over 8 hours, the silica and minerals of the greenware are fused and altered, creating what is now called bisque. The kiln is allowed to slowly cool and the bisque is ready for bronzing.

STEP #8
When the bisque is removed from the kiln, it will have a dusty film coving the surface. I prefer to simply vacuum it off. A bronze coating is applied. Without waiting too long, the first acid treatment is given. It seems not waiting too long is the best way to go, as the bronze molecules have not had a chance to react to the oxygen or humidity.
My larger goal was to ensure the Vulcan Bust presented an appearance of being centuries old, with all the verdant oxidation that comes with a piece of bronze.

Here comes the patina! This is achieved with a series of acids that contain a myriad of dissolved minerals like copper, silver, sulfur, potassium, iron, and sodium. The intent of the caustic, odiferous liquids: to accelerate the look of what nature would undoubtedly do while your great-grandkids wonder where it came from. I find there is no one best method to work with this. Application techniques alternate between smooth and wide brushes, to sea sponges, "ragging" and spritzing bottles. The more unusual the progression the more natural the patina will develop. You have no idea of what you're gonna get when you start. You just have to know when to yell "Stop!"
Well, I'm sure this was a lot to take in. If you have any question about something I may have skipped over or gave short shrift to, please feel free to ask. Ceramic prop making is certainly something most of us don't consider. And probably for good reason. But I know some you are always looking to expand your knowledgebase.

For further info on mold making, please watch my Youtube video:
Joe Riley is your instructor. Recently deceased, he was Texas' go-to movie and TV makeup artist. He'll walk you thru all the steps and in more detail.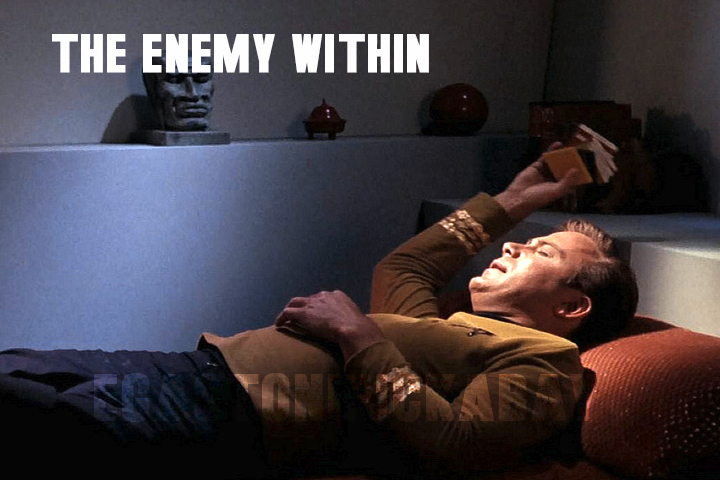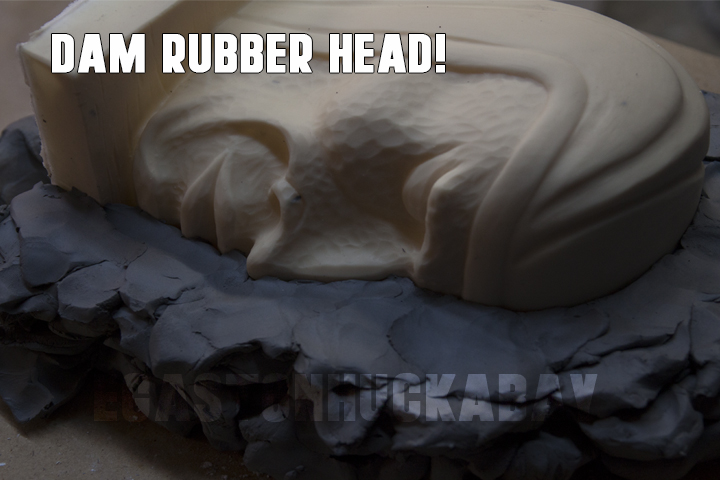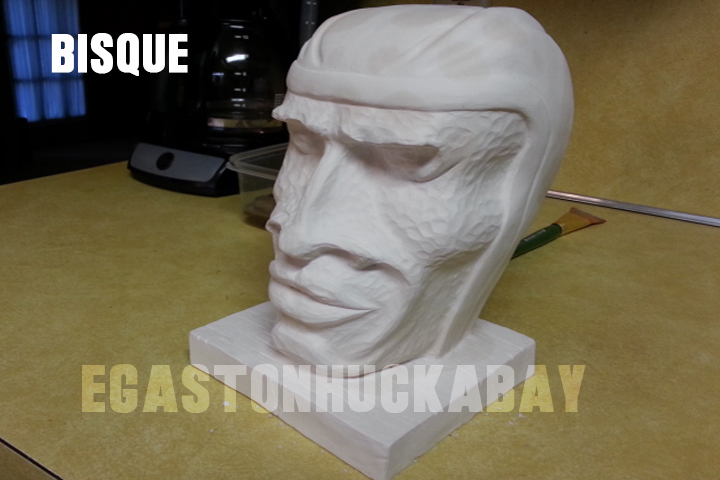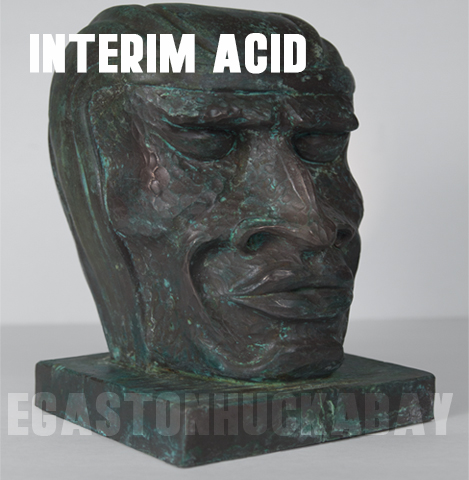 Last edited by a moderator: