7/16 Update

I have enough info to post a good update so here it is.



DENIX MAUSERS – I ordered all of the Denix Mausers for this project and so far I have received 38 of them. I still have 26 on back order and I don't expect them to ship until the middle of August. This isn't a problem because the Mausers will be the last thing that get's machined


MACHINED PARTS – I ordered all of the flash hiders, scope bracket disks and scope bracket spacers. I can not order the scope bracket until we know the hole spacing for the brass scopes. once we confirm that we can get 2" hole spacing I will order the scope brackets.

The shop had 2 solid brass scope from the current run and they also have my real scope and an machined brass scope from my original run in 2004. In the next couple weeks they are going to figure out the most cost effective way to do the initial machining and the deluxe machining.

They will also get me pricing for the scope lens rings, light sockets and mounting bolts.


CAST BRASS PARTS – Think Jedi is working diligently on these and has a projected completion date of late September / early October. Once he is done it will take my shop at least a month to cycle these parts through their machining process.



I know this seems like a long time but this is a complicated project with a lot of moving parts. Things have to progress in a certain order or very costly mistakes can be made.

I hope everyone is okay with this projected schedule.

Thanks






7/1 Update

Ordering phase for the machined parts is closed.

I will order 10 extra sets of parts but I can not sell any of them until every order has been received.

If you want to get in a que for these parts send me the info requested below



6/23 UPDATE

This list will close on June 30th.

I will order 10 extra Kits (6 Bespin / 4 Hoth) and have 8 available for sale but the price will be $125 for a set of parts and you will not have the option to select the exact parts you want.



5/29 UPDATE


PLEASE READ THIS ENTIRE TREAD BEFORE SUBMITTING YOUR ORDER
I am in the invoicing process for the
MACHINED PARTS
and the
DENIX MAUSERS
You can order any combination of parts that
YOU
need, in others words, I'm selling parts, not cookie cutter "KITS"
Here are the prices for the MACHINED PARTS
DENIX MAUSERS:

$150 - ESB Accurized Mauser (Same a Accurized Mauser except it will be drilled for the ESB Parts as needed)
$135 - Accurized Mauser (Do not order an accurized mauser for any of my FUTURE projects, as it will not be drilled fro those parts and adding the holes is more expensive
$90 – Deluxe Mauser with factory wood grips, with my brass grip hardware installed but no accurazation machine work.
BESPIN PARTS:

$45 - Flash Hider
$25 – Han of Luke Scope Bracket
$20 – Scope Bracket Disk
$10 – Scope Bracket Spacer


HOTH PARTS:
$45 - Flash Hider (same price for the 2 Band Knurling , 1 Band Knurling or No Knurling)
$25 – Scope Bracket
$20 – Scope Bracket Disk
$10 – Scope Bracket Spacer
Please Reply to this post with an email to bobadebt@ec.rr.com

I NEED ALL OF THE FOLLOWING INFO

RPF ID
FULL NAME
PAYPAL EMAIL ADDRESS
FULL ADDRESS
TELEPHONE NUMBER IF YOU DO NOT LIVE IN THE UNITED STATES
PARTS INFO (List the quantity and name of each part you want individually)
When ordering parts please do not just say you want a Bespin or Hoth Kit, there are variations in bot kits and I will have to get clarification to create your invoice
I know this has been a long road but our work is about to pay off and I'm looking forward to completing this project and hanging my NEW ESB Blaster on my wall.
Thanks
INFORMATION that resulted from the DL-44 ESB Blaster discussion thread in the Star Wars Costumes & Props Forum.
You can participate in that thread by clicking this:
http://www.therpf.com/f79/dl-44-esb-blaster-discussion-230129/
DENIX MAUSERS
DUE TO CANADIAN CUSTOMS I NO LONGER SHIP DENIX MAUSERS TO CANADA, SORRY.
Info on Mauser Accurazation can be found in these threads:
http://www.therpf.com/f79/presenting-my-accurized-denix-mauser-217752/
http://www.therpf.com/f75/denix-mauser-accurazation-service-run-2-a-226017
ESB Machined MOUNTING HOLES
This is going to be part of the accurzation process and adds $15 to the total cost.. The number of holes and the placement of the holes will be based on the type of parts you order.
MACHINED PARTS

FLASH HIDERS
BESPIN – Single version based on my current print
HOTH – 3 versions based on my print with the following variations:
No Knurling
Single wide band of knurling
2 bands of knurling, one wide and one narrow
SCOPE BRACKETS
BESPIN – 2 versions based on my posted prints with the following Variations
Luke – Tighter radius in the corner of the back edge of the lower bracket and the angular line
Han – Larger radius in the corner (circled in red) of the back edge of the lower bracket and the angular line
HOTH – 1 Version based on my posted print
SCOPE BRACKET DISK
BESPIN - Single version based on my posted drawings
HOTH – Single version based on the real part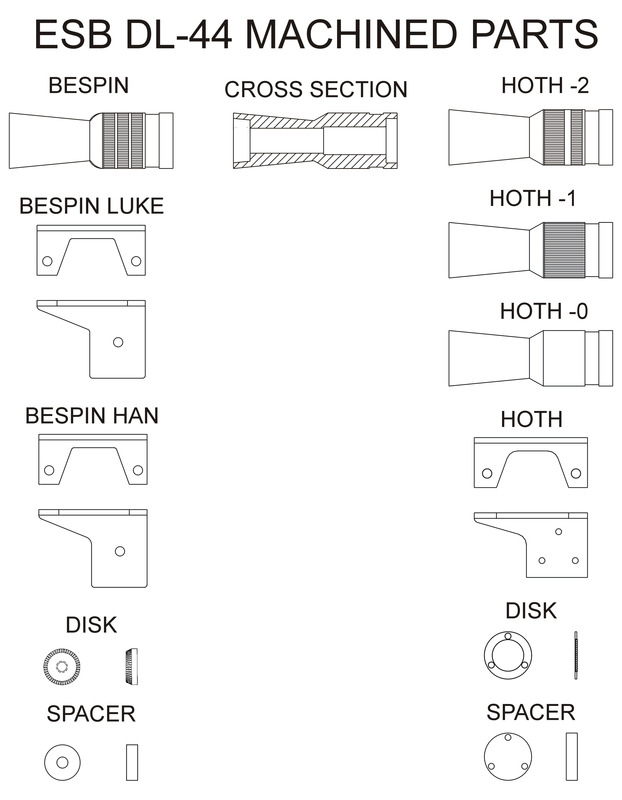 SCOPES & PISTONS
Think Jedi is providing these for this project.
AT this time we do not have confirmed pricing but he is very close to working that out.
You will order these parts directly from him and he will send them to me for clean up and machining.
There will be 2 versions with the primary difference being the circular area on the right side of the scope nown as the LIGHT SOCKET:
Full Circle for the Light Socket
Flat Bottom Notch on the Circle for the Light Socket
The secondary difference will be solid and hollow. IF you go with Hollow the scope will be machined and I will provided glass lenses and machined lens rings
SCOPE BOLTS

Two versions
Standard (based on the actual bolts used for M-19 Scopes
Thick – Modified version with a thicker head to replicate the look of the forward bolt in some pictures.
these will be ordered in conjunction with the scopes
HARDWARE AND RESIN PARTS
We will deal with this once toward the end of the project
I'm looking forward to the project and I hope it is as successful as my last

FAQ


Q: Will there be any tips and tricks for finishing this off ourselves? (

A: Yes, there are several threads in my history that explain the finishing process and I always provide a tutorial on how to build a specific blaster in the original thread.

If you still feel you can not finish your blaster, myself and other members of the this group offer finishing services.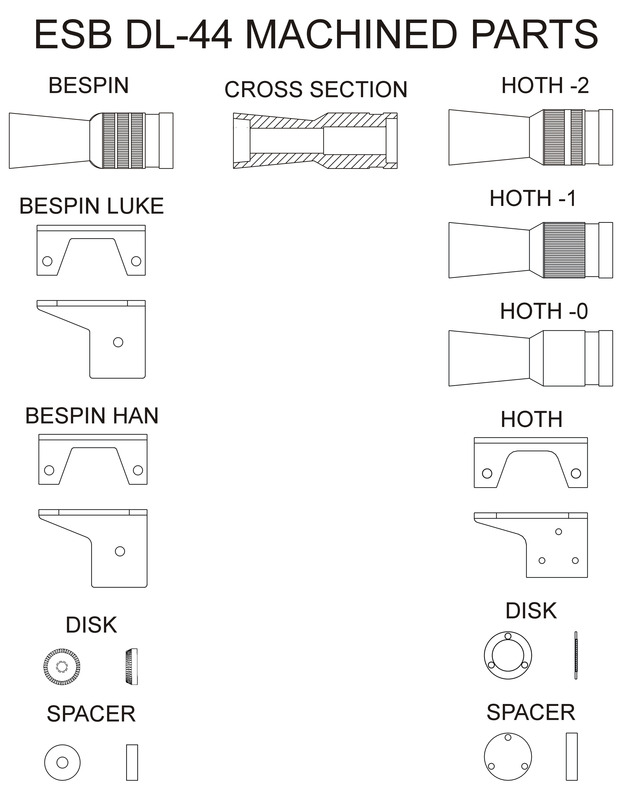 Last edited by a moderator: