I thought I would post a new thread rather than risking the hijack of Trooper's thread about his Tydirium since he did a first class job with his IMHO. This build is a more or less out of the box MPC Imperial Shuttle kit that I did about four years ago. I started it as a test bed to try out some paint and weathering techniques I wanted to use on my Fine Molds Falcon (as well as evaluate the base color on a big model). But I didn't want to just do the same ole plain gray Imperial shuttle everyone else does. The inspiration for this are the Rebel shuttles from the Lucas Arts X-Wing games with their big obnoxious rebel crests on the tails, letting everyone know who they fly for (almost like the tail of an airliner). I opted to go for more of an X-Wing inspired paintjob on this than Imperial one, figuring the rebels would have to replace panels and parts once in awhile (and do repaints).
It was kind of done as a quickie model since I wanted to have something to put on the contest table at Wonderfest that year, so I think I rushed it a little too much. I may do some repaint to it in spots, although it looks okay for now. It didn't win anything (not that I was expecting it to). The pilots were replaced with ones from an Airfix F-14 for more of a Rebel pilot appearance. Smoke tint on the canopy was done with Tamiya smoke tint spray on the inside. It works, but you have to be careful to keep the coats light so it doesn't tiger stripe or pool in spots.
But, here it is: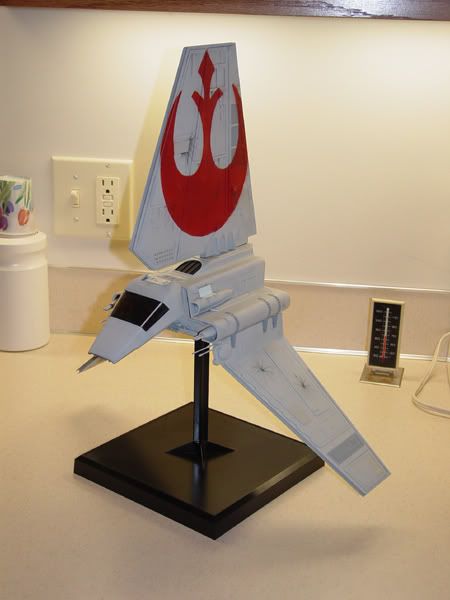 Since I typically don't light my models, I used the airbrush to simulate an engine glow.