UPDATES AT BOTTOM!
I've been back and forth asking questions. You cats rule with the knowledge!
So, thanks. This is what I've got so far. There are some build ups, then there are straight to what I made. So, bare with me on the order of pics.
The Armor (painted with shades of green, silver, black rubbing)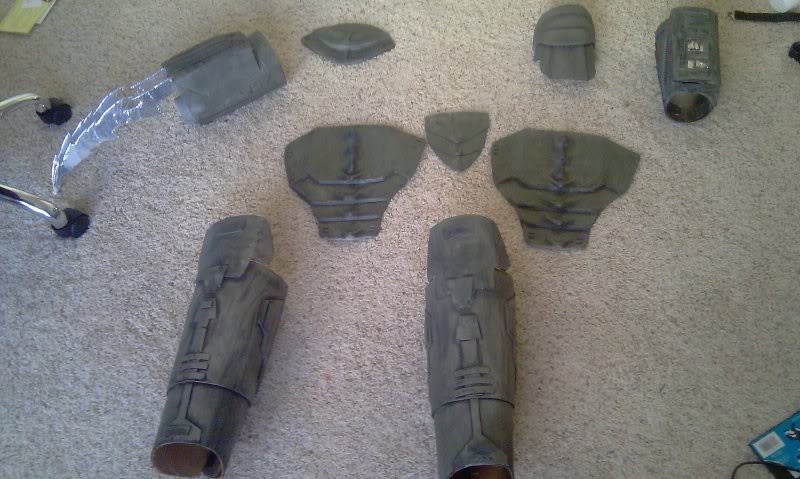 I took the computer gauntlet and made an LED mod. running the leds to the top, and the bottom with a battery source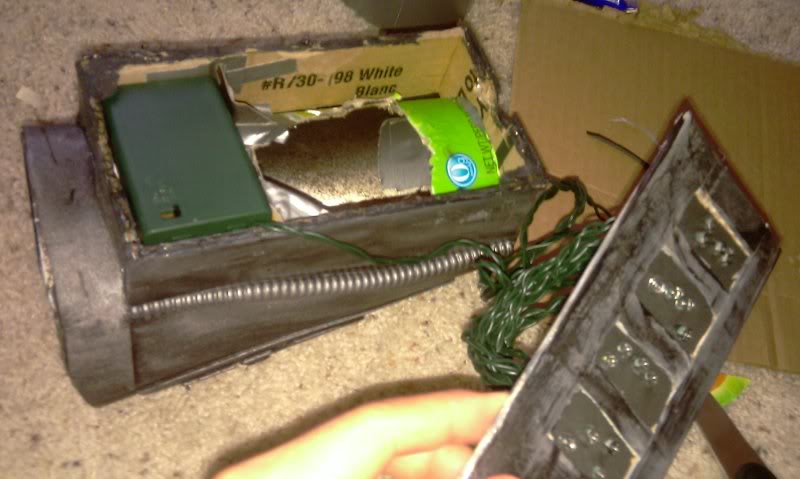 Finishing up like this: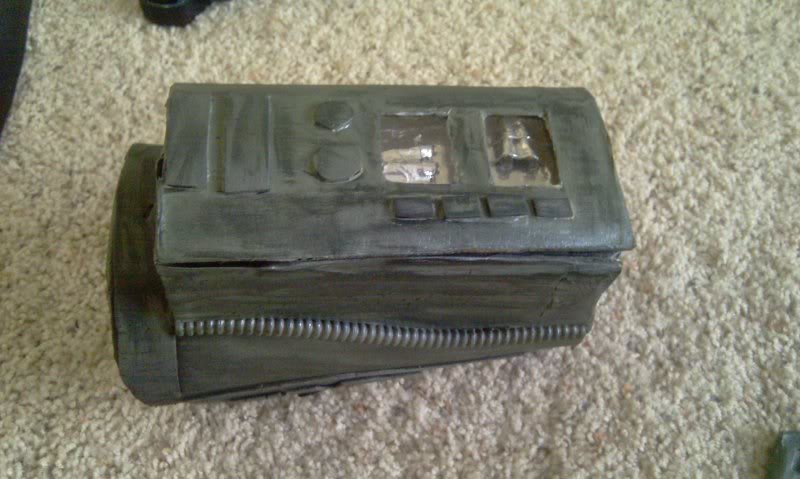 Yes, I have a switch that makes them blink. The outside, and the inside FOR THE COUNTDOWN!!! AHHHH!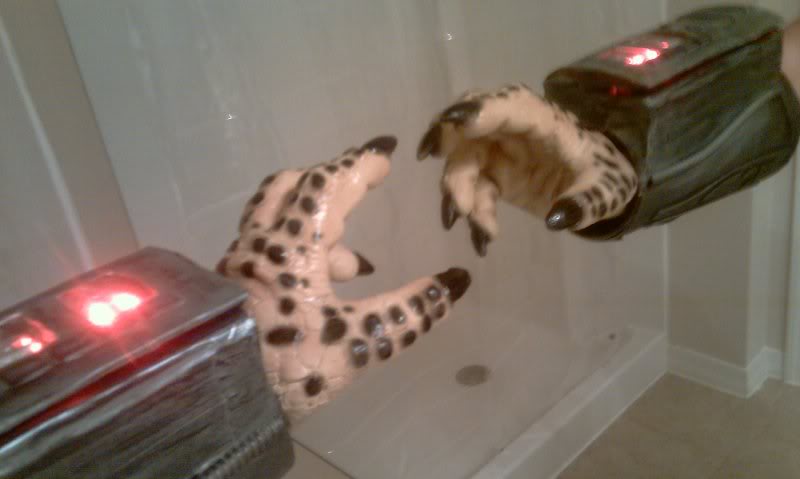 The AVP gloves fit right in the gauntlet. Awesome...
Blade action
I used the cardboard method with LAYERS of Polyurethane and covered it with the silver duct tape stuff. Came out Extremely sturdy.
This is what I started with on the back pack... I didn't get many good reviews on it... so i re did the damn thing.
How it started: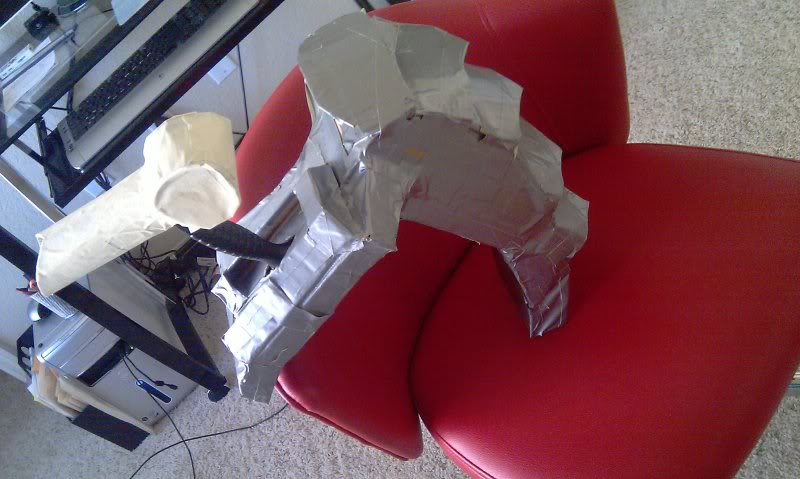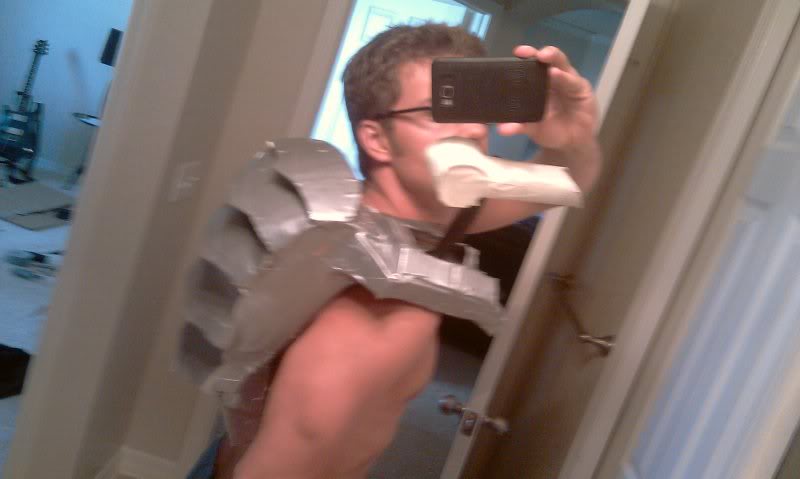 How it ended up. ( i re did the cannon. I will post the Blue LED mod I have done with a battery source. It's freaking sweet looking. I'm also having to re do the cannon because of the LED. I'll post soon.)
Most of the work was done by myself. I actually purchased the thighs, cod piece, and shin covers from Deciusx. I MODDED the hell out of the gauntlets though. I broke his original blades on accident. The gauntlets are completely re done. Rock and roll for $80 worth of Pringles cans... lol..
I have a new found respect for Foamies!
My Termokk Mask:
I'm gonna bite that hairy leg!
Corey is a great dude. Thanks for the sweet P1 paint up.
I need P1 feet, guys. I need them badly. I'm not sure how I'm going to make them at this point. HELP A GUY OUT!
WAAAAAAY MORE TO COME! I'm waiting to airbrush a zentai suit I have coming from China. It's gonna be the T!TS. Keep watching.
UPDATE ACTION:
So, here's the blue LEDs that I rigged up in the cannon. I put reflective tape all in the inside to reflect light like crazy. I also managed to make a belt mock up. It fits pretty damn well considering!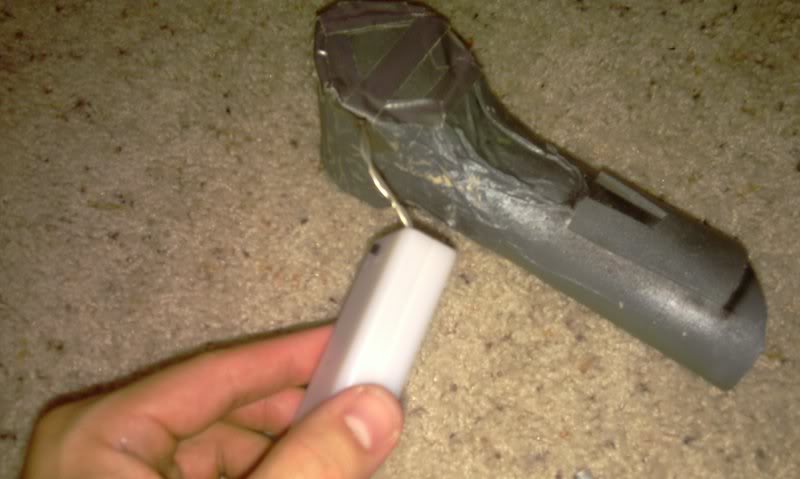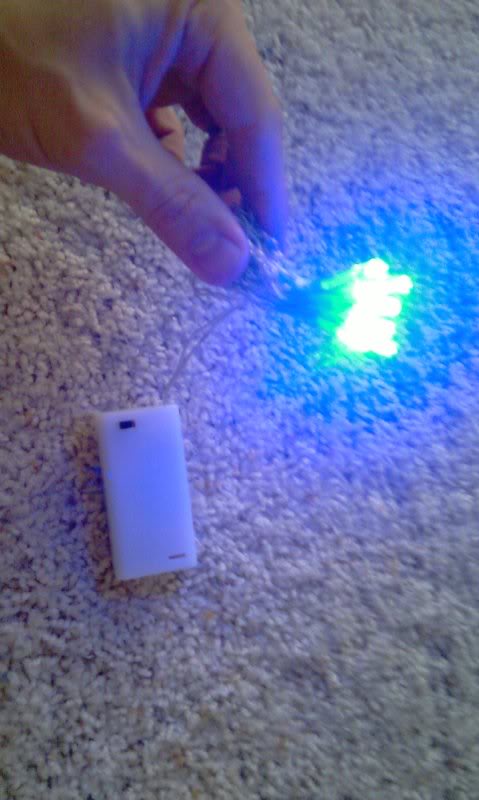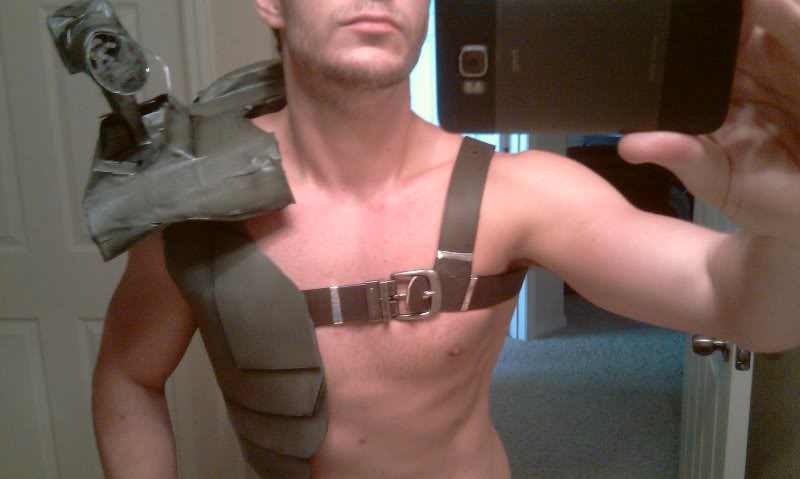 I bought the child AVP gloves and took the tap to them to make them look as though the gloves... have gloves?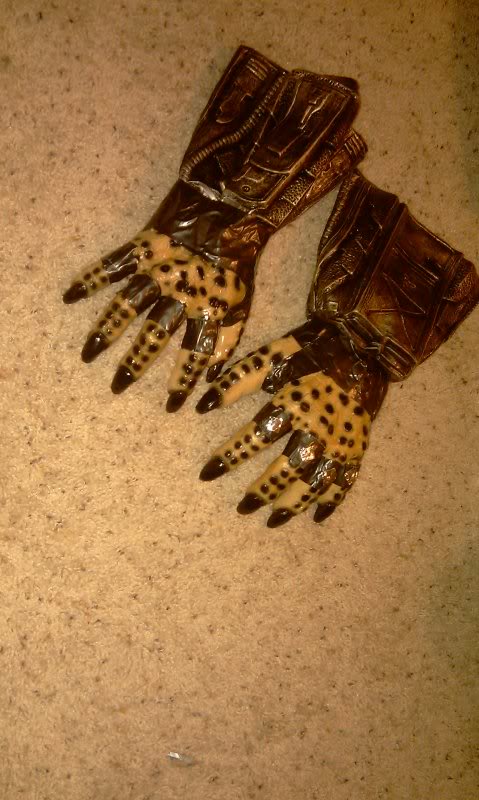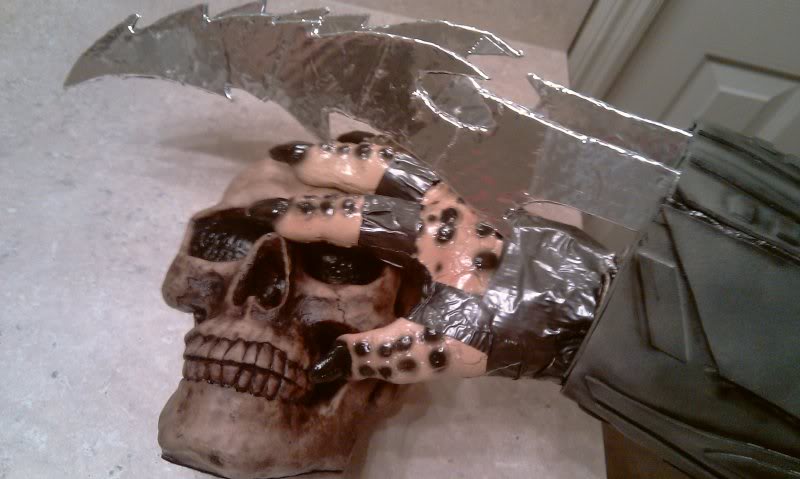 Now finally... the damn Zentai Body Suit I waited over a month for from China!
I don't know what the hell happened to the abs... but I'll be wearing the netting, So, it's ALL GOOD!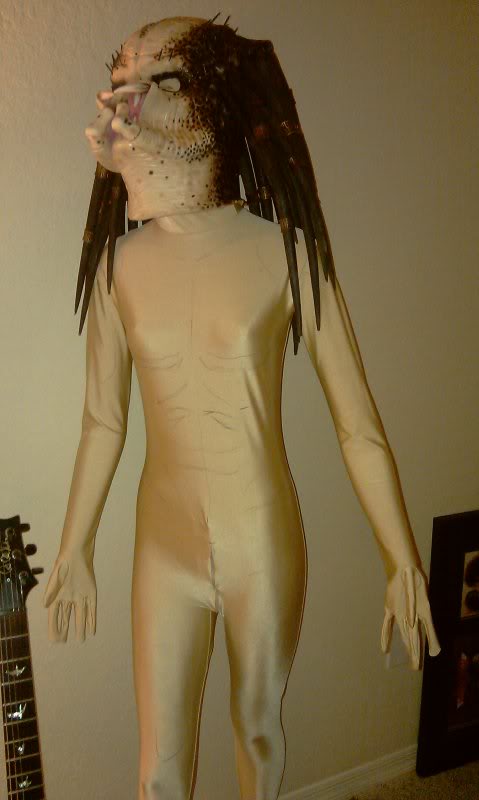 after my first attempt at the airbrush action. Took me an afternoon.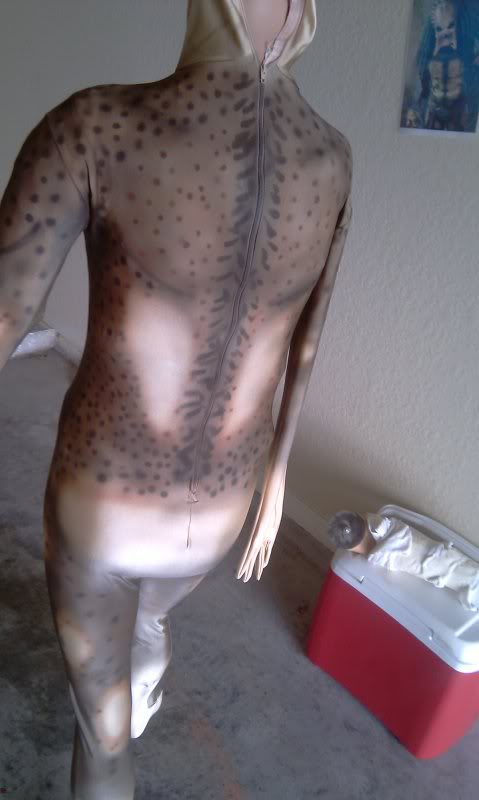 O.K. so... here's the deal. I am out a neck ring and the feet still. I will be adding misc tubing from the shoulder to the chest plate by the end.
I've come up with a swell Idea. Think about a toboggan... the thick beanie skull caps. cut the top off of a black one, and there we have a flexible make shift neck ring!
Rock on, right? So, I'll update when I get that one under way.
FEET PLEASE. P1 FEET PLEASE. : )
10/26/2010
I have Termokks P1 mask. I might as well go for his first Bio, yea? (where the HELL do the tubes go? Should I route them back into the Bio or what? I'm trying to come up with an answer here. Photos from 1987 anyone?)
this is where i had to cut into the foam, line up two magnets, and voila... it's rockin'
I also bought a micro speak for my MP3 player for my Predator clicks and what not. it's a 2watt expandable from eBay. Dude... $14 shipped. can't beat it.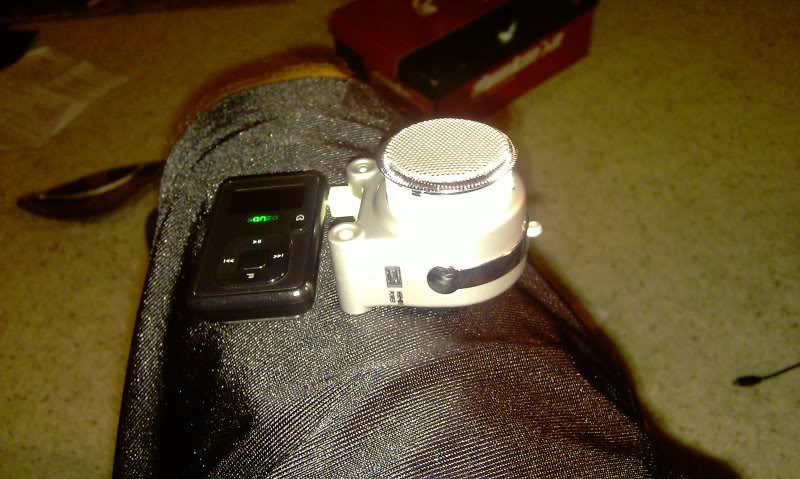 also hot glued some magnets after sewing, velcro, etc all fell through. very very stationary after the glue. dig it.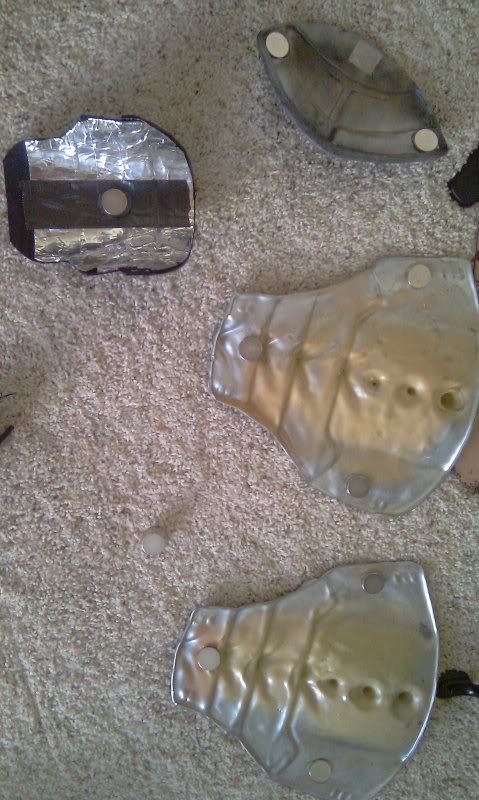 I ended up buying some 'flesh monster feet' off of a site on google. Should be here buy Thursday hopefully. Look out FLORIDA!
I'll have several photos like I'm sure most of us will very soon... rock on.