Been here for a while watching everyone else make amazing props, so I decided to start posting some of my builds.
This build kind of kills two birds with one stone. My fiance wanted to have a life size Jack for display during Halloween. And our son's 5th birthday is in October, Nightmare Before Christmas themed of course. So we set out to build a budget minded Jack replica.
We found a guy who built one out of PVC online, but of course could not find any measurements, only a basic materials list. So I uploaded a photo to Sketchup and scaled it to be about 6'3", then took all the measurements down for the various body parts. We decided 1.5" PVC would be the best option for the body since it was inexpensive and durable. The fiance is sculpting Jack's head from a craft store pumpkin and air dry clay, the whole head will be covered in plaster cloth, sanded down and painted.
Materials we used:
Torso, Arms, Legs
- 1.5" PVC - 16ft will be enough for the body
- 4-way 1.5" PVC - 1
- 3-way 1.5" PVC - 1
- 45 deg. 1.5" PVC - 6, we got extra to change the poses
- 90 deg. 1.5" PVC - 6, we got extra to change the poses
- 1.25" threaded flange - 2 for the feet
- 1.5" non threaded to 1.25" threaded PVC adapter - 2 for the feet (you can use the 1.5" flanges, but they are almost $8 more for the pair)
- MDF Basboard - We picked it up in the scrap section at Home Depot for $0.50
- Lag bolts - 8, to screw the flanges to the baseboard
Fingers, Hands
- .5" PVC - 8ft should be enough for the fingers
- Wooden craft balls 5/8" - 1 bag of 16 should be the perfect amount, you will need 4 per finger
- 16 gauge guy wire - I picked up a 50ft roll, you wont need that much
- 1.5" PVC end caps - 2
Head
- Craft store fake pumpkin - used for the head, but you can use whatever you want
- Air dry clay
- Plaster tape
- 1.5" non threaded to threaded PVC adapter
We do not have a materials list for the clothing yet, but when we find out what we are using I will post it up.
Measurements
- The pose we have him in, he stands about 6' 3", straitened out he is closer to 7'
Neck - 3"
Shoulder width - 8"
Upper arm - 1' 6"
Lower arm - 1' 2"
Waist width - 5"
Upper leg - 1' 8"
Lower leg - 2' .5"
Thumb - Base: 1.25", Middle: 1.375", End: 1.875"
Fingers - Base: 1.75", Middle: 2.5", End: 1.75"
Here are some progress pics: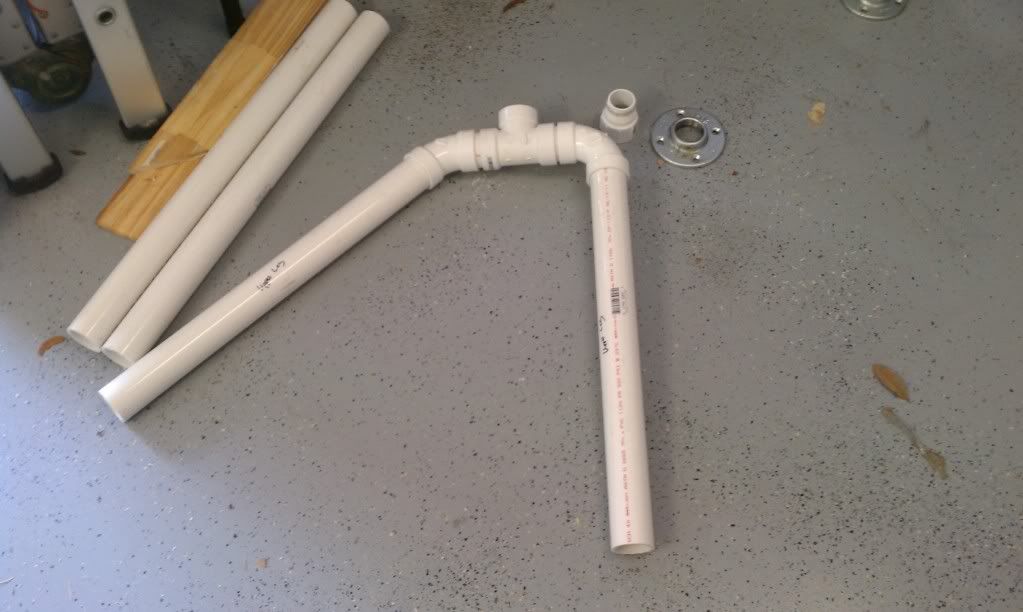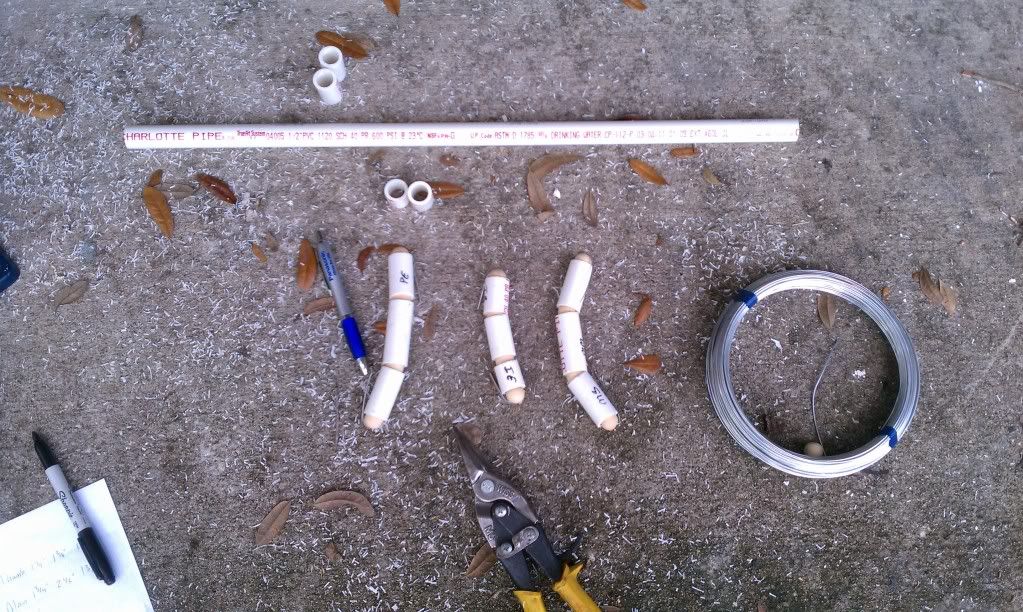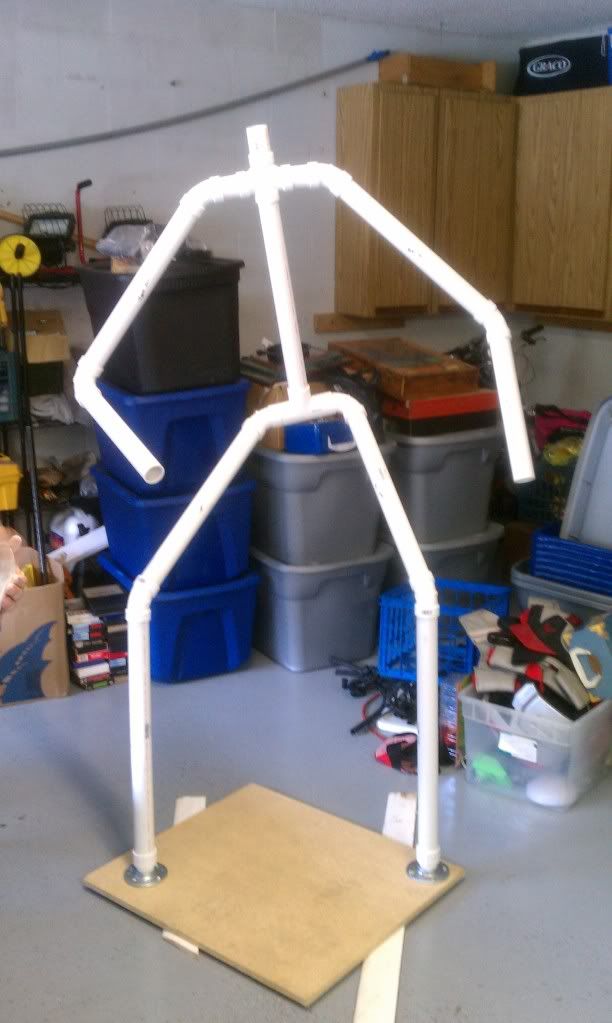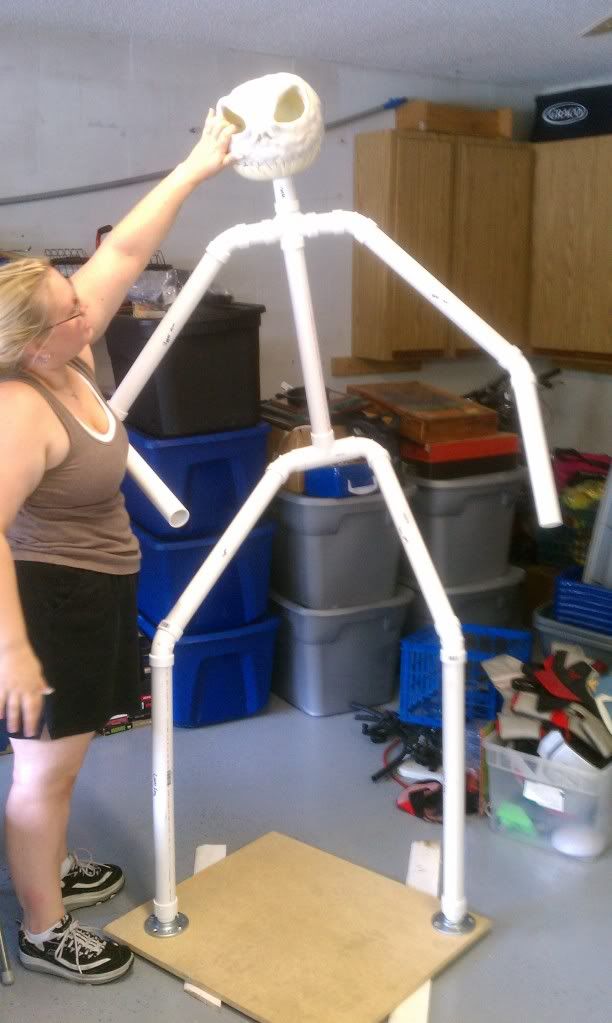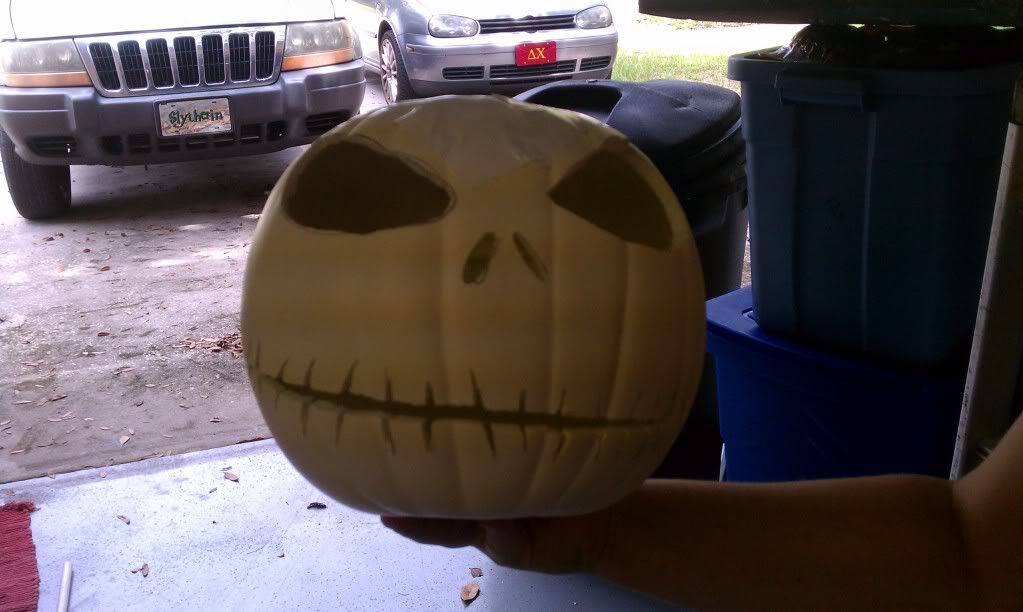 Last edited: