So thought I'd share another build from start to finish in Depth, my last one being an Iron Bot replica from the Iron Man comics which you see here
Iron Heart - Iron Bot Replica from Invincible Iron Man Issue 595
.
This time, with just over 2 weeks available before the Season 6 battle pass ended, I decided to make a replica of the Scales Pet Backpack, including the adorable scales himself. For reference, here's whats about to be built.
For those that also cannot wait to see how this turns out, here is the hero shot of the completed piece finished mere hours before my set deadline.​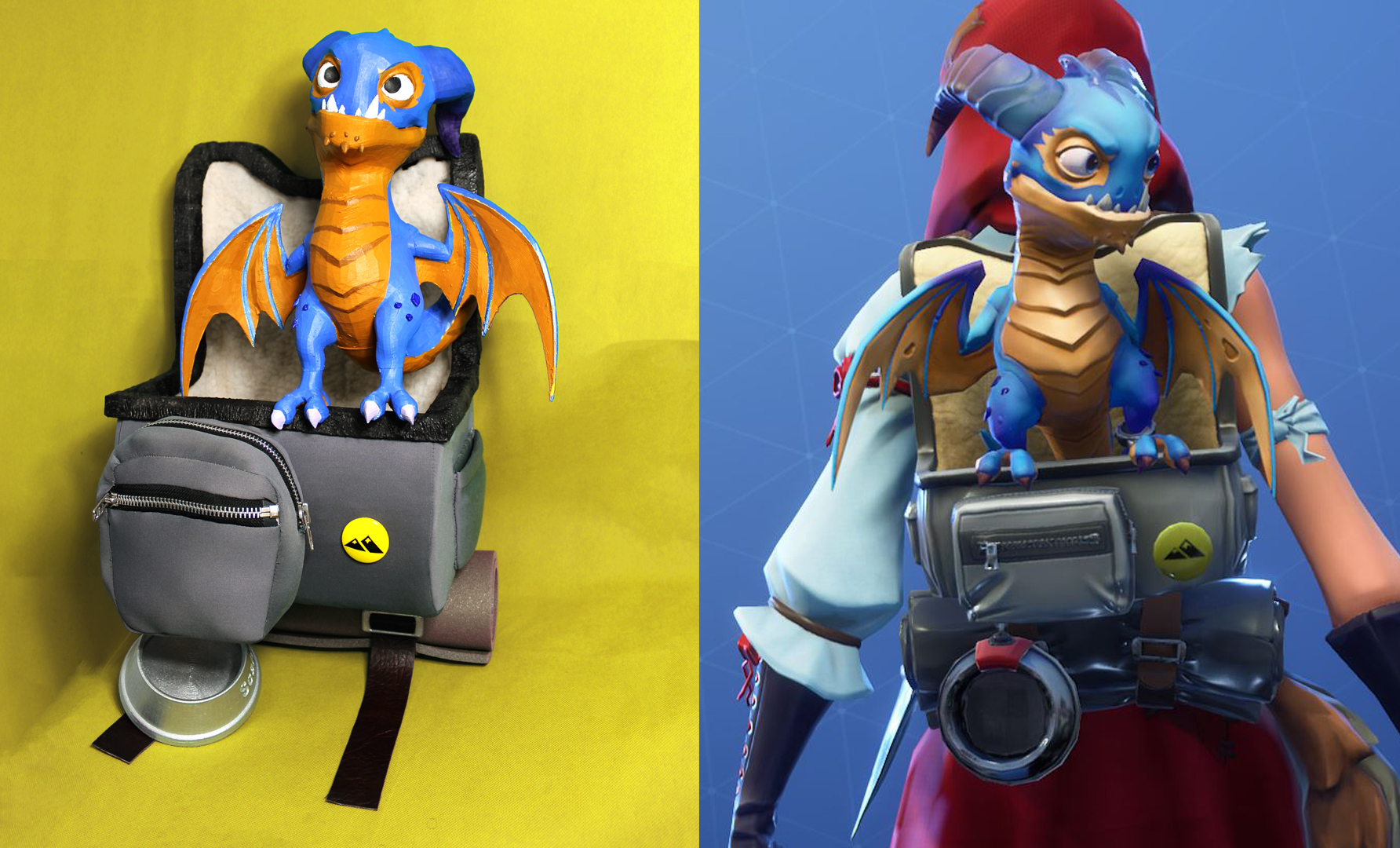 I started this piece by making the backpack portion, my intent was to make a frame and then skin it with fabric for the final desired appearance. I used cardboard (recycled from a shop) here along with paper mache in hopes to keep the piece light weight.​
With the frame built, I managed to find a really nice stretch fabric to skin the piece with. Printed templates where used to ensure scale and fit was right.​
The outer fabric skin was stitched together and attached first before working on the inner lining, I managed to find a fluffy blanket in the right colour and which looked nice. Again templates where used here to mark out and ensure correct sizing before any fabric was cut.​
With the Inner lining done and fit, next up, the front pocket and side pockets.
After completing the main form of the backpack, it was time to work on the little details like the accessories attached to the bottom, the little button and rolled up mat. Finding a camping mat to use for this project proved difficult and resulted in a cross county search from shop to shop but I did eventually find one. Working on these details was also the start of the 3D printing phase of this project.
While working on the fabric side of things and with the main backpack, my trusty 3D Printer was also working away printing various parts for this project, namely the strap buckles, chain, dragon bowl and of course Scales the Pet Dragon.
This project was also my first time ever using esuns PLA filament and it was a delight with no issues compared to what I used to use. Overall all of the 3D printed parts took about a week straight to print with breaks in between. Scales taking most of that time.
Overall the first week of this project was dedicated to 3D printing and the main form and fabric of the backpack. By weeks end I had a fully 3D printed Scales and a mostly finished Backpack.
The next week was spent on final details, the bag trim and painting scales.
​