Well, now that i got this thread rolling, im gonna modify the start post a little:
Here, im gonna try to collect all of my various Pep files, that are made by me. Some models are ripped from games, some are supplied by friendly members, some are modeled by me, some found on the internet. Enjoy!!!
Also, a special thank you goes out to Joe Pep who supplied a lot of the files in this thread, otherwise i wouldnt have a lot of models to modify!
Anyways,lets get this going. Lets start out with the full set of:
Iron Man extremis armor!
Reference image:
Quick render:
this is a rar folder that contains every file:
Extremis.rar
The Files are (all unfolded):
Helmet
Neck piece
Chest piece
Abs+Back (one piece, as it is in the extremis armor)
Cod piece
Hip Pod
Upper Leg
Calf
Boot
Shoulder
Biceps
Forearm
Palm
Fingers
also, here is an additional Extremis helmet, comic style
Download Link for the helmet
(4shared because somehow i couldnt uploadit at the page i did the other stuff)
and here are JFCustoms modified foam files for this pep!
EyeofSauron's IM Extremis - JFcustom's foam version.rar
and now, the start of the next suit:
Iron Man Hulkbuster Armor!
helmet
Download link
chest
Chest - unfolded by jackieisrockin
and so it goes on:
Silver Centurion
Reference Image:
Mesh:
Helmet:
Silver Centurion helmet by EyeofSauron.pdo
Chest (combined with abs, as they are not separate in the file, also the file is rather complicated, and i couldnt fix some of the open edges)
Cod:
Thigh:
Knee:
Calf:
Boot:
Shoulder:
Biceps:
Elbow:
Forearm:
Palm and fingers are the same as in the other armors, thats why there are no pics here. they are in the download link tho, which you can find here:
Silver Centurion by EyeofSauron download link
Classic Iron Man
Reference Image:
Mesh:
Helmet:
Classic Helmet
Neck:
Chest:
Cod:
Thigh:
Knee:
Boot (if you want the boot seperate, its the same as the silver centurion boot, there is just no separation between calf and boot here, tho):
Biceps:
Ellbow:
Forarm:
hand files are the same as the others, no pics, but included in the files
Classic Iron Man Pep Files by EyeofSauron
First Appearance Armor
Reference image:
Mesh:
Helmet:
first appearance iron man helmet.pdo
Neck:
Chest:
Cod:
Thigh:
Calf:
Boot:
Shoulder:
Biceps:
Forearm:
Palm:
Fingers:
And here is the download link for the full set:
First Appearance Iron Man pep files by EyeofSauron
this armor lends itself perfectly for foam, as i see it, not a lot of complex lines etc. anyone wanna mod it, be my guest
Ultimate Iron Man
Reference Image:
Mesh:
Helmet:
neck:
chest:
ultimate Chest.pdo
Abs:
Cod:
Thigh:
Calf:
Boot:
Shoulder:
Biceps:
Forearm:
Palm:
Fingers:
some of the files are not really necessary, or very good, i recommend taking other files for boots, palm, neck and fingers, as they are really plain and dont have a lot of detail.on the other hand, some might like that.
Here is the download link:
Full Set of Ultimate Iron man Pep files!!!
Also, JFCustom made his own foam files of the ultimate armor, which can be downloaded here:
Iron Man Ultimate JFcustomized FOAM pepakura files
(these are not based on my files, but rather all his work, based on the same 3d model, tho)
iron woman/rescue armor
made by jfcustom with some self modeled parts, some parts of other armors: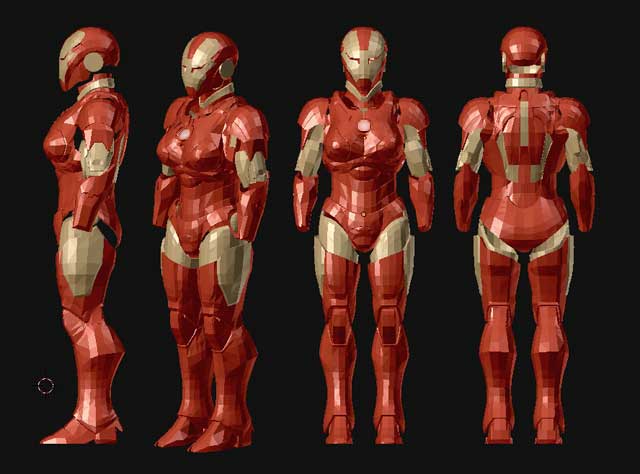 http://www.wintershade.com/therpf/Pepper Potts Rescue Armor - foam edit JFcustom.rar
and also, something that is not iron man, but made by me
Red Ranger helmet
something i made some time ago, because there was no free model available(might need some reunfolding as i apparently forgot to flip the faces when i unfolded
)
Red Ranger by EyeofSauron
display head for masks helmets, etc
seems like this one also has flipped faces, oh well, i built one, it works
the model was supplied by pepmaster (before he was banned), and is ripped from a video game
Display head by EyeofSauron
LICH KING FILES
i had lying on my pc unfolded, but never uploaded.
belt
gürtel - Download - 4shared
helmet
LKhelmetHD - Download - 4shared
Shin
schienbein - Download - 4shared
shoulder left
schulter links - Download - 4shared
shoulder right
schulter rechts - Download - 4shared
shoulder skull button
skull schulter - Download - 4shared
forearm
unterarm - Download - 4shared
i did not model the lich king, i just modified the files, so it doesnt have too much stuff you dont need. they are complicated but buildable.
Power Rangers pep + foam file
here are the foam unfolds for all the power ranger helmets except green, plus all the normal pep files.
most of the files are made by Dung0beetle, most of them were unfolded by me for pep, white ranger foam has the 3d model edited by me, and i didnt get to finish the pattern overlay in the 3d file, so i made a pattern as a png to go off of.
http://www.4shared.com/rar/b_hcXXXC/power_rangers.html?
heres a link to my build thread for pics:
http://www.therpf.com/f24/wip-all-mighty-morphing-power-rangers-202485/
black mask arkham origins helmet:
http://www.4shared.com/file/8VqFJ0T8ba/Black_mask_helmet_by_EyeofSaur.html?
more to come
i hope you enjoy those files, and would be glad, if you posted progress in this thread.
cheers
EoS
Last edited: