Hello all you guys and gals,
As a few of you may know, I have recently been reworking on my pred suit with armour being revamped and paint ups changed and, in places, thing being completely remade i.e. the blade gauntlet (with blades) and the bomb computer gauntlet.
I have been working on my own design for these gauntlets, but I wanted to make a mechanism to go in the blade gauntlet so the blades could extent. After seeing neXus6's huntortial in the How to sectional (many thanks for that) and seeing his spring loaded blade construction, I was inspired but I noticed that neXus6 had the draw slider on show between the blades (not saying there is anything wrong with that before people start pointing fingers...!). So that got me thinking, how can I make a gauntlet mechanism without the slider looking like a third blade?
This was my answer.
I started off using:
2 draw slides
Piece of wood
Hand full of nuts and bolts
Washers
Screws
Meccano pieces
2 Large springs
2 small springs
Heavy duty string
Some plastic tubing
Here some pictures of what I did.
First I cut 2 pieces of wood (both the same size as these will be the divider between the two slides) making sure that the bottom slider over hung at the front by about 3-4cm (depending on the size of you draw slide). I then lined up the slide screw holes on the slide and drew a in wear they were. I then drilled 2 holes in both wood pieces (one at the back and one at the front) this way when it comes to fixing the slides in place they will sit evenly and parallel to each other.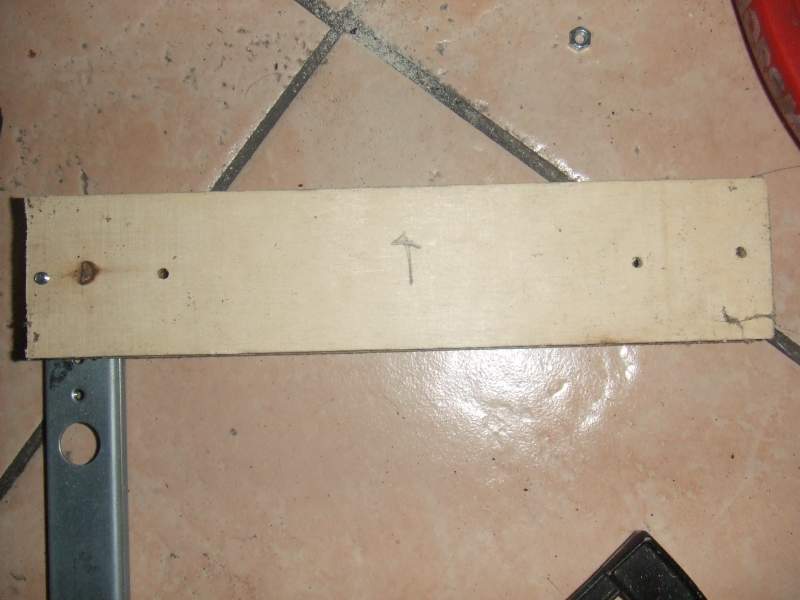 Make sure you put an arrow showing which way up these will go. I used nuts and bolts to hold and pin the sliders in place.
I then drilled an hole one side of the front of both slides (both on the side that is at the top when the slides are attached) and then using a nut and bolt, screwed a large spring in place see below pictures.
After that I then added added two long bolts to the top slide at the rear end. The first one then had the long spring added and a nut screwed into place to hold it and prevent movement. The second bolt with a nut added acts as the hook that the latch will latch onto (sorry didn't get any pics of this process - camera was dead - but you can see them in other pictures below.
Picture of one slider with spring attached on wood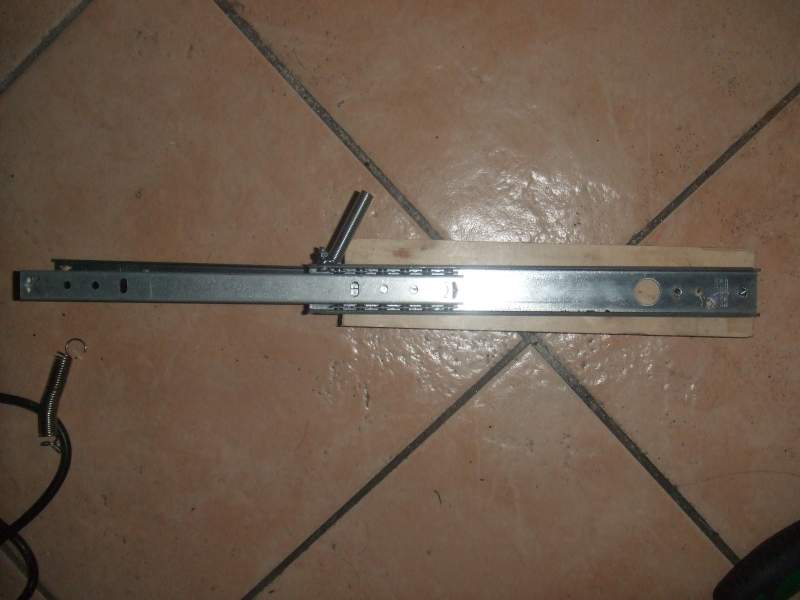 Picture of both slides attached with one spring in place - other spring was added in same place at later date.
Picture of mechanism fully complete both slides attached and latch mechanism in place. Slides in locked position.
The latch was made from Meccano pieces, nuts and bolts and washers. I started by bending a long Meccano piece in the centre at an angle to made just under 90 degree angle. I then added a small spring into place using a small nut and bolt (make sure you screw into the latch at the top). I then added a smaller meccano piece to the end of the latch to act as a hook. I screwed a bolt into place on the bottom slide and then added 5 nuts and 2 washers in place. I then drilled a hole about 1cm diagonally (towards to the bottom of the slide) and then screw a bolt in place adding 2 bolts.
I then placed the small spring under the latch onto the on to the diagonal bolt and screwed a nut on to hold the spring in place. After, I then place the meccano piece over the bolt with 5 nuts and the added 1 washer and 2 further nuts - the second helps lock everything into place.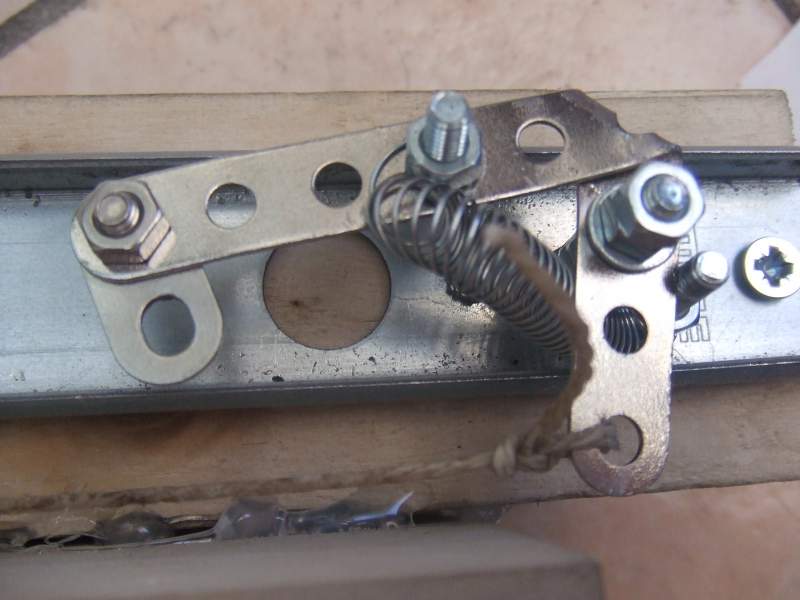 Latches movement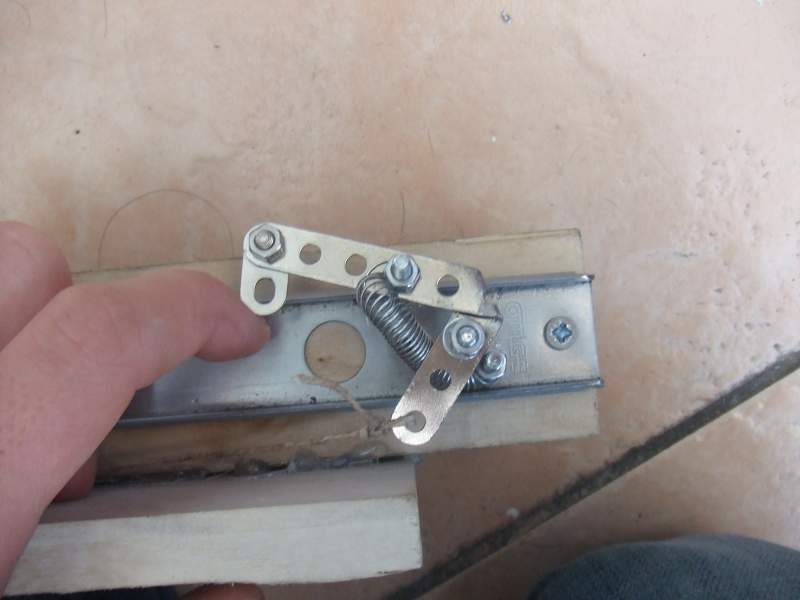 I later, hot glued the mehanism on to another piece of wood and then screwed into place with six screws over 2 rows up the length of the wood (will add picture of this later) After, I added some heavy duty string I had lying around to act as the triggering mechanism, which pulls on the bottom of the latch and releases the top slide. The string was then slide inside some plastic tubing I had then will take the string down to my finger and will protect my hands from rope burn or being cut open by the strings movement.
I later add the string to a key ring that will go around my middle finger. This will be the release, so when my hand is moved downwards the blades will extent.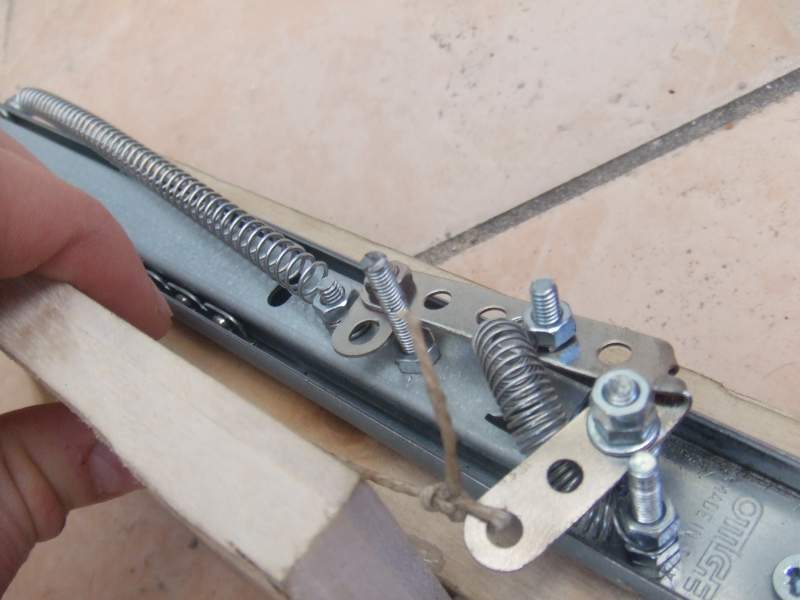 Locked in place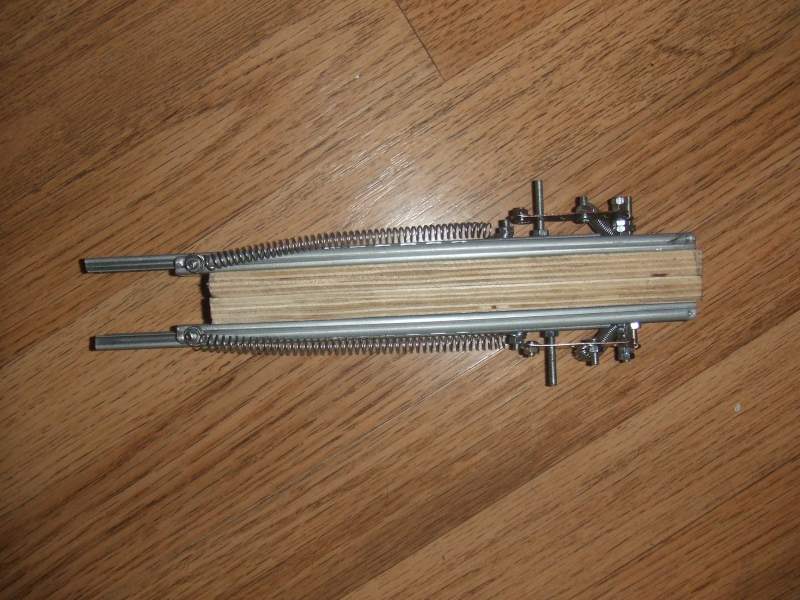 Released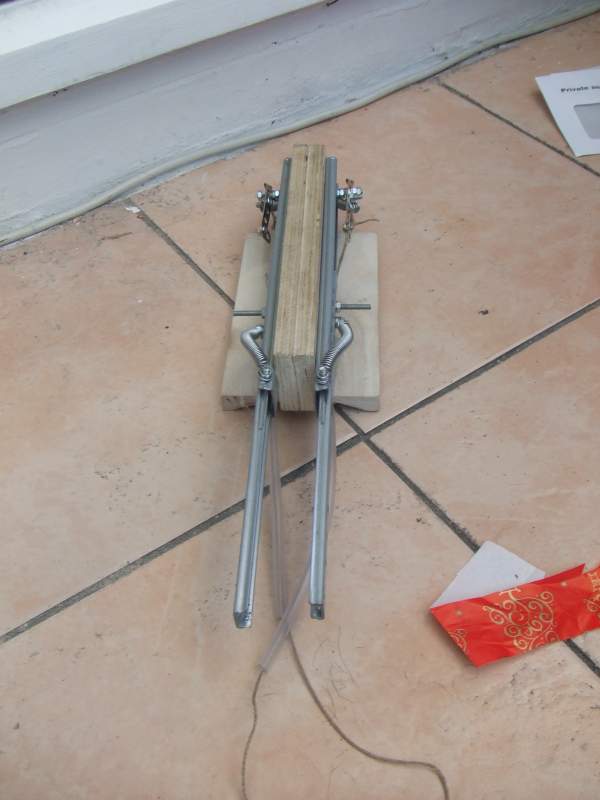 Still working out the kinks and tweaking a few things to make this run smoothly. I will be making some custom blades from plexi-glass acrylic sheet and will then be fixing then to the end of the slides. I will add to mock up blades for reference and get some pictures up of it so you guys an get an idea of what I am on about.
This mechanism will be mounted to the under gauntlet at a later date once everything has been sorted.
Thanks for viewing guys
Double H
Edit: more info added, run outta time earlier when originally posting