while out shopping today i found some foamies and seeing as i need something to hide my modesty i made a belt buckle, AVP inspired.
very simple to make, and hopefully will look pretty good tomorrow after a lick of paint.
goin for a wolf and scar hybrid cod piece
will add some more pics tomorrow
i gave it a lick of paint, mad eme some crotch armour, half way through painting that too, and even painted my "safety" wristblades today, can't be having sharps around town
so, here's the buckle painted, sponged, silver basically.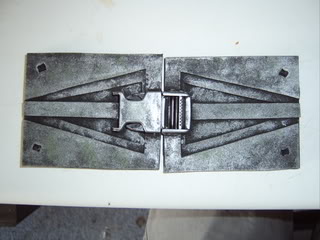 and the unpainted armour
unpainted wrist blades
finished wristblades, i used an old archery bracer to tie it securely to my arm, snug as a bug.