Sr Member
RPF PREMIUM MEMBER
I've had this fibreglass lifecast hanging on my wall for years and I always intended to add eyes and paint it up, so I finally got round to starting it. I've never seen a lifesize bust of Ash (except for the head on the lifesize head to toe statue from Oxmox and a pretty bland silicon bust on eBay) and I need one to put with my lifesize Evil Ash bust, so I thought I'd get cracking.
This is the lifecast I started with - it's a cast of Bruce Campbell taken during production of the first Evil Dead movie. Unlike the one shown here, mine was hollow fibreglass (and not solid plaster):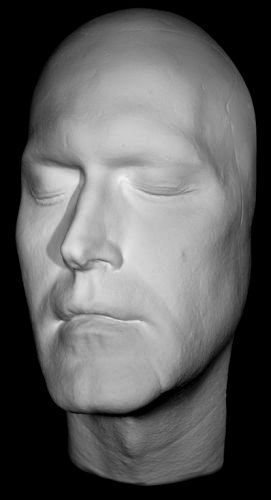 From here, I used my dremel to cut out the closed eyes, inserted some acrylic eyes and "sculpted" back in the eyelids. I was then going to paint it as this was originally intended to be a quick, cheap project. I decided to extend it further though (not a big fan of wall mounted half-heads). So, I then tweaked the eyelids a bit more (I made originally scored lines in for the creases and it looked terrible) and added Ash's iconic scars that he gets at the end of the ED2: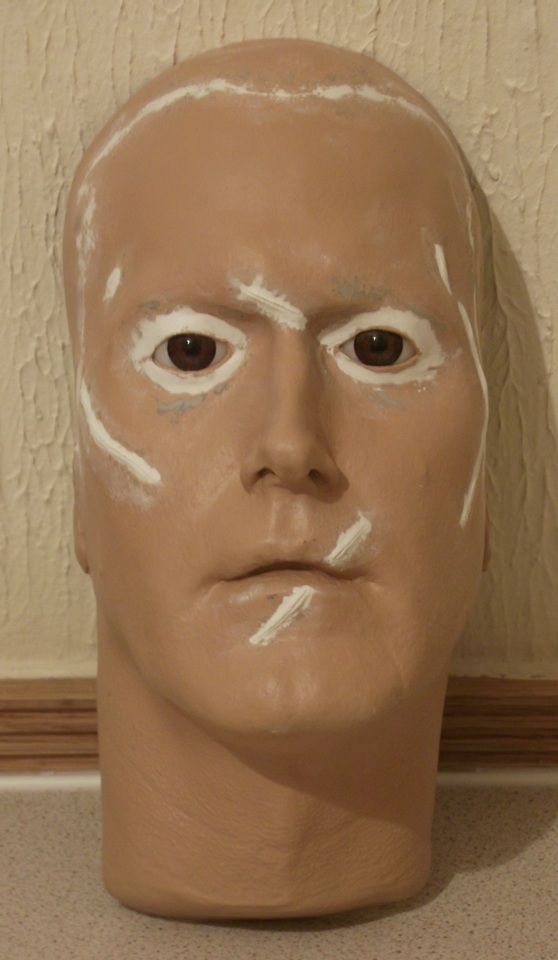 Then base coat: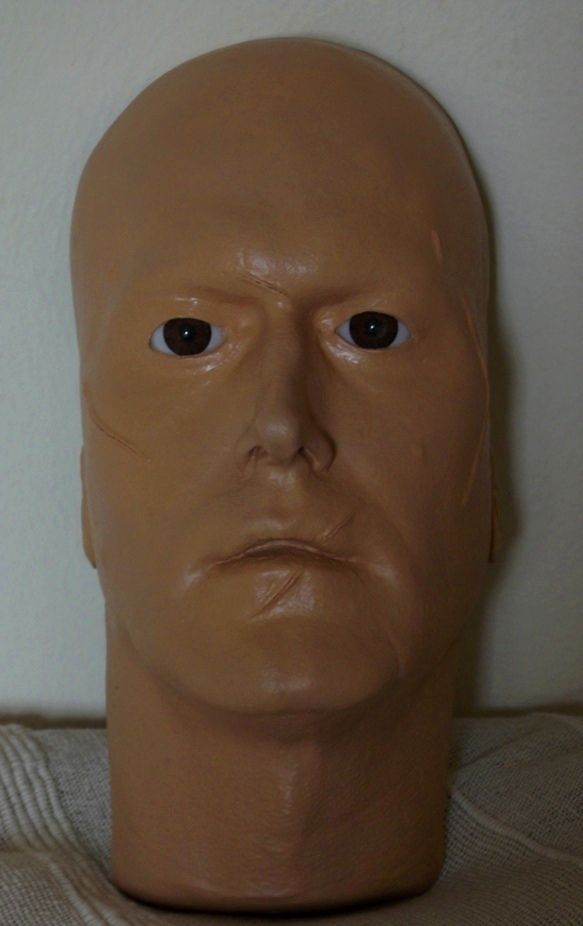 Now, two things - 1) As this was origanlly going to be a VERY low budget build I used plastic dolls eyes. The irises therefore look too large compared with if I had gone with expensive custom eyes. Unfortunately they're really well secured in there, so there's no changing them now. And 2) I am not a great sculptor and am having to work with Milliput which air dries in about 5-10 minutes - sadly I just can't figure out how to get the top eyelids to incorporate the crease needed to make them look more accurate. Again, it's going to have to be a "good-enough" job. I'll see if I can make up for it with the painting and eyebrows.
I was going to just paint and be finished with it at this point. But the lack of ears was annoying me. And if I'm going to add ears, I'm going to have to add a bit more head, so I might as well do the whole head...
As I said, I'm working on a very small budget, so I didn't want to buy clay, silicon and resin just to do the back half of a head (which will be mostly covered by a wig). I toyed with using a cut-up polystyrene head (measurements showed they were too small), and with using a cast of the back of my head (but Ash's head is slimmer than mine so wouldn't line up properly), but in the end I came up with a decent budget option.
Having measured the head, I bought 6 floral foam blocks and hot glued them together to give a workable size piece:
Then press the lifecast down into the foam block about 1cm and remove: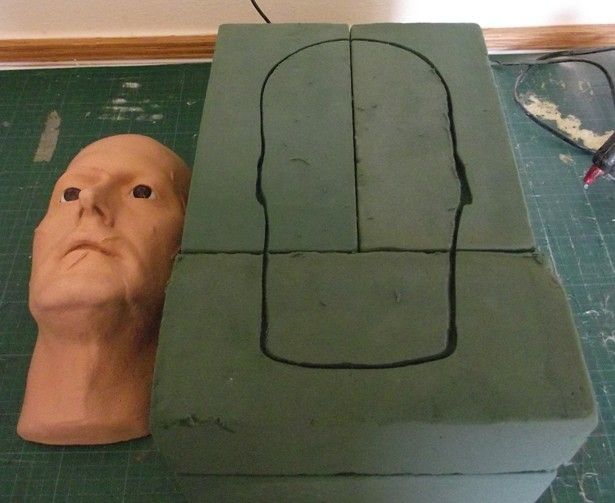 Use the outline to cut out the correct size: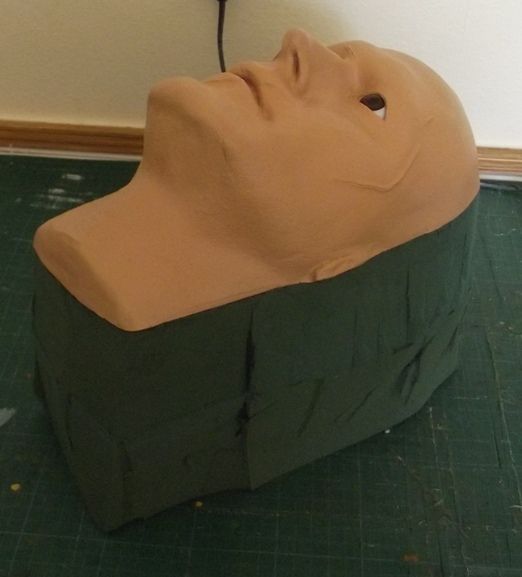 Then, as it's floral foam, simply use a sharp knife to carve the block to shape (easy as slicing through butter):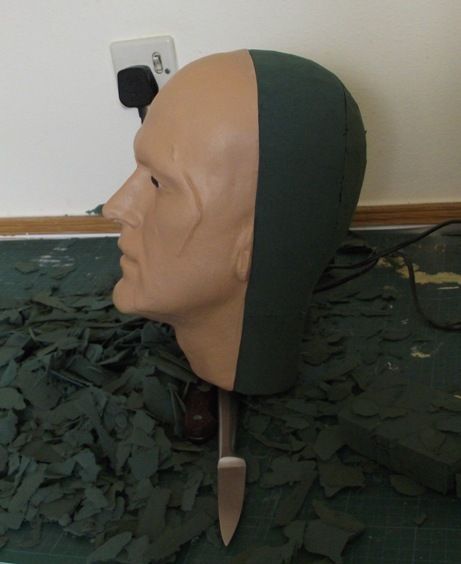 Floral foam is obviously not strong enough (heck, you can press your fingers right into it), so remove: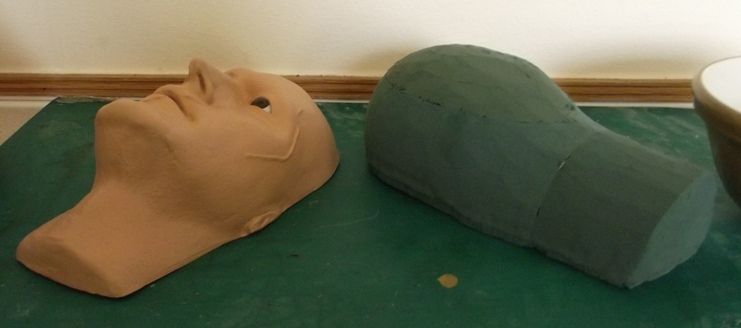 And then cover with mud-roc bandages (bandages pre-treated with plaster - just cut to size, dip in water, then slap on and smooth out):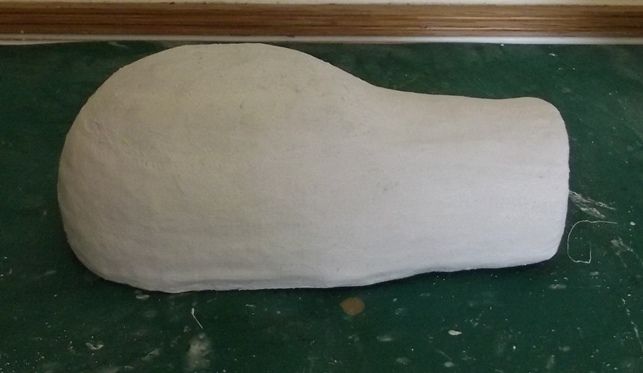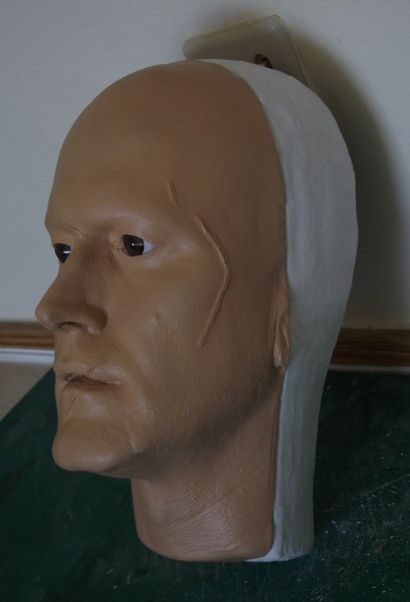 Now he needs some ears!
I've searched online to see if I could buy any resin human ears, but everything available I found is either latex, rubber or only one ear (not a pair). So I dug out some old alginate powder and am going to have a go at lifecasting my own ears to add to the bust. Stay tuned....
Last edited: