Hi Folks, I'm new to the forum.
Anyway, over the past several months I've been working on a War Machine suit. I've made some progress, and I'm confident I can complete it, but I am new at this; I know there's still tons to learn about the topic. Anyway, I was out at the Buffalo Museum of Science today and met some folks from your forum there displaying their work at the Mini Make fair, and they pointed me towards this site.
I met one guy, Bobby, who suggested I document my work, so that's what I started to do. I'll admit, it was encouraging to meet someone else doing what I am, and actually see his work too.
Anyway, below is a description/pics of my suit as it is so far. Input is certainly welcome.
Thanks!
Back in October of last year (2014), I was considering going to a Halloween ball with a local meetup group, and the idea of going as superhero characters came up on the groups' thread.
I personally have always been fascinated by technology. Robotics and armor, and thought it would be cool to go as War Machine.
I chose War Machine because I figure, personality wise, I'm more like James Roads than Tony Stark (even though I am very good with my hands, am en electronics technician, and many of my friends would probably consider me to be "smart" anyway).
I started looking into how to make a suit, and came across the craft of building models with Pepekura. I downloaded the software, and started getting to work making a resin suit with a card stock frame as the frame.
I started in early October, hoping to be able to get the suit down by Halloween. Boy, what an unrealistic goal.
As of the beginning of this writing, it is June 2015. My current goal is to hopefully get the shell pieces of my suit properly resined and painted for Halloween of this year. After that, I was to go to a local conic-con (maybe Toronto). I think I stand a fair chance.
So, my project outlines:
I'm working on a full suit, head to toe War Machine armor. I'm using files from a modeler call Juice, and I like a lot of his stuff. The armor I would say, is about a 90% build of the War Machine armor featured near the end of the film Iron Man 2 (that is, the suit that was originally the Iron Man Mark II armor, before being refit with additional weapons and armor after being taken by Roady).
I have been building the papercraft parts for most the suit, but intend to rely on foam for the crotch, abdomen, neck, around the elbows, and pretty much the rest of the joints.
I say it is about a 90% accurate build because as it turns out, my chest armor looks a little different (and I have no desire to go back and remake it, so I'll just like with it), and I also intend to have the traditional War Machine missile pod mounted over the left shoulder (even though the film didn't have this feature)..
I also intend to put the following electronics into the suit:
lit up arc reactor
Lit up eyes
Retractable face-plate (triggered triggered by hand controls)
Light up palm repulsors with sound effects
Spinning mini-gun with sound effects
Light up under mounded arm cannons with sound effects
Voice modulator within the helmet
Maybe a power up unibeam feature
Missile pod that conceals a digital camera
As of this date, I've got somewhere around 40 to 50% of the cardboard armor built, and am currently applying resin to many of the parts. The Helmet is fully resined, with the fiberglass cloth re enforcing it, however bondo work has yet to begin. I might go over the inside with another coat of resin actually.
To recap the order I did things, I basically decided to build the helmet first, even though I read someone in else's tutorial that you DON'T want to work on an important part first. My first helmet attempt was unsatisfactory by my standards.
I figured it might be a project I give up soon after starting, and it so, I'd like the on part I successfully made to be the helmet. But as I've learned, any job worth doing is work doing right. If you're reading this to get an idea how to build armor, I can attest to this: DON'T START WITH THE HELMET IF YOU'RE NEW TO PEPAKURA.
After my first attempt with the helmet, I then decided to try the right forearm. I Printed out the pages on card stock and started cutting the parts out. It was simpler than the helmet, so that helped. However, while comparing the part to the 3D model in my program, it seemed I have to fold opposite the way the dots on the line meant (I was folding continuous slashed as valley folds, and dot/slash/dot/slash as mountain folds). It was weird, but I did succeed in making the part. However, later I realized: I made a left forearm, not a right. There must have been some glitch in the file or program. Oh well, it'll get painted over anyway. I just would have to make a real right arm later.
I made it back to the helmet, and this time I did get it right. I did the chest, and eventually got both left and right forearm/bicep/shoulder made, and then the back. By the time I got the the back portion, I could see my skills at assembling pepakura models have noticeably gotten better.
However, later after watching someone else's video on their War Machine armor, I realized my helmet was too big. It sort of looked like a bobble head to me. I needed to learn how to resize pepakura files. After looking at tutorials on youtube, I tracked down the Pepekura designer program, which was what I needed to do the resizing. I still however like the viewer version of the program, due to its simplicity when simply viewing the model for reference during assembly.
After than, and buying a big calipers at my local Harbor Freight (I'm a nut about detail and accuracy, so wanted to get my size right this time), I measured my head and resized the helmet file accordingly so it would be small enough, yet still fit my head.
After my third attempt, I finally assembled a helmet I'm happy with. The older, larger one will just have to be more of a display piece.
As I continued, I also started work on the shins and built Juices' model for the shoulder missile pod, albeit I think this one is too small.
I have two reasons for wanting the missile pod: 1. To add more firepower (or, the appearance of such) and 2. Because I want to be able to hid a digital camera or two in it.
I figure, I've never been to a comic con before, so I'd want to take a bunch of pictures. However, I don't think it would look that cool to have War Machine walking around with a camera. So why not just integrate it into the suit? I might mount a regular camera in there for taking pictures, and maybe get a Go-Pro camera for continuiously record video of the convention as I'm there. The only drawback is that I wouldn't be able to have others take pictures of me.
Anyway, at present, I'm going though the process of applying the resin to my suit. I'm also realizing I may need to make new biceps, since they don't seem to fit with the shoulders too well (the biceps now seem pretty big, I think I need to resize those too). The forearms seem pretty big too, but it could just be the design: War Machine does have bulky forearms.
As for the helmet, it is pretty much resined (maybe I need to fill in a few spots), and I've applied the fiberglass cloth on the inside, so it's pretty hard. Not as hard as I'd like, but it's certainly durable enough. I also cut the helmet apart at the jaw, and also cut out the faceplate so I can figure out how to get the setup in for activating the retracting feature, but at this point It's more at the theoretical stage. Looking for help on that one. Also kicking myself for cutting the jaw off at straight lines, since after examining footage, when the faceplate retracts in the films, the jaw lowers slightly, with it being on a rounded joint.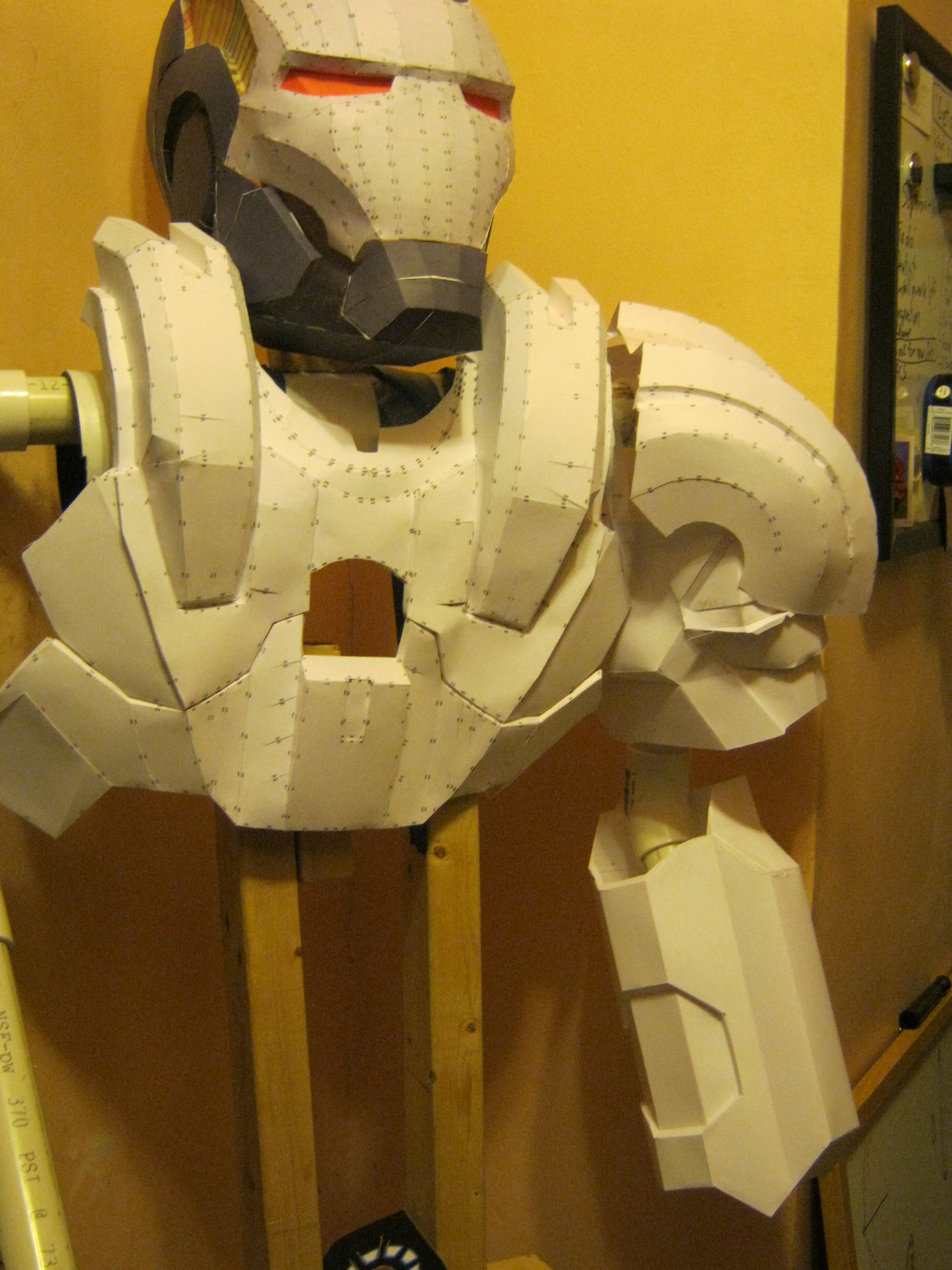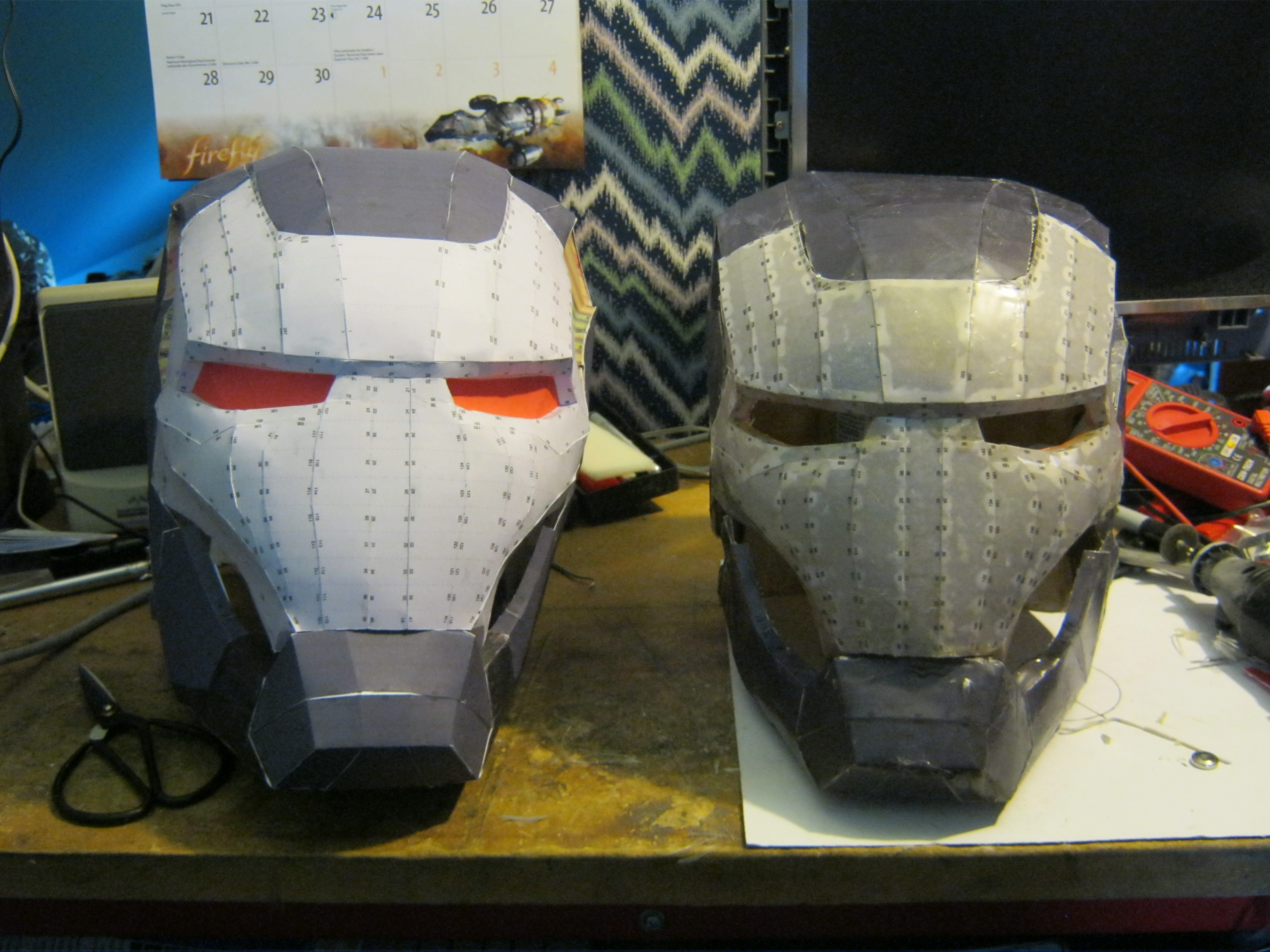 Last edited by a moderator: