For a year now I have been scratch building this larger 66 inch Enterprise. Half of that time was spent making models for people and designing and producing a new kit. But now that the model is done I have always had a bigger plan for it's use than sitting in my office.
It's a real studio model so why not use it as one?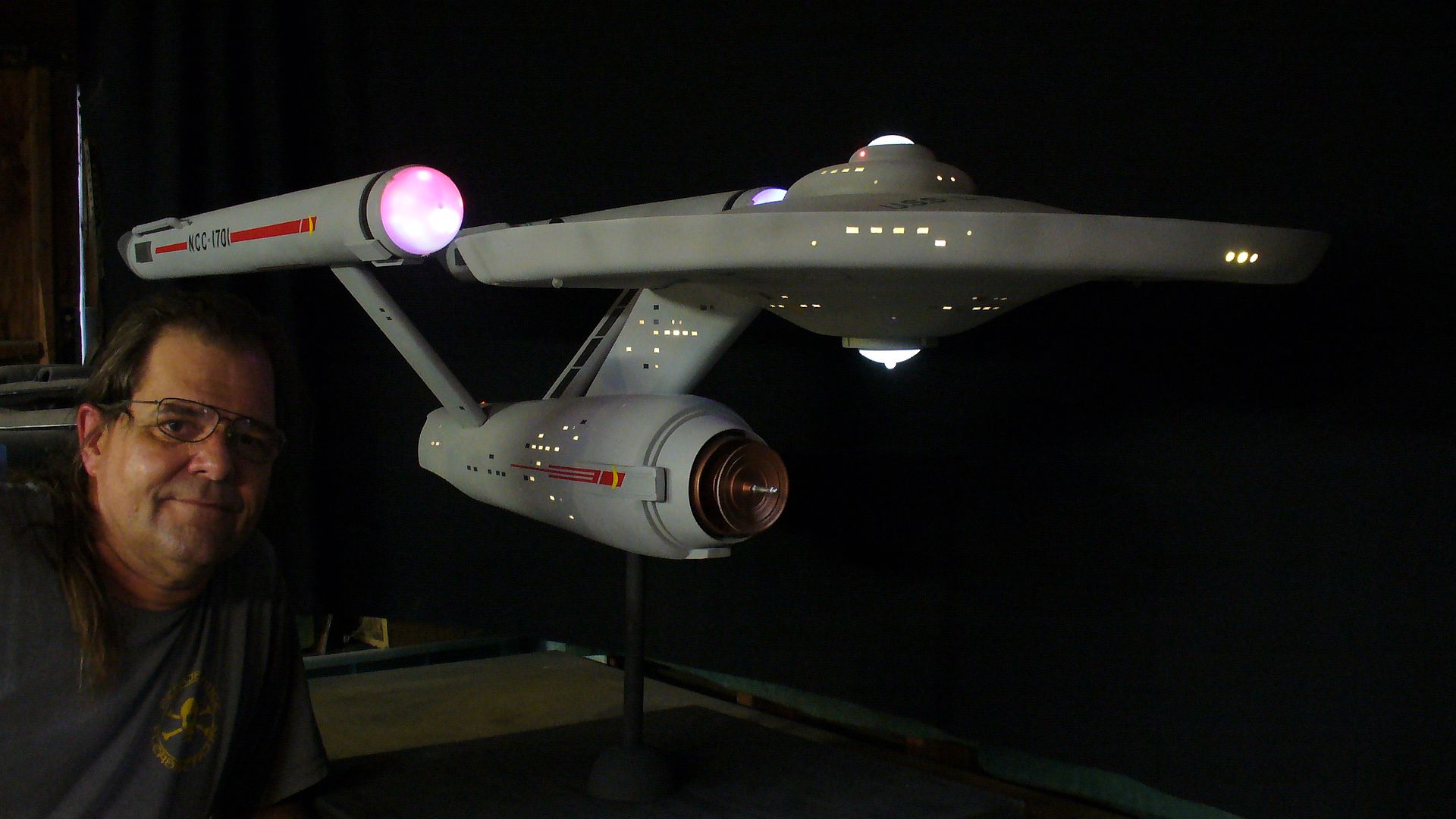 big E story PART 47 - YouTube
For over 30 years I worked for the studios doing everything from Spock's ears to Ghost Busters creatures and more. But my first love was always space travel and Star Trek.
So I have been planning a short film all along. I have been working on a CGI TOS Bridge. I planned to place myself on the bridge and interact with the real characters as though as was the in the Captain's chair.
One small problem was I can't sit too well in a CGI chair. So I'm now starting on a replica chair.
And the model will be shot against green screen and composite with CGI backgrounds I'm building in Lightwave. Paul Gentry is donating his time and pro cameras and lights to the shoot. Thanks Paul!
Combined I'll be able to take the big model into space which is what she was built for and I get to have a teenage fantasy come true for me in the process. Not that working on TMP wasn't all that. It was fantastic but to be on this ship is the very best.
In this thread as in previous threads on this great forum I will take you through the steps of producing such a show and all that goes into it. And all on video in my usual style.
For those of you checking in for the first time please view this thread:
http://www.therpf.com/f11/studio-half-scale-tos-enterprise-scratch-build-98400/
I hope you all enjoy the ride I know I will. It should be a lot of fun. Script is being written and I have to find some more people to contribute their time to some story boards an other cores of the production. Building the Enterprise alone just about killed me. It took 4 days of rest just to recharge my batteries if you take my meaning.
Today I'll be heading out to get the plans printed and pick up some plywood to start the chair. And do a little work on the Bridge set. Lucky for me Doug Drexler is once again helping with this.
Here's a few more pictures to kick this first post off. This won't take a year this time.