Sr Member
RPF PREMIUM MEMBER
In the middle of last month I started doing research and getting materials for my next Halloween costume. Some friends and I had been brainstorming on ideas (mostly because they wanted to piggyback on my next project) and someone mentioned that we should do the characters from Red vs. Blue. So here we go.
I can't take much credit for developing the methods I'll use to build this costume so far. I joined up at
www.405th.com
and those guys really have this thing dialed in. I'm using their Pepakura based papercraft method to build the masters that will be used for molding and casting later.
I started with the helmet. The first one was a low-resolution model just to make sure I had the size right: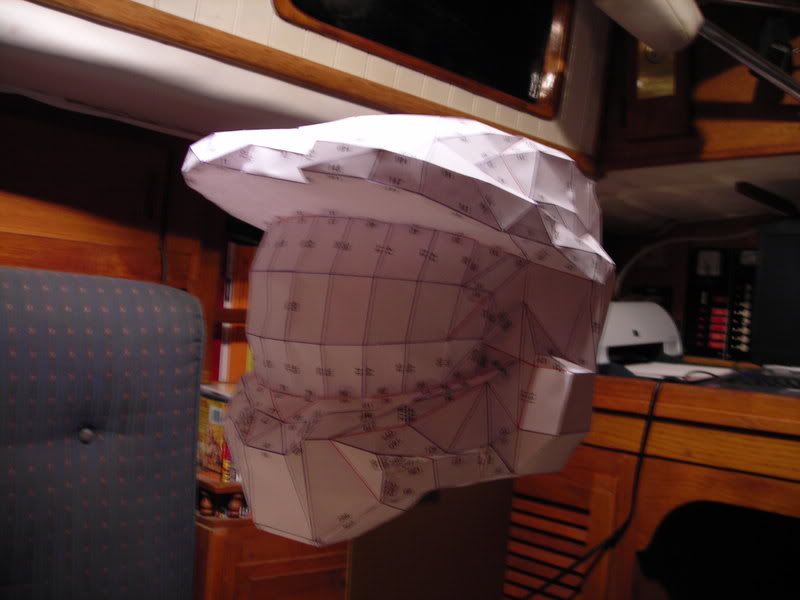 Then I messed up and made a higher-resolution version but got the scale wrong. I built it anyway (always a good idea to have a rough draft) and then went on to make the full-sized high-res version:
When I'd finished cutting and pasting and cutting and pasting and cutting and pasting, I was quite pleased with the results. Building it this way ensures better symmetry than I could ever hope to make when sculpting by hand:
The high-res model is much more involved than the low-res one, but it's worth it:
Once I had a paper model I was happy with, the next step was to coat it all with a layer of cheap hardware store polyester fiberglass resin:
The next step will be to pour a couple of layers of urethane casting resin over the inside to add strength and then I can smooth the outside using bondo and a lot of sandpaper.
Stay tuned.
Last edited: