Browncoats: Independence War 2015: Simply the most ambitious FFF feature.
The plot summary from the makers:
It is the year 2511 on the distant Planet Hera, and rebel fighters aka "the Independence Army", intent on secession, are fighting their last skirmishes against the superior and well-supplied Alliance Forces. After an early victory, the Independence soldiers from the 5th Battalion of the 76th Combat Brigade are hopeful that they can hold out long enough for their bid for self-governance to be recognized.
However, their leaders aren't as optimistic. During a lull in the fighting the soldiers try to rest and prepare for another day of battle, but news of a stranded group of civilians filters through the base. Eventually several squads of the 5th Battalion are sent to rescue the group of refugees and lead them out of the Valley and through the treacherous Mountain passes, in order to avoid being destroyed by the inevitable enemy offensive.
I think two exceptional aspects of this film are the extraordinary nightime photography and the astounding number of blank rounds expended!
Truly tho', the work and heart put into this film shows. The small Independents Flak gun is the actual piece strapped to the back of the ship Serenity in the BDM Serenity.
There is no shortage of Alliance bad guys, either. They wear face coverings because they are mostly played by good guys doing double duty.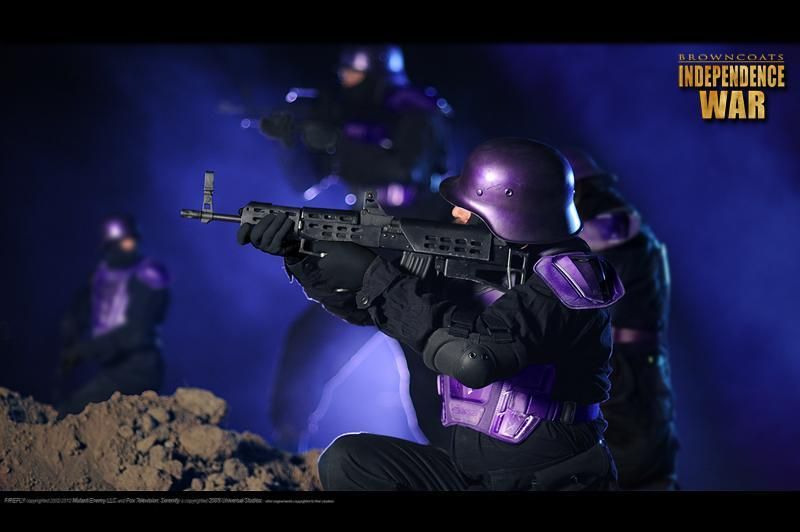 They have a FB page:
Browncoats: Independence War. 5,925 likes · 7 talking about this. It is April 3rd in the year 2511 A.D. For 6 months, 16 Combat Brigades of the Independence Army had held off a Alliance assault on...
www.facebook.com
A link to the Abbyshot Blog interview with the film's creator.
To herald the premiere of Browncoats: Independence War, we've sat down with Francis Hamada and asked him a few questions about Fan Films and how they are made.
www.abbyshot.com
Teaser Trailer
Behind the scenes featurette:
and one of many short clips available online
Last edited: