I've been a fan of Infocom's text adventure games and packaging since the '80s and while I have a number of the games they produced (and the stuff that came with them), I never did get a Zorkmid that came in the packaging of The Zork Trilogy. In fact I've never actually even seen one, but thanks to pages like
The Zorkmid Project
I've found pictures and and other information about them. Armed with this, I've decided to try and make my own.
My idea is to use a laser cutter/etcher to make the coin in acrylic, make a mould of this and then cast it. One of my friends has been playing around with metal casting in his back yard, so I'm hoping we can actually make this with real metal.
Step one is to create the artwork: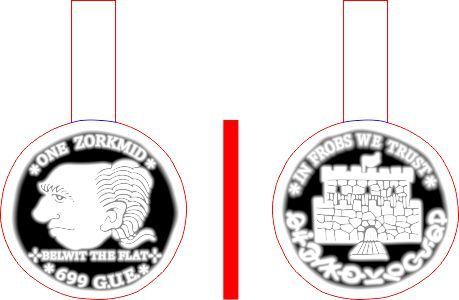 I made the vector artwork of all the art on the surface, but haven't yet done anything about the pitted surface behind the art on the coin. I thought I could do that on a second pass of the laser. The tab at the top will be the beginning of the pouring channel.
This project probably won't proceed terribly quickly (I don't think I'll be able to use the laser for at least 1 1/2 weeks), but hopefully it'll take less time than the (at this point) over 9 years that I've been working on my TARDIS (as documented on the
TARDIS Builders webiste
).
Colin