Sr Member
RPF PREMIUM MEMBER
(The image above is a 3D Rendering, updated to the latest version on the thread)
Okay, this project has been on my mind for years now (Even before the Pip-Boy). Every once and awhile I dig around to see what others have done, and how I might go about the project. As with all my projects, I want something very authentic. A functional radio with all the controls working and real speakers.
The radio will share some circuitry with my Pip-Boy project, so it could become an easy build once I have those circuits working.
----------------------
Today, I re-read some of the projects folks have already done:
Hello everyone! My name is Jen and greetings from Malaysia! This thread is about the building process of my Fallout Radiation King radio. The inspiration came recently when I suddenly got hooked on to the old vintage music akin to that from the Fallout series and I happened to stumble upon some...
www.therpf.com
Got the face plate here: https://www.shapeways.com/product/ZWBNUBJJS/fallout-4-radio-face-plate?optionId=62288421 Filled the inside/bottom with bondo to make it stronger, then used 2 coats of primer filler Next I sanded until smooth, finally I painted with Kryon Stainless Steel spray paint
www.therpf.com
Here is a Radio Dial insert for a Radiation King Fallout Radio Beautifully made by RPF member MovieFreak
www.therpf.com
Today I noticed that
Mach
posted that the front of the radio is based on a
1938 Zenith 5-2-319 radio.
Once you see it, you realize the original game art designer lifted bits and pieces from it and a few other radios.
----------------------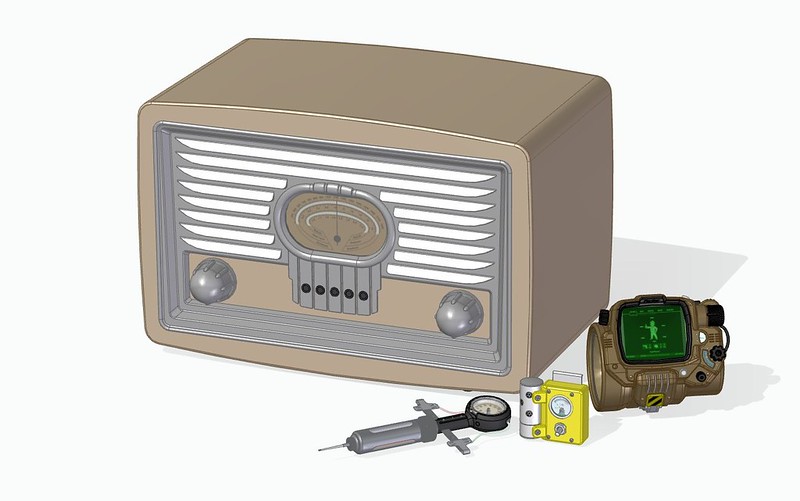 This radio is well documented online, and so I set about 3D modeling the front bezel on that radio as accurately as possible, omitting only the extra knobs and screws not visible on the Fallout radio. To get the scale of the bezel correct, I looked up a few old eBay listings. I found one that listed the dimensions of the whole radio. (13Wx9Hx7D).
If I scale the Fallout radio to match the bezel dimensions, then the Fallout radio ends up 21.7"x14"x13.7" Not huge, but not as small as I expected. Seeing it next to my other Fallout prop designs makes me want to scale it down to about 14" wide. I may do some printouts and paper mocks up to find a scale that feels correct.
----------------------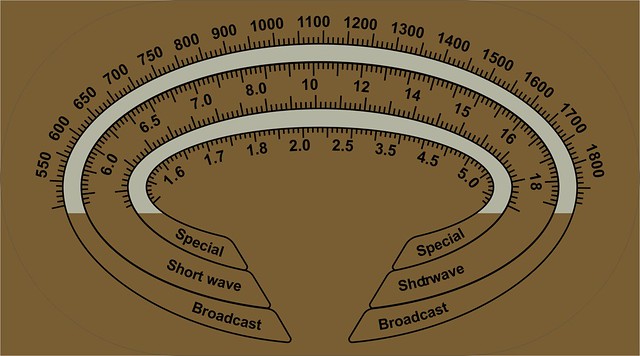 A few years ago I made a vector art version of the control dial. So I had that ready to go.
----------------------
I 3D modeled all of this today. The front has proper louver style vents, and will have two speakers behind the front.
On the Zenith radio, the five black dots were actually for a radio station label to sit, it was one of the first radios with presets. I plan on keeping that function. But the bottom edge of each finger will be flexible and have a tactile button behind it, so it can keep that function without changing the look.
----------------------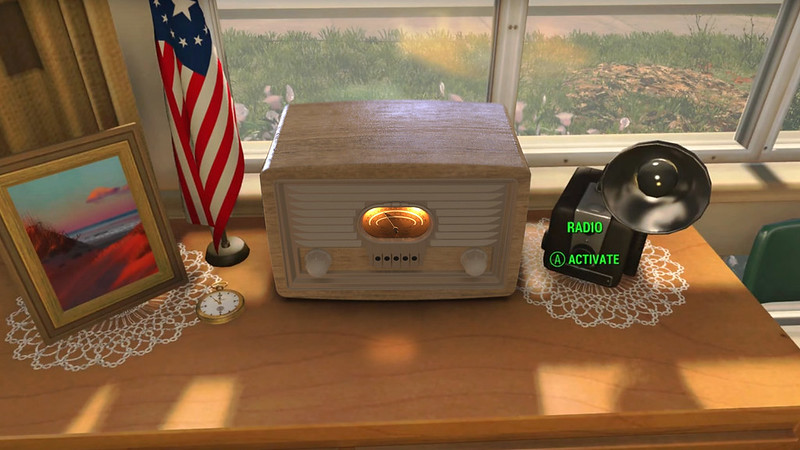 I love this image, I overlaid my rendering over a in-game screenshot.
----------------------
My plan it to laser-cut plywood for the chassis. Either with a veneer on the outside, or using the age old technique of feathering the back of the plywood to get the curve. The front bezel and knobs would be 3D printed, smoothed and painted. The rear would be real sheet metal. I would use real hardware where possible.
Electrically I plan on using a amplifier kit I have laying around, but the Radio circuit would be all custom. Using a Raspberry pi to control a real radio IC, and provide the ability to play digital files/streams.
----------------------
As usual with me, this is a long term project. I just got to get my ideas logged. I don't know when I will work on this next.
Last edited: