So my helmets progress was slowed and I got sidetracked by blades...
EDIT: This is the scaled up version of my son's proof of concept:
http://www.thehunterslair.com/index.php?showtopic=15423
I'm using 1/8"(.125") ABS plastic because I have a whole sheet of this stuff.
Going off of this reference pic, I drew up my blades.
I made two templates using manila folder. One was made to be like the pic and the other is shorter and straight to facilitate the movement without being so damn long.
I made a plastic template so that I could have a more permanent template. Not that that matters, the folder paper lasts a while if it's not abused.
I cut my 15" X 2" stripes and glued them into pairs to double up the thickness to get to 1/4". Then taped them all together and traced out the blades.
I band sawed out the shape then clamped them into the vise and filed them down to match each other.
Once I had them separate I filed and roto-tooled them to detail them to resemble the reference pic. I rounded all of the edges and beveled the edges. Overall I'm not thrilled with the way they came out and I have some touch ups to do before I paint them.
This is the lot of blades.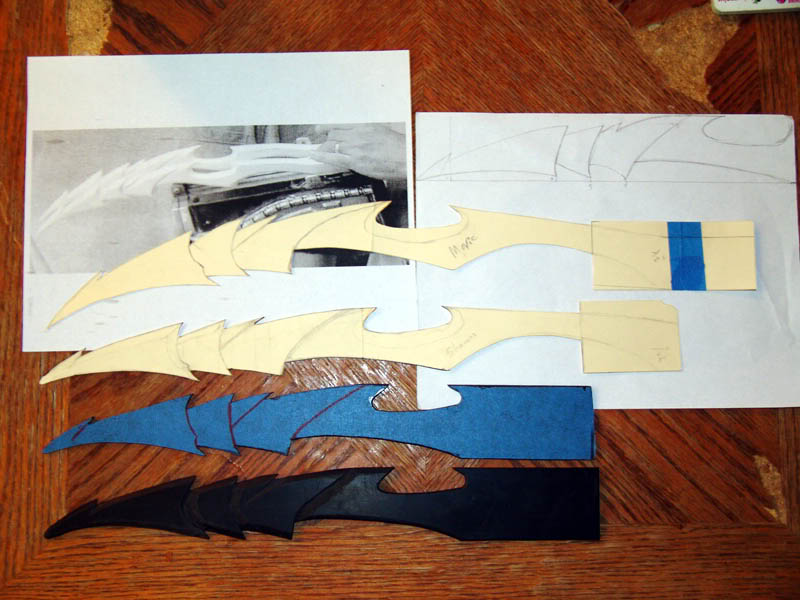 .