Well-Known Member
RPF PREMIUM MEMBER
Hello all!
In case the title didn't tip you off, my plan here is to build an accurate wand based on the ORIGINAL "Ikea" Harry Potter build, and not the one he used for the majority of the films.
I'm calling it this because the director of Azkaban reportedly called the original wands too "Ikea" for his tastes, and while I sort of agree with him (and I LOVE the new designs) I also have a huge appreciation for those original wands that launched us into the magical world of Harry Potter— there's a sort of elegance to them, and I love the fact they're based off of antique conductor's batons.
I've been trying to replicate this wand casually on and off for a couple years, and thought I'd post about it in here now that I have some better photos, questions, and elaborations I want to make.
Maybe I'll also expand this to be about the other wands as well, but we're going to focus on Harry's for now.
To start things off, here's photos from
this video
that inspired me to start this up again
And these come with some questions:
1) What types of woods/materials are those?
It's clearly not holly, one of the whitest woods out there. Or if it is, it's HEAVILY stained/painted. It's also clear that the handle and the shaft are two very different types of woods.
I have a strong feeling that the handle is zebra wood— matches the color and look.
Looking at the shaft of the wand, it's a sort of purplish red, and becomes darker down the shaft— perhaps charred? I love the look, and the first thing that comes to mind is that it's purpleheart wood— and looking up some other images of wands/pens made online from purple heart strengthens my suspicions.
Also, now that we have these HD photos, I noticed something that I missed the first time around: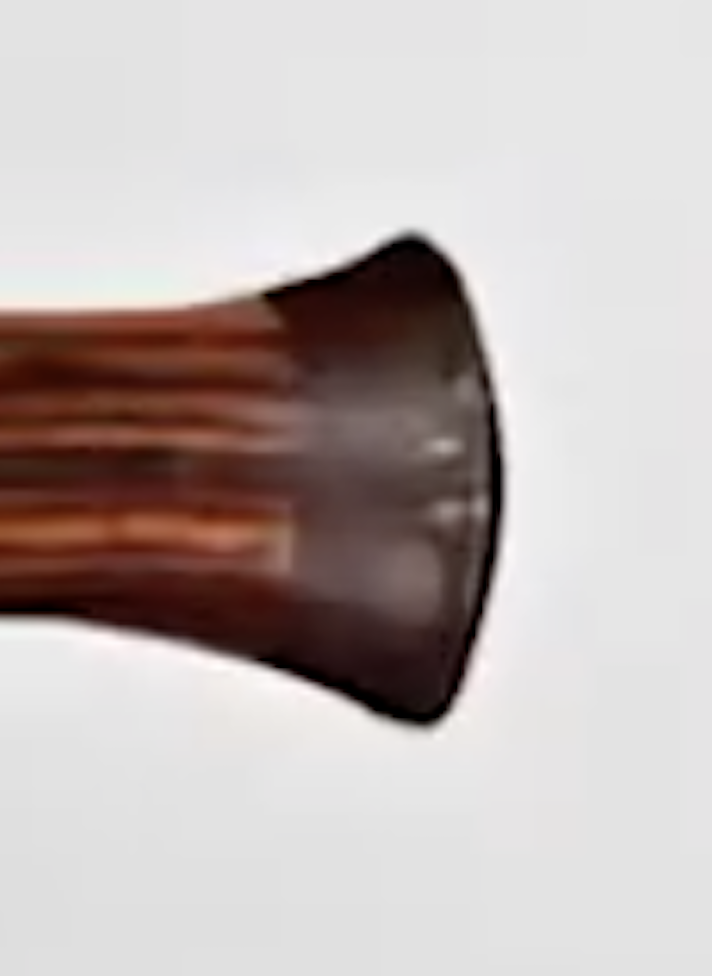 That looks like a METAL end cap! At least those two gold specs make it seem so. It's definitely a different material from the zebra wood, but it transitions from the material seamlessly to the point where, looking at screenshots as well as crew gifts distributed by warner brothers (which would have been made cheeper), I thought it was just another charred bit of wood! I'm thinking it might be brass, maybe bronze? Just by those two little gold dots.
Yeesh, that might be hard to replicate, but I think the local maker space I'm eyeing has a metal lathe, so I should be covered.
2) What's the length of this wand?
Something that bugged me over the years is that the wands from the movies CLEARLY don't match the wand from the book. From the first time I tried to carve Harry's wand as a teenager, I noticed that 11 inches (the length described in the book) seemed TERRIBLY short and didn't match the movie at all (which, in 3-8, is roughly 14 inches.)
Now, this might have just been because JKR is TERRIBLE with measurements vs how something actually looks (her description of the length/width of a basilisk is sort of amusing), or because longer wands looked better on screen— but I actually have another idea.
I think since the handles of most of the wands from the first two are clearly different woods, the handle and the wand are supposed to be two different things/two different measurements, and can therefore stay true to the measurements from the books while looking good on screen.
To test this out, and plugging in the numbers, if the shaft of Harry's wand is supposed to be 11 inches, the handle would be around 3.75 inches, and the total length of the wand (14.75) roughly matches the measurements of Harry's later wands.
I also tested this out by modeling and printing a 3D-modeled wand— sculpted from the images above, refer below— at this length, and it feels right.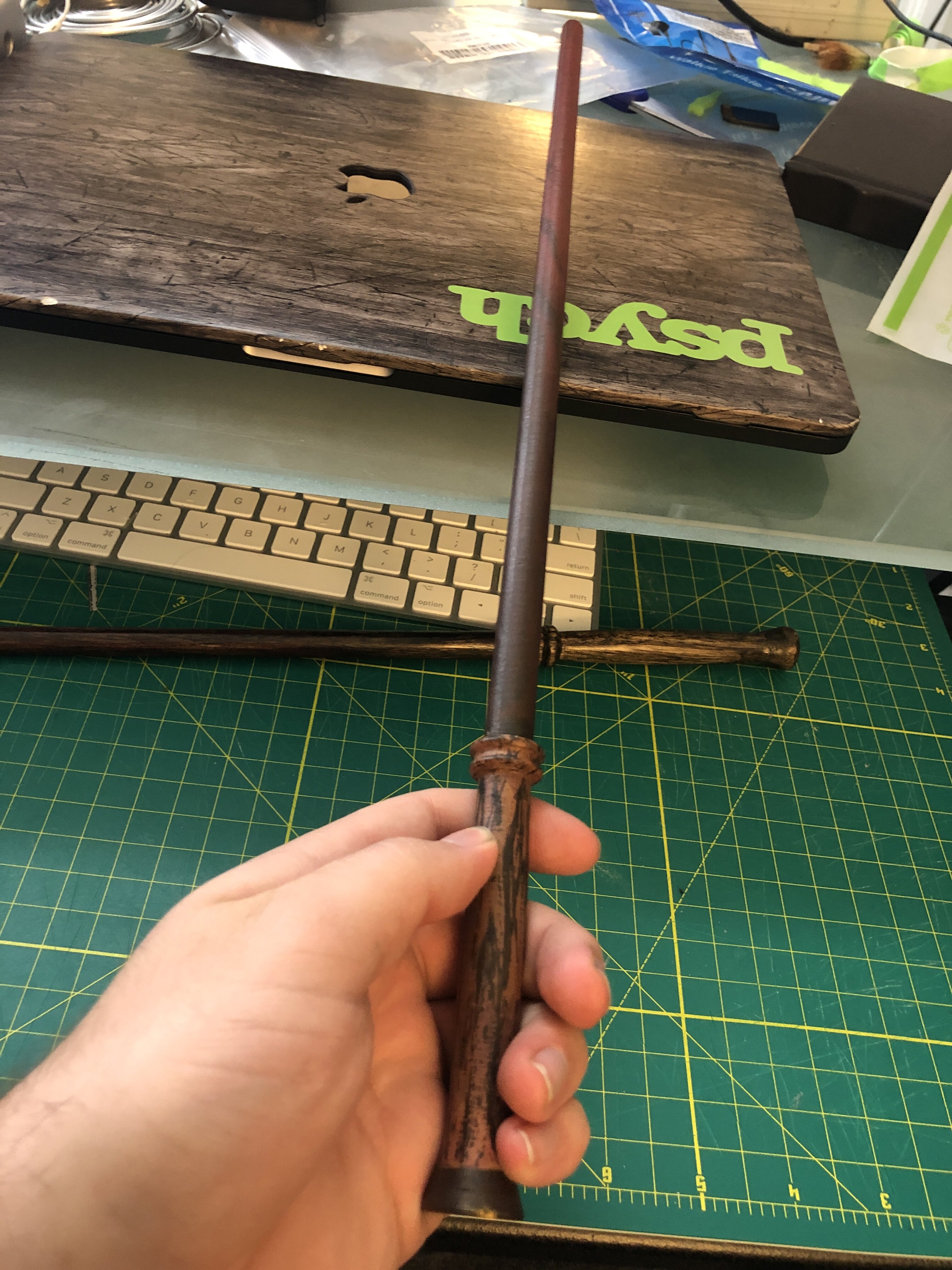 I honestly don't feel comfortable shrinking it down any further, so I feel sure that the handle not being included in the wand measurements given by Ollivander was the intention of the original wand maker.
THE PLAN:
I'd love to try and make a material-accurate version of this wand, though i might try and make a 3D printed/Resin casted version as well. At the very least, I'll be making an accurately-scaled 3D model to reference to while turning the woods on a lathe.
I might also try to reach out to the original prop maker, Pierre Bohanna about my suspicions on the wood/metal to see if I'm right/get more guidance. I hear he really enjoys people trying to replicate these props on the internet!
PROGRESS SO FAR: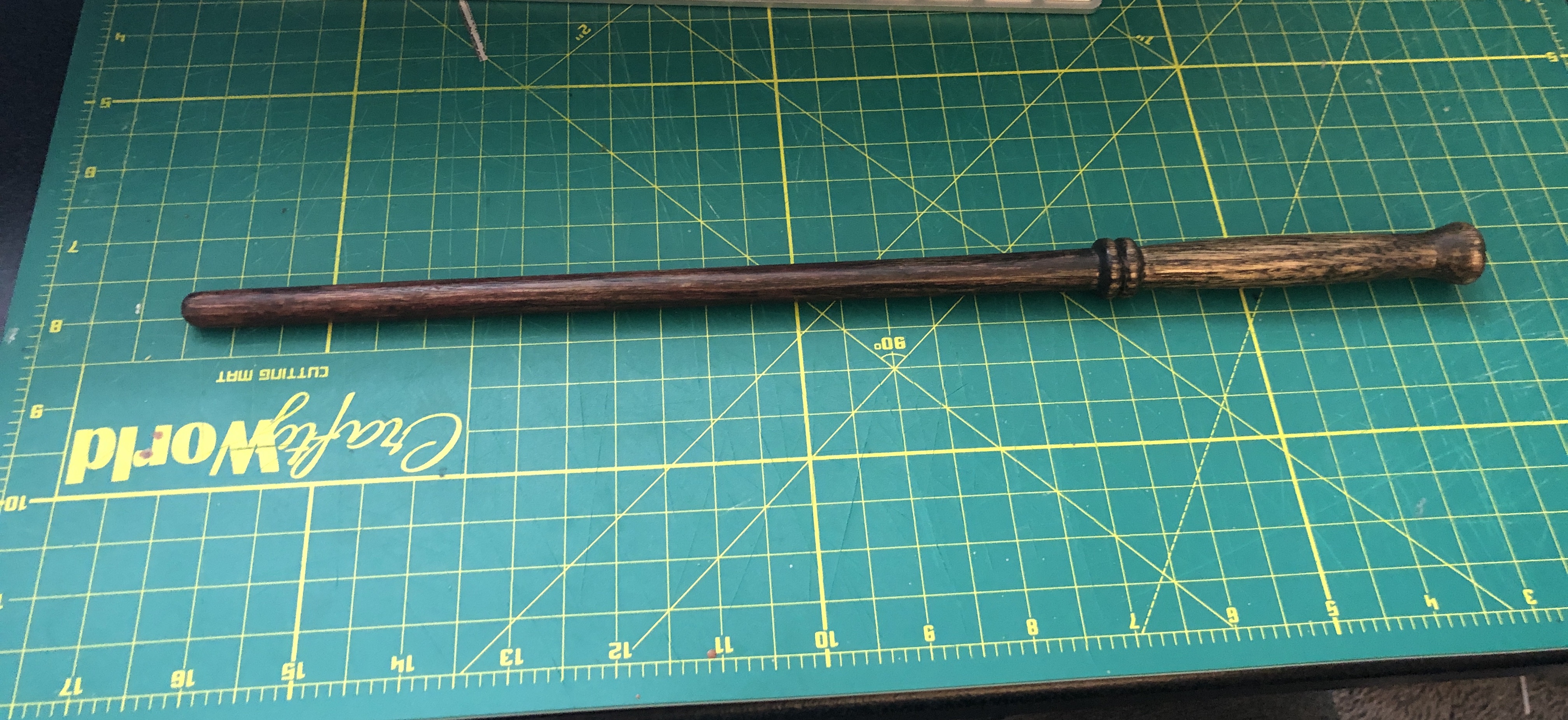 This is from like... 4 years ago now? It was the first one I made (from oak), and I don't have the pictures, but I think I made a better one with a better stain/paint job and ratio for my father's birthday (he loves the movies, and made one for me as a kid. Full circle.) I might get him to send me the photos, but they might not be necessary to show off since I'm trying to move forward, not back.

Here's the 3D model I made, not TOTALLY accurate, but I whipped it up in an afternoon to see if it seemed the right size, as ratio of wand to handle/handle shapes should be, at the very least, accurate. I printed it at 14.75 inches to see how it would look, and I think I hit the right number. Gave it a quick and sloppy paint job for a better comparison to the screen used one.
Let me know what you all think about the wood types/end caps, can't wait to dig in more with this!