Member
RPF PREMIUM MEMBER
Since I've been recovering from a surgery that keeps me from being able to do much getting up, I've started tinkering with my Bill's Replicant Blaster - but while I waited for paints and parts to come in (Thanks DaveChaos for sending me replacements for the bits I stupidly broke), I've decided I'd spend some time practicing painting on a model that isn't as intricate, has no moving parts, and is really there just for me to experiment with painting techniques and styles.
Since I first saw the Tenth Doctor finale, "The End of Time," I had been fascinated with the Webley Mk IV revolver - something about the shape of it, and the strangeness of seeing the Doctor hold a gun (although in the time that's since passed I know now that that's not quite as rare as the character likes to think).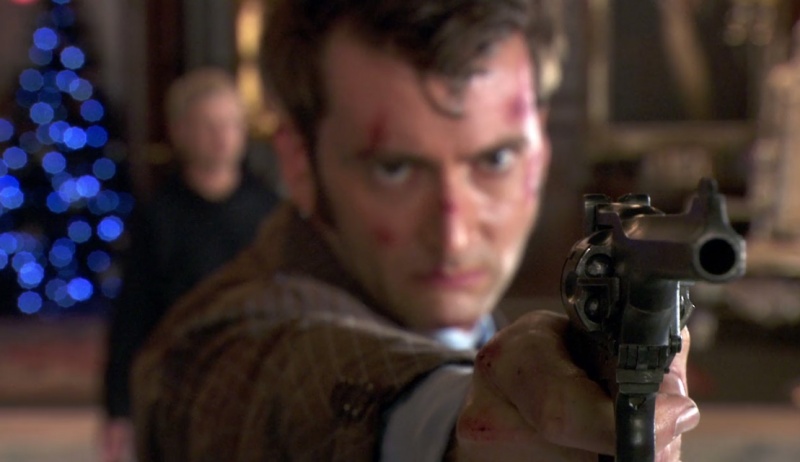 I found a 3d printer on Etsy who made such a model recently and ordered it that night.
It finally came in today! And except for a small breakage where the poorly packaged model was forced into my mailbox, with a box forced on top of it, it looks pretty good! Here's a picture of it before I did anything to it, except for gluing back on the horn part of the hammer:
First thing, I did a lot of research and found that the best way to handle PLA such as this is to hit it with a few coats of filler primer, and then wet sanding once it's fully dried, which apparently takes about 24 hours.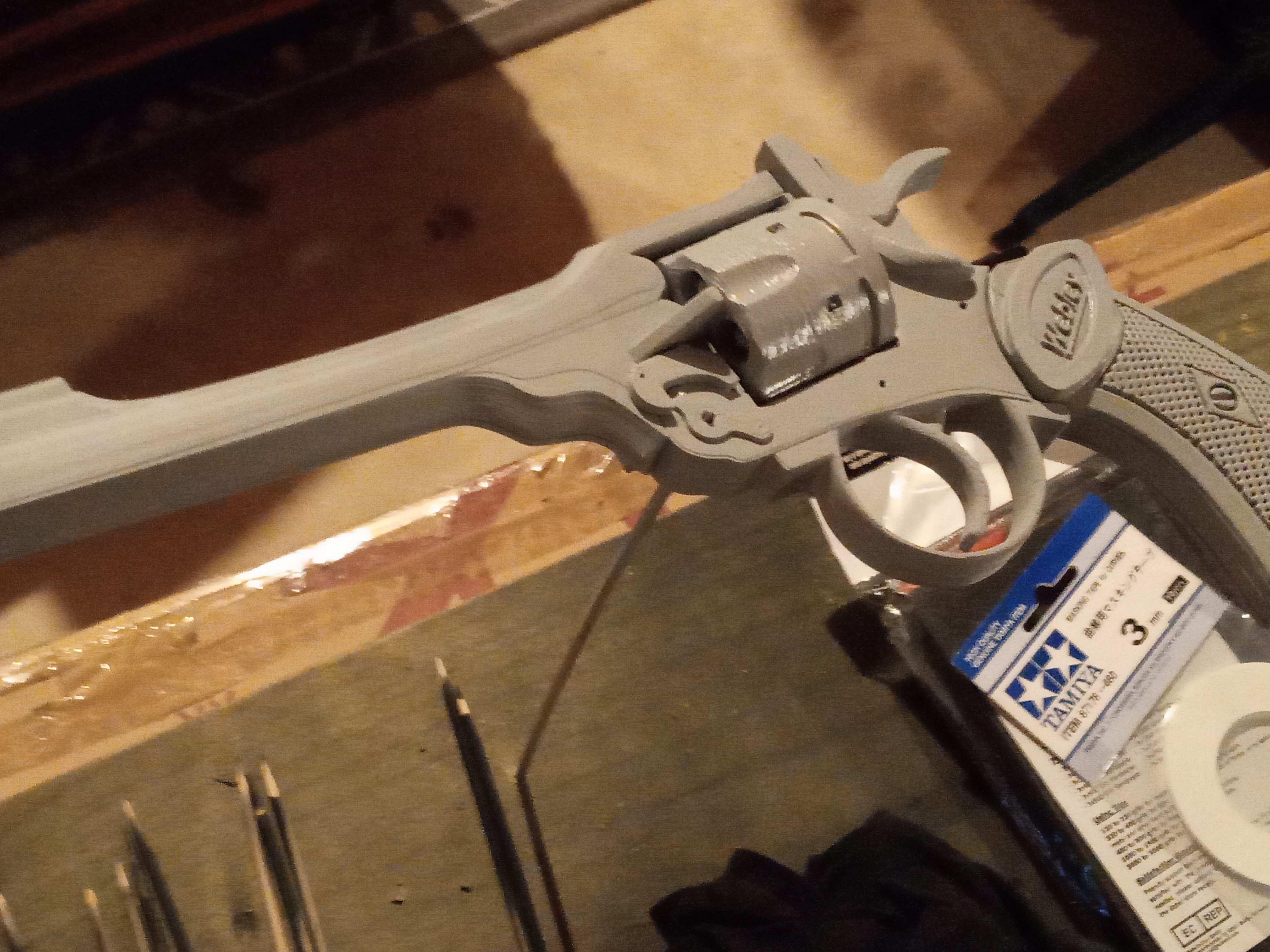 The model drying precariously on its post after three coats of filler primer. Already looking much smoother!
Tomorrow once I'm home from work, I'll begin the wet sanding process and will update you guys when I'm all done with that. I'm waiting for a Humbrol steel spray paint that should give the model a realistic metallic finish.
Once painting's all done, I've also got a solution for the lanyard ring on the bottom of the grip - thanks to Wayouteast's help finding the right things to start searching for, I ended up with, like, a million pack of pretty good looking gunmetal colored lanyard rings for... purses? I think? But it'll definitely serve my purpose and I'm very much looking to adding that on at the end.
_________________________________________________________
In the mean time, as I was waiting for all this stuff to come in, I was greatly inspired by SchubroProductions's Timelord Toolbox, and wanted to give a similar container for my screwdrivers a try too. Since moving a bunch of stuff off my desktop space in my home office to make room for retro computers, the sonic screwdriver collection was spending its time crammed inside a file cabinet.
I didn't have the budget for wood to assemble the box from scratch, but I did find a pre-made thing from a craft store which I figured would look pretty great once I got my hands on it.
Pictured: a mess.
First step was attempting to fill in some of the holes left by large staples in the box, and then sanding down those glue spots so they'd be flush with the box. After that, I used my laser printer to print out the Seal of Rassilon and used the transfer bit of a wood burner to transfer that to the wood box. After transferring the design, I went back with the wood burner to properly burn the design into the wood. As it turns out, it was a bit harder than I anticipated - I'd burned designs into wood before, but trying to get one that wasn't my own work to burn in accurately was a challenge!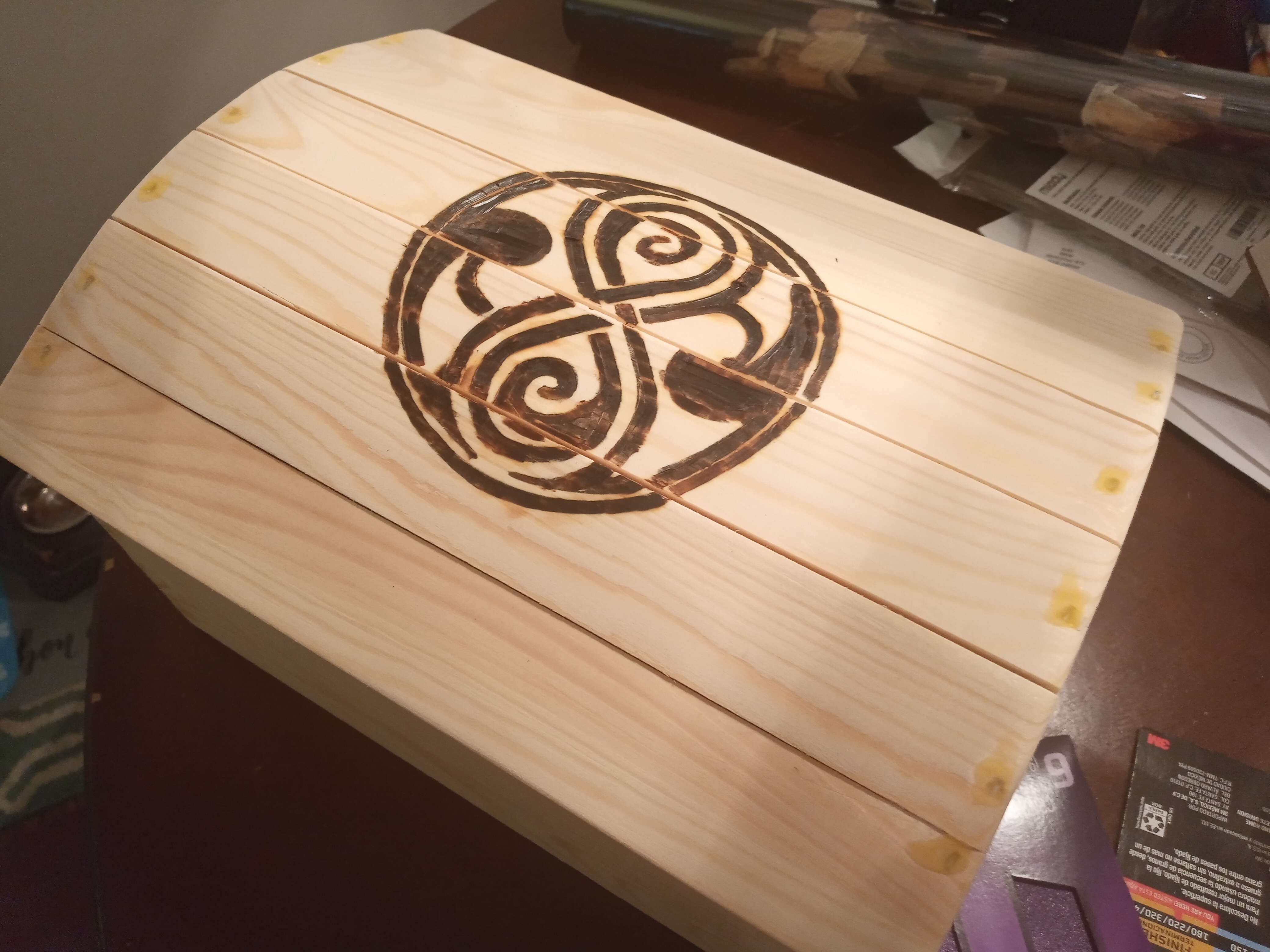 Overall, it came out lumpy, but I figured because I'd be beating the hell out of the box shortly it should even itself out sooner than later.
The next steps, I regrettably did not take progress pictures for. First was a couple of passes of wood stain, followed by a black acrylic wash, wiped off with paper towels. Then I attached brass closures and feet to the box to give it the appearance of something that was at one time fancy, but has been bouncing around the TARDIS for years and years. To weather it, I used just about every tool I own to beat the hell out of the thing. It looks much brighter in this photo than it truly is. The end result was a dark, aged finish I am really happy with. It helped to hide some of the crimes of the lumpy wood burning job as well.
The final step for this box, of course, is filling it with my Sonic Screwdrivers!