Hey Guys!
Im nearing the end of my Mass Effect 2 Guns build. Unfortuantely, the closest color needed for a large part on both guns, I was only able to find a Gloss spray.
One gun is primarily White, The other is a medium grey = Both are gloss, was unable to find Matte.
I will be weathering these guns for battle damage - Dry brushing silver scratches etc.
But im wondering how can I go about weathering the glossy parts?
Im thinking (please instruct me if this is wrong)
1. Poster paint, and black washing over the top = Will it result in a worn in look? - Also with this, the grey is too light (Used the darkest I could find without it being too black). This should darken the area?
2. Sanding it with 1200 first, then doing the black wash?
Any other ideas or tips, ive never done this before and these are my first props hehe.
Thanks heaps in advance for the help guys!!!
Oh and here are some pics of the guns (Didnt get the latest pics with the grey and white coats as my phone was flat) These shots are just after giving a flat black coat :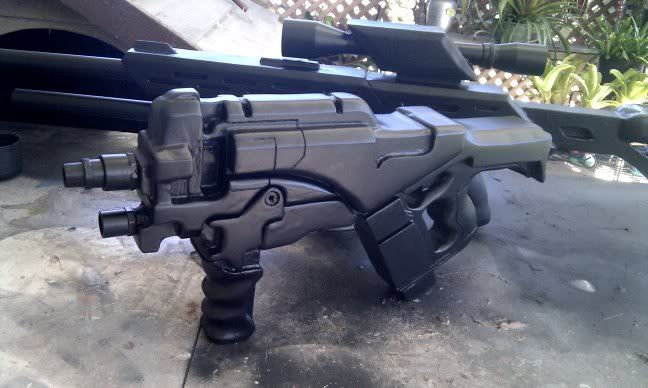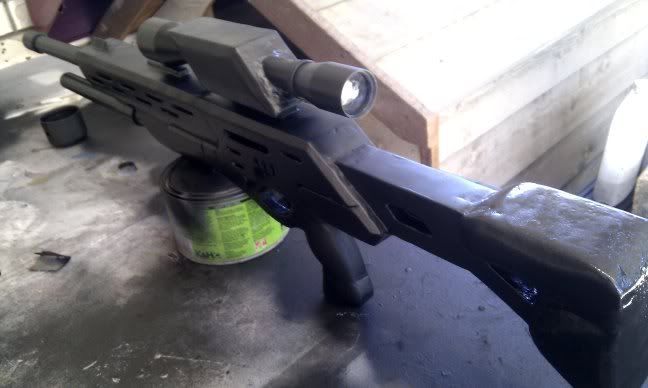 And this one was done in Paint.net so i could have an idea what it will look like when its done