Hello RPF. I've lurked in here for probably ten years with a few different user names... but decided to post my first replica sword project. My son, who is 8, just read and watched The Hobbit. For Christmas, he asked if he could "have a sword like Bilbo's." So here's my build diary. I hope you enjoy.
The blade was scrap 1/4 birch ply. I took a template and cut the profile from the ply, then ripped some thin lengths for the center of the blade to increase the rigidity. I then used bondo to build up that appearance of a hollow grind in the blade. (didn't take a photo of the first step because my dumb brain can NEVER remember to document my work once I'm in the heat of the build.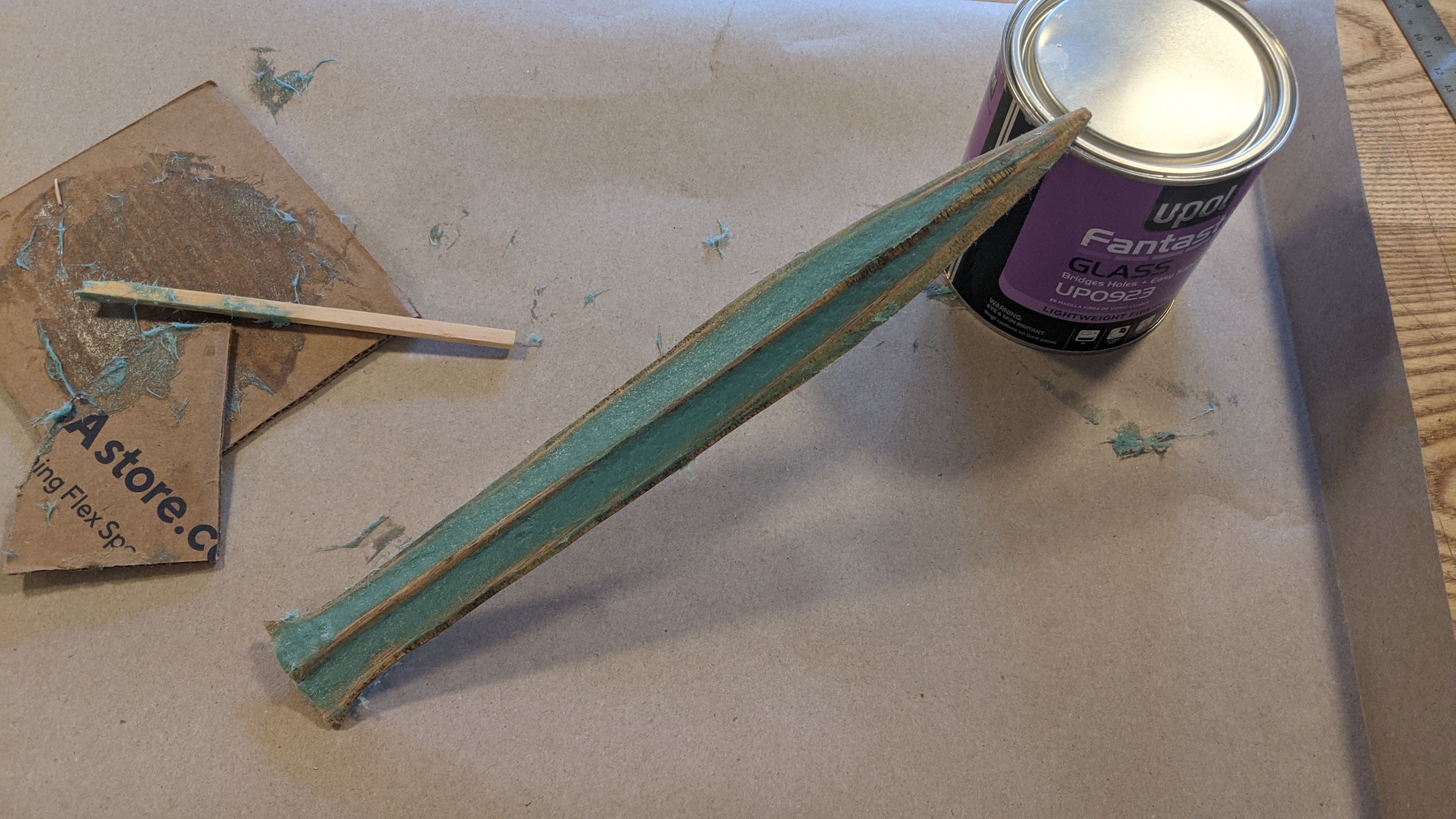 After a bunch of sanding, there were still a lot of imperfections and so I used some epoxy with a fairing filler to even out the low points. Then it was a great deal of time hand sanding and work at the disc sander.
Additionally, I made the guard from built-up pieces of scrap 1/4 ply. The profile was made from a template and then sculpted at the disc sander and drum sander. You can see the finished rough blade and guard in this photo.
Here's a close-up of the guard showing the layering detail and my resulting sculpting.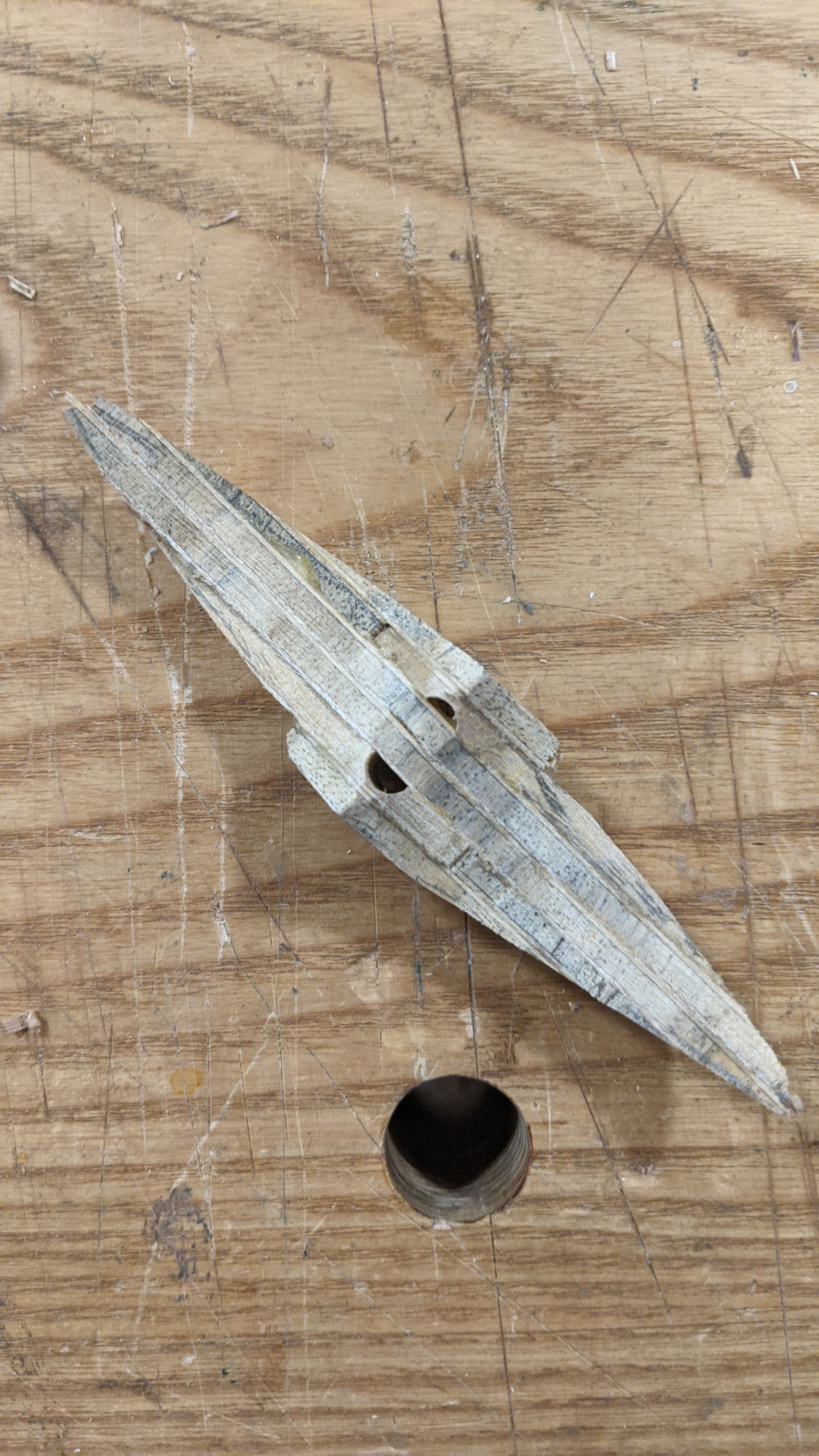 Then I turned my attention to the handle. I roughed this out of a scrap piece of cherry wood (I do a fair amount of wood working with cherry, so scraps abound!) This was mostly sculpting by eye at the disc sander. You can see my rough fit of the handle to the guard, and the guard to the blade.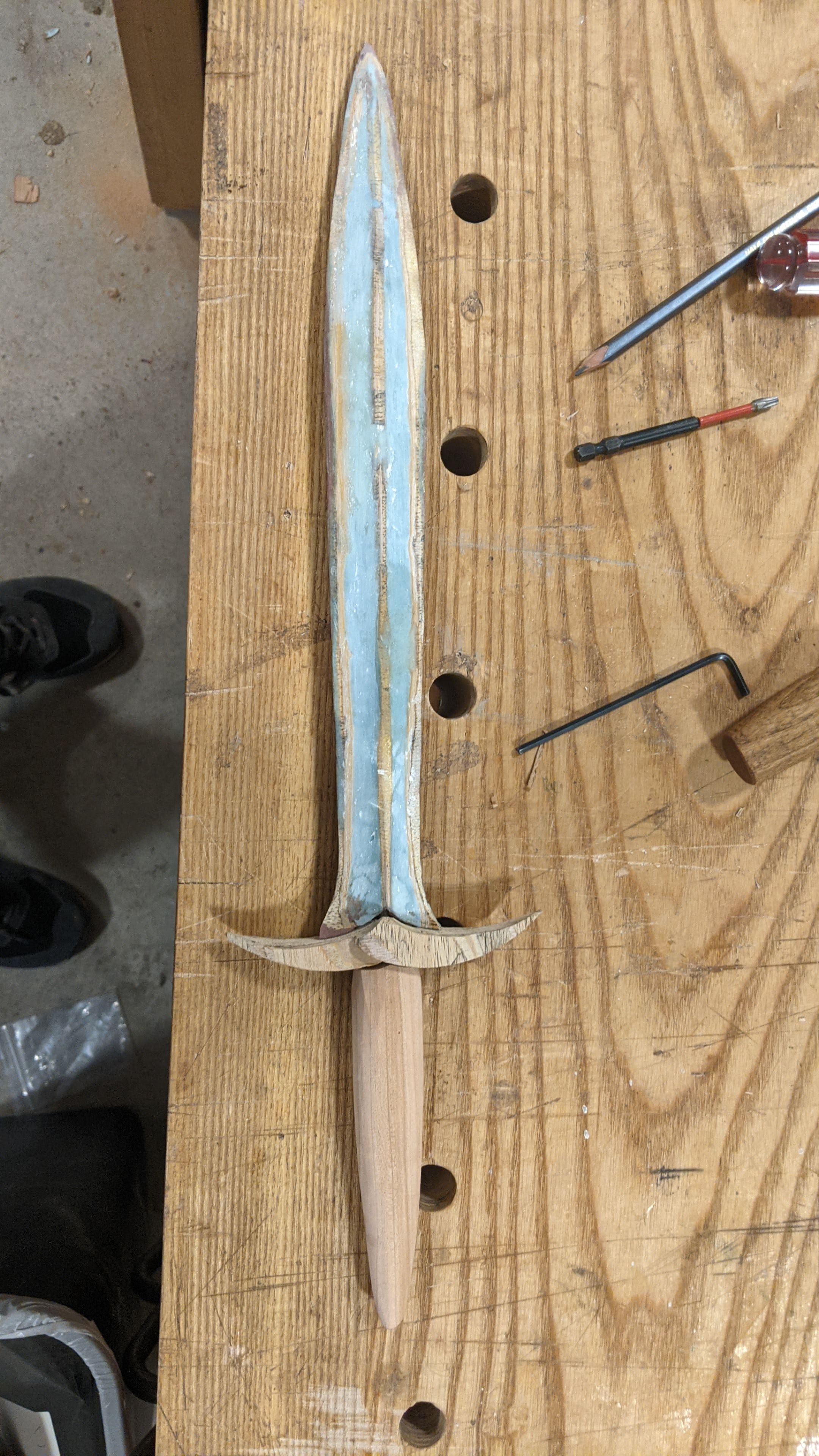 The pommel of the sword was a matter of some compromise. I was hoping to obtain some two-part modeler's epoxy putty but I got freaked out about finishing the project on time and had too busy a work week to get to a store, so I decided to make a pommel from wood and to make it "in-the-spirit-of" Sting, but not an exact replica. It hurt a little bit to make this concession, but I've made my peace.
Here that pommel is placed against the handle, which I cut down to accept it.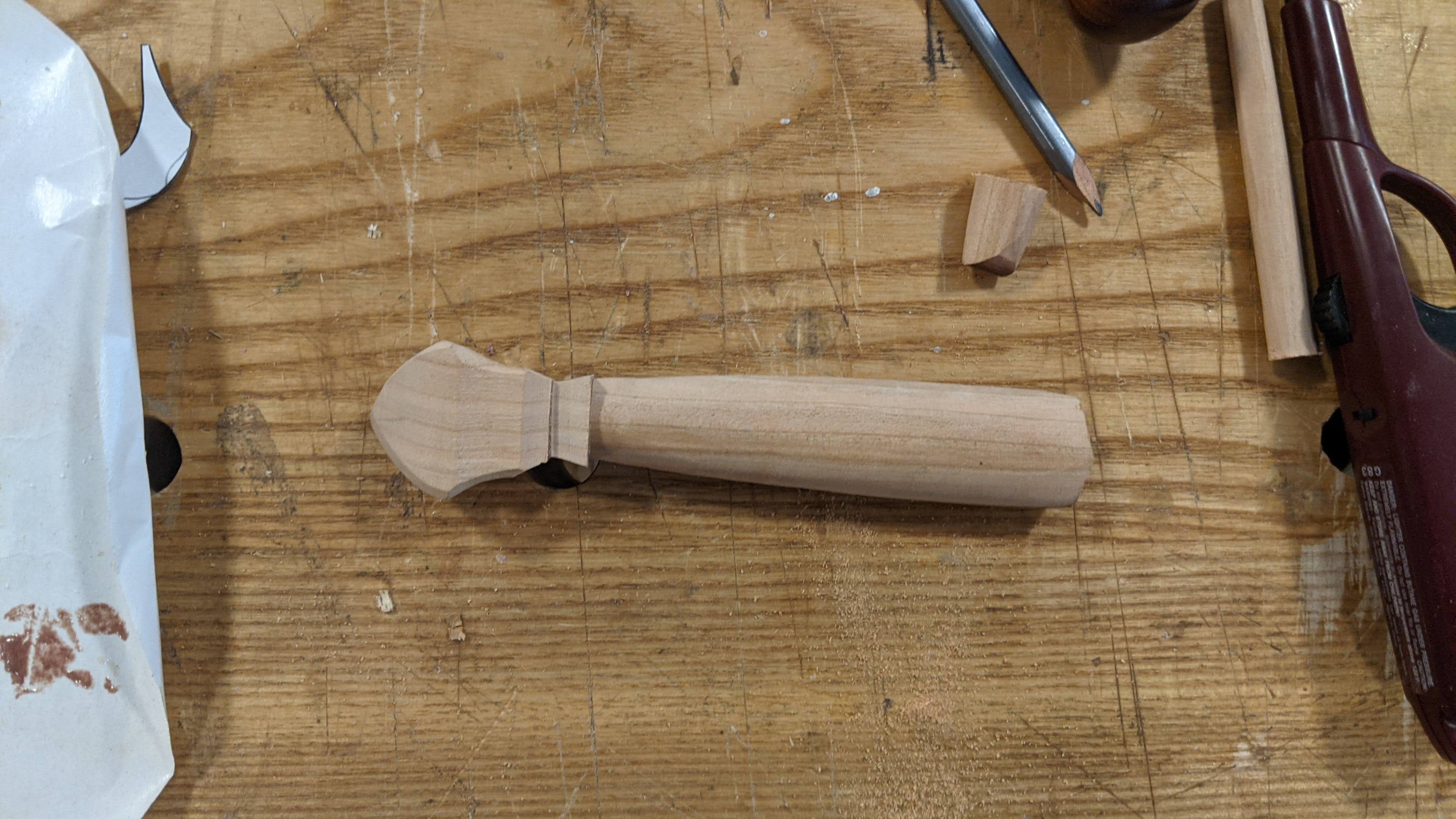 Then I decided to apply aluminum tape to the blade, a technique I learned from absorbing many of Adam Savage's builds. I did the same to the guard (which was super-fiddly, I should mention). I then carefully drilled out the blade, handle, guard, and pommel. I used a 1/4" threaded rod bedded in epoxy to bring them all together.
Here you can see the glue-up jig I made to keep everything aligned while the epoxy kicked.
Next, it came to making that foil-coated wood, fiberglass, and resin look a bit less like a supermarket toy reject and more like something that could get you a passing grade in your college sculpture class. So I did the best I could: dark metal spray paint and a great deal of sanding with steel wool.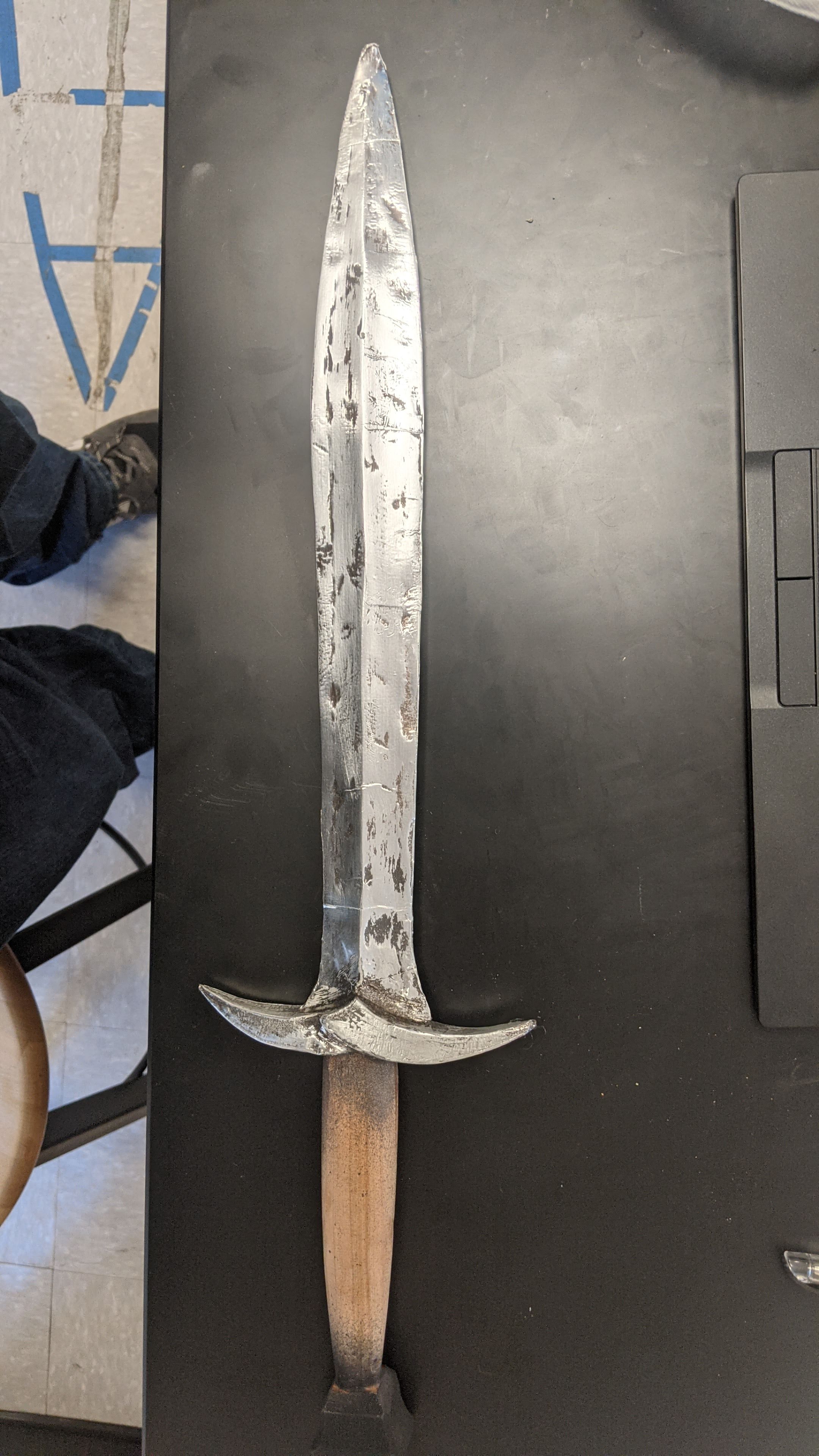 At this point, I spray-painted the pommel flat black. The intention on this piece was to apply silver Rub-n-Buff. You can se some of my ham-fisted rune wring on the guard as well. I left some of the flat black showing through on the pommel: I quite liked result.
Then it was about the runes on the blade. I did steal the runes from Peter Jackson's rendition of the film. I thought they were elegant, even on what would end up as a weathered blade.
Finally, it was the handle wrap. I bought some leather from JoAnn Fabric and a silver paint marker with which to deface that leather. Here's the result of that.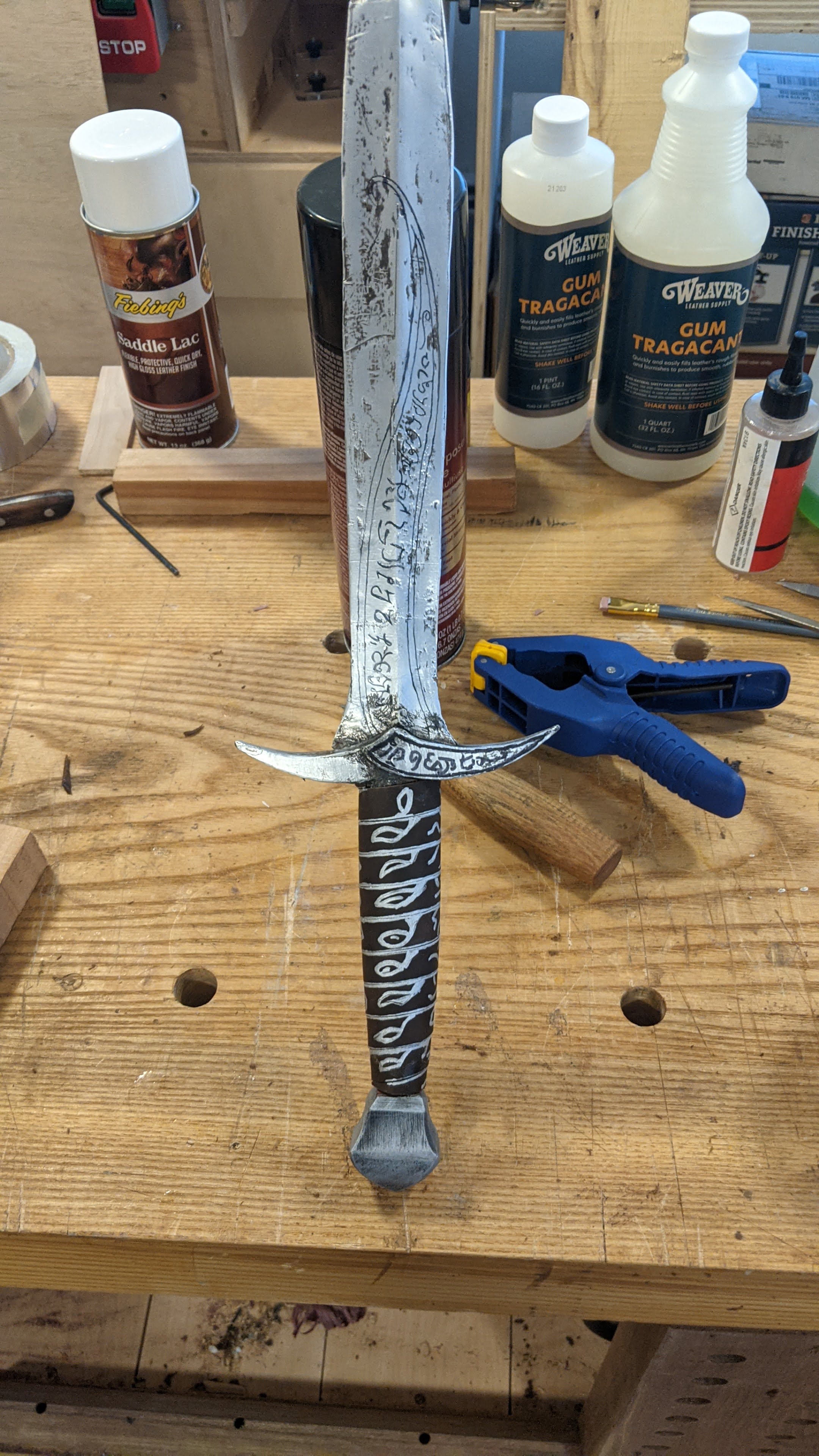 Please forgive the (unintentional) product placement in the back. I did coat the pommel and blade with a matt clear finish and the leather with a saddle lac. (No, they don't endorse me... that probably went without saying.)
It's a very modest first attempt, but I'm super proud. I share this more to reflect light upon what I've learned here than to brag. This is as good as it is (not to imply it's objectively good) because I've learned so much from you.
So of course, I don't know how my son will react to this. That said, I can promise you all that he will have a reaction that means so much more to me than anythintg I can purchase ever will have.
And I thank you all for that.
Respectfully submitted,