I spent the weekend at
MarsCon 2011
, a local science fiction convention in Bloomington, MN. It's a smaller convention, with somewhere around 400-500 attendees, so it's quite a bit smaller than CONvergence. MarsCon has a good costuming program track, though, run by Rae Lundquist, a master costumer here in the Twin Cities.
I suited up as the Predator and appeared in their masquerade on Saturday evening. I decided to show it off in the exhibition category, instead of entering it in the competition, since I had already won Best In Show at a local convention with the same suit.
Here's a video taken by my friend Todd.
I think he took it with his iPhone, but it's nice clear HD video. I'm also showing off my new halberd/flechette launcher pole weapon here. The ballroom wasn't all that big and it didn't have an exceptionally high ceiling, so I had to be careful while switching from the halberd end to the pointy end, or else I would have turned the light fixture into a trophy.
And, speaking of trophies, these attractive ladies wanted a photo with me, so I obliged:
MarsCon-071
by
Elkman
, on Flickr
Even my black dragon helm on Friday evening got me some lovin':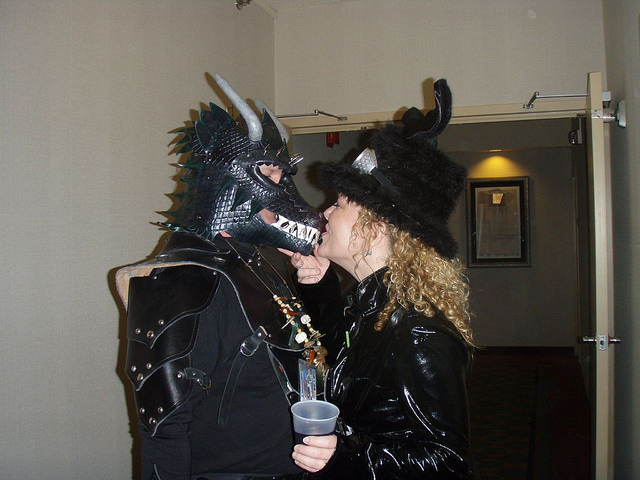 MarsCon-024
by
Elkman
, on Flickr