Been a while since I've posted to the RPF, but I found some time to work on a costume and I'm really excited to share how it turned out.
Venom has been one of my favorite characters since I was a kid and I've always wanted to make a costume of him that was 'true' to form, and not one of the rubber masks that you might see at HotTopic. He's a challenge though, especially for someone like me who is on the shorter side with an athletic build. Venom is huge! Roided out! A monster! When the movie was announced I decided it was finally time to give it a try. I didn't make my original goal of having the suit done by release date, but I still finished it
Here's how I built it out, the things I learned and what I felt worked for me. Buckle up!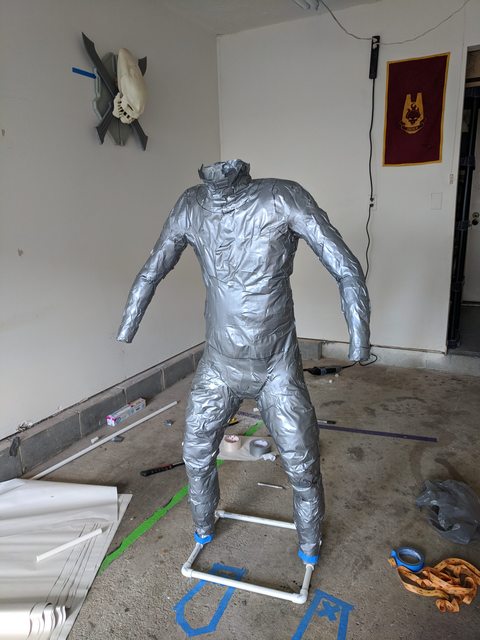 The first step was building a duct tape dummy of myself. That process is not pictured, but we did it by stripping me down to my underwear, wrapping me in plastic wrap, then wrapping that in duct tape. I then got cut out and was left with a body shell. I took that shell, re-taped the halves together, put them on the dummy, and then stuffed it with packing paper like a scarecrow. In my mind, I'm not as skinny as the dummy
I purchased a cheap body suit, put it on, then traced out a basic map of where my muscles were while wearing it. Doing this gave me a reference for where my actual muscles and joints were so that I could transfer that to the foam I'd be adding. If I didn't do this, pieces would be misaligned and I wouldn't look right when wearing it. That was then added to the dummy so I could start building.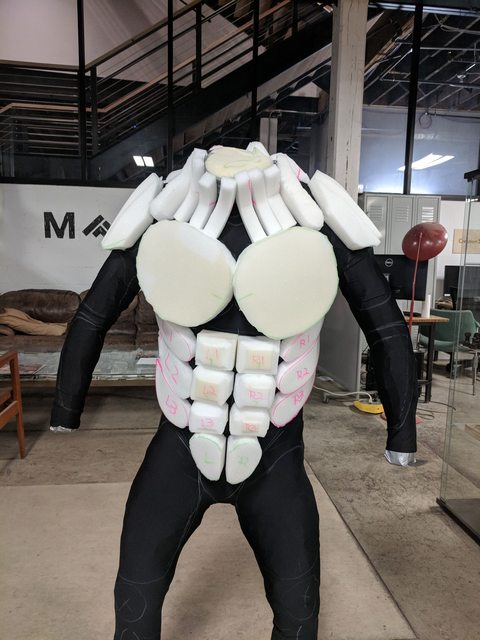 The start of adding on chunks of foam in vaguely muscle-like shapes. This is the earliest and roughest stage. I had several reference images up of Venom in the comics, body builders and weight lifting charts to guide me. I used a couple different thicknesses of upholstery foam. My logic was to use a thicker size than I'd *think* I'd need to account for the carving I'd do later.
Roughing in the back muscles. There is a zipper that runs the length of the back that I had to be sure I left space for.
A little more built out, a little more detail but still very rough. You can probably tell it's my first time doing this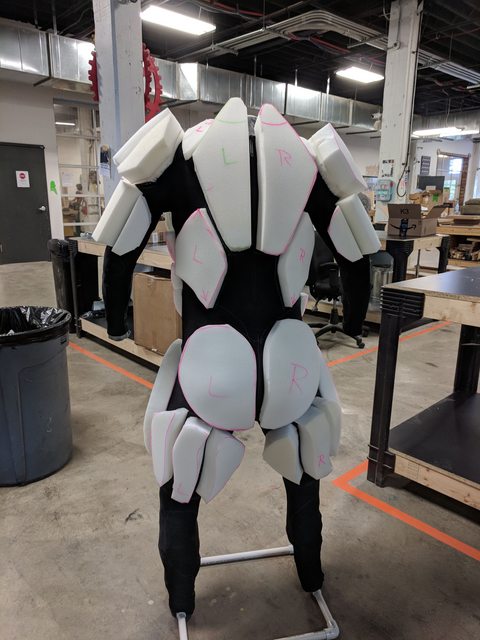 Same for the back. I struggled a bit with the ass pieces. My Venom's got buns, hun.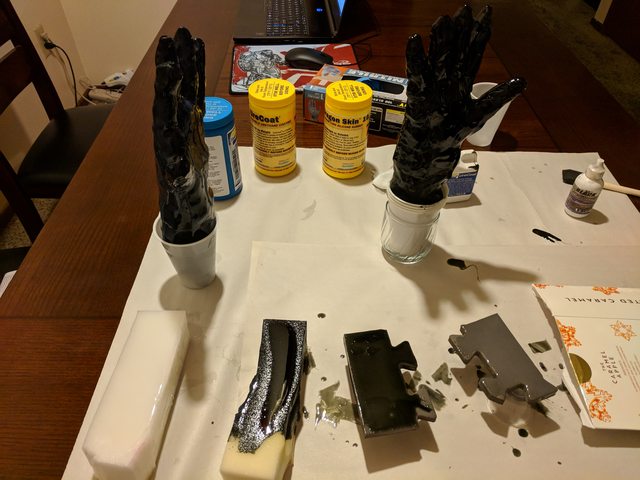 As the muscle suit started to take shape, I had to start seriously considering what material I wanted to use for the coating. Most other builds I've seen use latex- I wanted to avoid that because I'd hate for someone with an allergy to touch me and die or something. So I purchased a couple trial kits of materials I thought would be promising. On the left is UreCoat, a urethane rubber coating. On the right is Dragon Skin 10, a silicone. Both are products made by Smooth-On. My test was 4 fold- apply the material to a fabric costume glove, a piece of EVA foam, a piece of upholstery foam, and a piece of upholstery foam with a skin of fabric. Each has it's pros and cons, and luckily neither material ate the foam. I chose to use the UreCoat because it just simply NAILED the wet, sticky look of Venom. The silicone offered more movement, but was 3-4 times as expensive and would need an additional, expensive additive to be as glossy as the rubber.
The Urecoat and silicone on just the upholstery foam alone kinda sinks in and makes it like a concrete appearance. As I suspected, a skin of fabric and THEN the material worked much better. As for the EVA, both want to just peel right off unless they are mechanically locked on. This was true even if I heat sealed the foam. Glad I tested!
Once I had a potential coating selected, I got the suit to a point where I could try it on. This was the second real test. If my movement was too compromised, this costume was not going to work the way I wanted it to and it would be better to find that out here, $100 into it than later after much more money and time. I carefully took the suit off the dummy, and tried it on. Because of the work I did earlier to assist with placement, it ended up fitting quite well!
Here is what the back looked like. Again, the goal here wasn't to have ALL the muscle on; Only enough to determine if movement was feasible and if placement needed to be altered.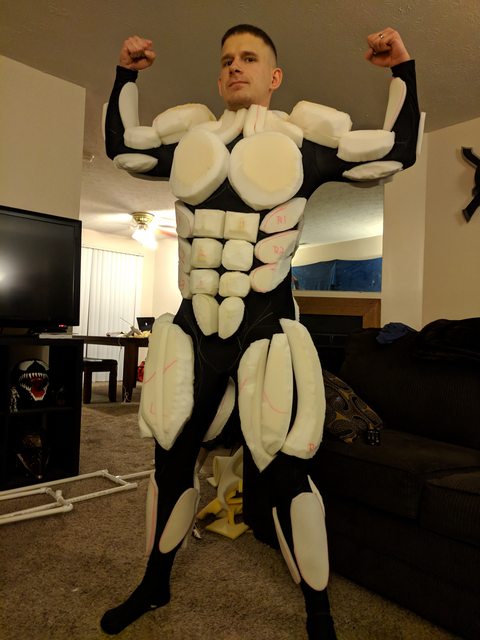 Initial movement tests were good! I could run, sit, kneel and move as if I wasn't wearing it. I knew here that would not be totally accurate by the end, but passing this test solidified that I was going to move forward with the project. That meant however, that I was going to have to start from square 1 and start building out ANOTHER suit, because there was no way I could get this one back on the dummy. Once the suit has been taken off, it wasn't going back on due to the stuffing process. I knew this might be the case, so I wasn't upset by it. Armed with the knowledge from these tests, I started muscle suit 2.0.