EDIT: my progress and pictures are all in spoiler tags except for the most recent one. Easier to load & Read.
Hi Everyone,
After my
Bismarck
and
sci-fi kitbash of a volvo FH4
I descided to switch gears to Star Wars models. I was scared at first to tackle a SW model with all these talented people on this forum, let alone post a build log about it.
But there is much to learn by posting a log! Despite having grown up with the original trilogy I am a big fan of the republic era ships. Especially the Venator class so I got myself the Revell 1/2256 as a base. (the box says 1/2700 but is proven to be wrong). The republic era ships also give an advantage of never having a real life studio model, giving me a bit more space and interpretation of my own.
Two big inspirations for me on this build are:
yasuhiro Takeshita (I hope that is his name), with his amazing
venator
displayed just after the clone wars above the death star.
and
The madhatter, a modeler from Australia, with his rendition of a
modded venator
.
Having to wait a few weeks for this due to some problems with the order it finally arrived. All my other supplies had arrived days earlier. These include pre-wired leds (9-12v, with resistor) 400 meters of 0.5 fiber, 12 V - 230v power supply, styrene in all kinds of profiles and thicknesses and primer (no paint yet).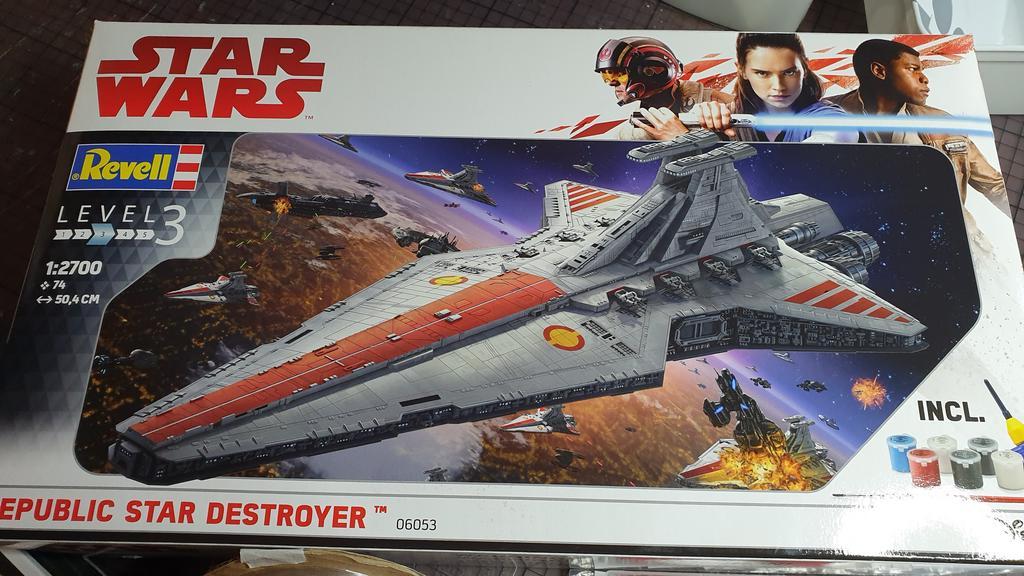 click on the spoiler tag to see the pictures and progress
The model will be 52cm long when finished, and I'm a bit stunned by how small this will actually be. In the spirit of old school model threads a few pics of the spruces: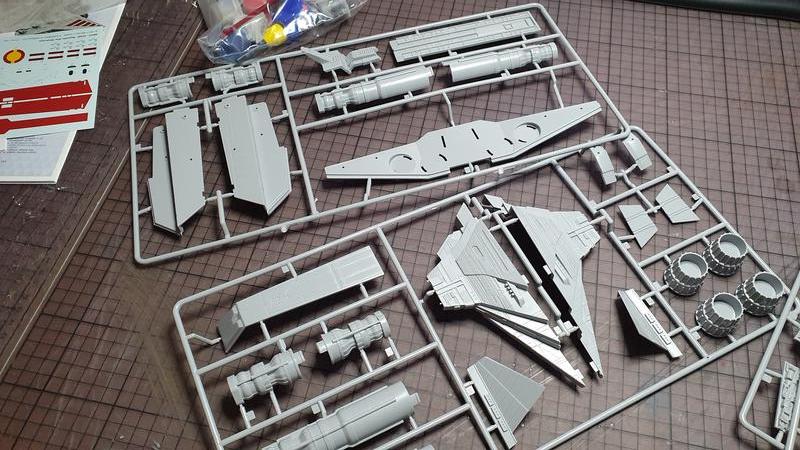 So lets get this show on the road, and get ready it is going to be a long one !!

Part I: overal view and drilling and drilling and drilling and.....
I started by giving all the parts a good wash and cutting them all out. I did not worry about the numbering, this is a really easy model to put together, followed by dry fitting some parts to get a sense of scale.
The bridges (one for star ships, troops and backup and one for the actual cruiser itself)
The tower for the bridges: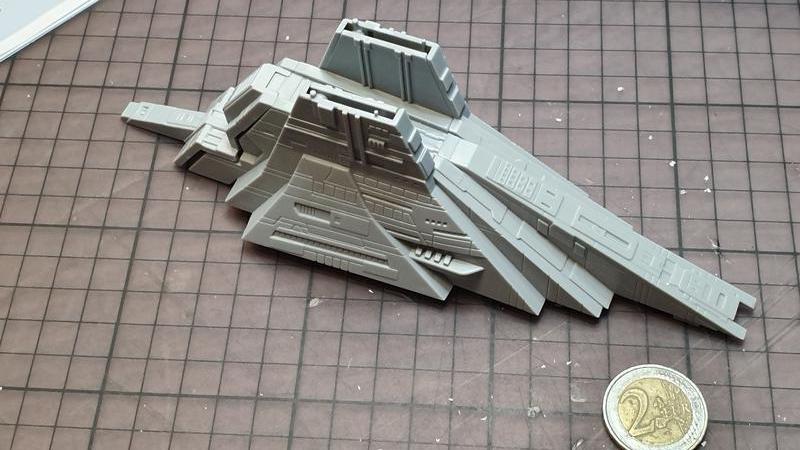 The hanger:
The detail is nice, but it was apparent quickly that it can improve allot. Many area's are dull and empty.
I was a bit shaken by the amount of ways to start this project, and finally settled on starting to drill some fiber holes in the port-side trench. The trenches have allot of detail but it isn't that sharp, also really repetitive. I will try to rectify this with styrene parts and drilling holes at more random positions.
At first it tried the drill press setup I have for my rotary tool, but even the lower speed melted the plastic now and then, filling up the just made holes. this proving to be a hassle I switched to hand drilling and putting up some SW series / movies in the background.
I'm using 0.5 drill bits, the fiber fits perfectly.
My plan was to drill out all the windows made by the model itself and then add allot on other locations to break the repetition. Here is a good example. The first picture is a part of the trench with just the windows drilled that the model 'provides'. The second picture shows how I added more windows at random locations to break the symmetry. I intend to make even more difference with styrene later on.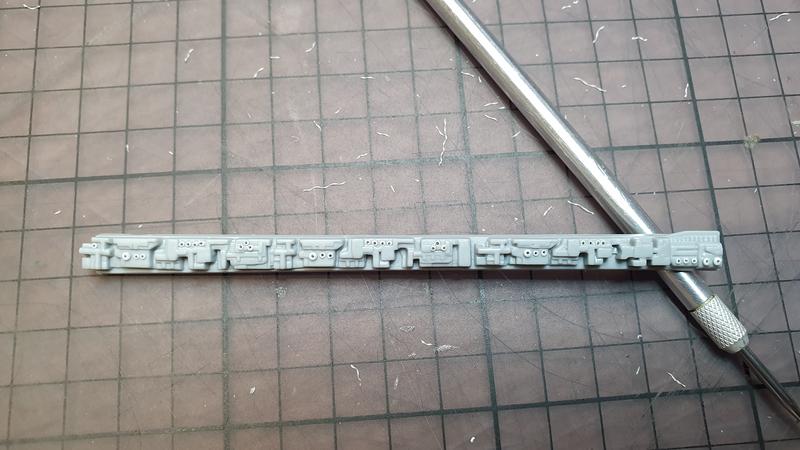 I wanted to add a few more features to this model, deciding not to open up the big hanger on the top but wanted some interior I cut out the port side hanger bay door.
Here it is next to the original part:
The starboard side will stay shut, or lend itself to the mount for displaying the cruiser.
One more detail view of the many holes I drilled in the trench parts. Probably going to do even more.
So this is where I'm at!!!! I'm really motivated for this model and many updates can be expected!
I hope you (will) enjoy this build with me together.
-Hopli
(my apologies for spelling mistakes)
Last edited: