Hi everyone
here is my W.I.P. Alphanumaric countdown timer.
I still have a long way to go before it's done but its a start.
the plan is to have 6 led segments 4 inside and two on the lid. when you press the led segment on the lid the lid opens to reveale the 4 inside. now the fun part. all segments will have there own fuction button to activate a set program. the segments are alphanumaric based on a pred font i found hehe. so i will be able to have a scrolling message go across the 4 segments if i want. So far as shown in the video i only have 3 setup and they are counting down form 9 to 0 progressively across the segments. I'm using the arduino microcontroller and led driver IC's and it seems to work great.
So lets say the 6 segment buttons could be setup like this
segment buttons on lid
button 1 = open lid
button 2 = random
segment buttons inside
button 3 = message
button 4 = countdown
button 5 = random numbers
button 6 = close lid
Thats it for now. More updates to come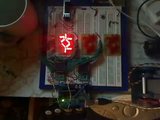 Updated 4/10/2011
Just finished this one 4/13/2011