O.K. It's Christmas eve and I'm really stoked that I finished this in time to give it to him tomorrow. I didn't make a bomb gauntlet yet but I think this little show piece will make him very happy.
EDIT: this is the proof of concept for my full size gauntlet:
http://www.thehunterslair.com/index.php?showtopic=15510
So, I went off of his detailed schematic, and being told they should shoot out and then be reset.
I redrew it to meet my needs: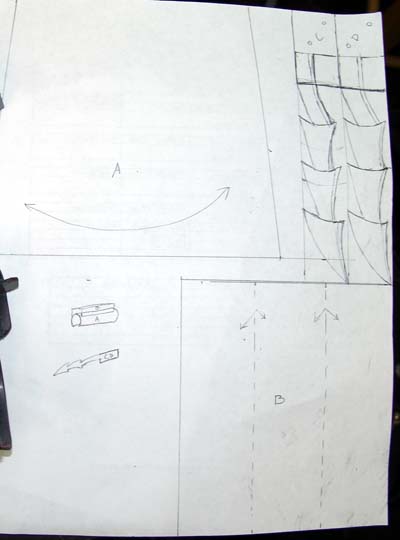 I used .125" ABS plastic and started with the forming of the gauntlet itself. I made a conical form out of galvanized sheet metal that I welded together. I made two for testing and my son fit an ABS and a Sintra version. The ABS looked a lot better when I was done so I chose that. I used the 'skin' side out for texturing.
I then formed the top cover over a 2X4 stud that made a nice little cover. I originally wanted it to be bolted together so that I could fix it if it broke. I decided to go with one bolt and have the top glued to the gauntlet. That's why there is a second hole drilled. Not using the second bolt allowed me to have more movement out of the blades. I left the back open so that It could be reset.
I cut the blades out of two pieces that were 1"X6" and glued them together with a stack of scrap pieces using ABS glue. I rounded the tips pretty good and made sure that it didn't have any sharp edges. I used a small rubber band as the tension "spring". I used a strip of .062" abs as the leaf spring to hold the blades closed and glued a small triangle piece for the latch.
The final pieces primed and painted:
Here's the video of them working:
here's a good video of him wearing it.
(I also tried to make it a pull string activation, that met with limited success). I'm going to cut the bottom out more and add velcro straps.
This is really a prototype of half of the mechanism that I'm going to be using in my blades. A proof of concept that turned out really really good.
Last edited by a moderator: