"Gingers are beautiful. We are kissed by fire."
So being a ginger, and being a ginger with beard growing capabilities, I've been told left and right by strangers and friends alike, "You look like that guy from Game of Thrones!" I think that's just a coloration profiling, but I guess I can see where they're coming from LOL. Being a big fan of the show AND the books, I decided it was an opportunity to make a costume from it. So, as I planned and whatnot, I just let the beard and my hair run wild. I did a few makeup tests as I went along, and here was one! I "finished," this costume for Katsucon back in February, but the final stages were a bit rushed, and I cut corners. I work in the film and television business, and on this upcoming Monday, I'll be sending in my resume and portfolio over to a producer for a job in which the costumes I'd be working on are a lot like Tormund's. Therefore, I'm going to turn this costume up to 11, and have it (along with other recent work) studio shot Saturday morning!
First part I started working on was the Collar. For this, I used goat hide with the fur still attached. For painting it, I applied a lot of acrylic really halfheartedly to give it a decent beat down finish. I punched the holes all manually, and then used a hemp cord and big ass needle to hand sew all of the parts together
I then went to the over coat. To reduce as much heat and weight as I could, I made it out of a super thin Pig Skin lining, and just trimmed the inside with the Mongolia Sheep Fur, which while I cannot confirm it's what they used, I'm pretty sure. The jacket is entirely hand sewn in a rough, "I did this beyond the wall,"fashion with crooked thick stitches unevenly spaced. I couldn't find any reference images on what the underside of the sleeves looked like, or the side under the arm pit, so I took some creative liberty with that, and left as many raw edges as possible.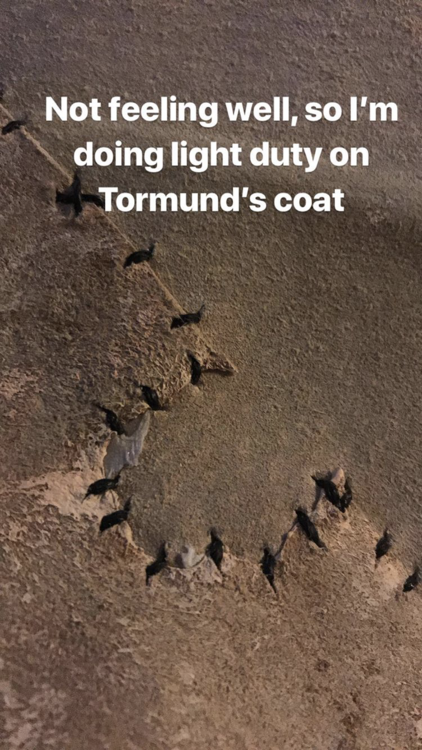 This is the shoulder seam, which is 100% covered, so I made it more even and structurally sound.
I don't have any photos of the WIP of the cuffs, but I cut the approximate shapes out of sheep fur, and hand sewed them on in a similar fashion that Tormund's were.
The boots ended up being my favorite part of the costume with the funniest story. So I needed a clunky thick slip-on base to build my boots off of, and being is was winter, my girlfriend was constantly wearing her Uggs. They got me inspired, and I went to Amazon to find some knock off mens! That said, I could find a pair large enough for me that wasn't $60, and I was a little turned off from paying that much for a crappy shoe I was 100% covering anyway. So I decided to check Poshmark (an app for selling second hand brand name clothing (Great place to find old screen accurate stuff)) and found a pair in my size for $20! Not only were they cheap and sized well, BUT THEY WERE BRAND NAME. ACTUALL $180ish Ugg Boots.
So I promptly made calf extensions to bring these $h!t Kickers all the way up to my knee, started to glue vintage Beaver (May not be beaver, just what I was told) Fur strips to the boots.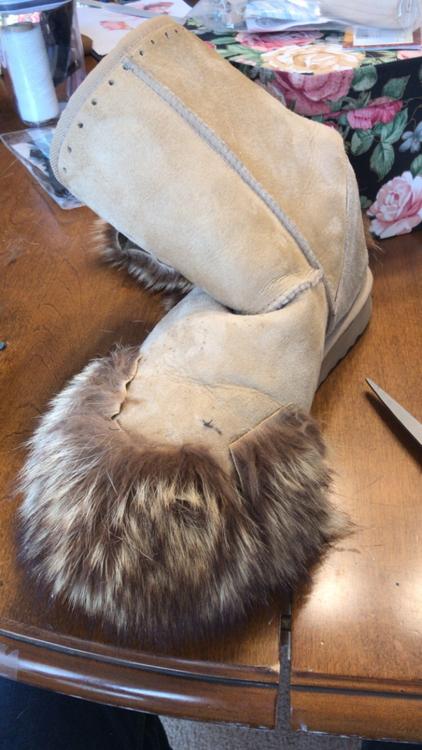 Until they came out something like this. The results were comical. Just SO huge, and so perfect for the sizing. The lower half of Tormund's boots are fabric wrapped, but that was a detail I omitted for time's sake, which I plan to rectify this week.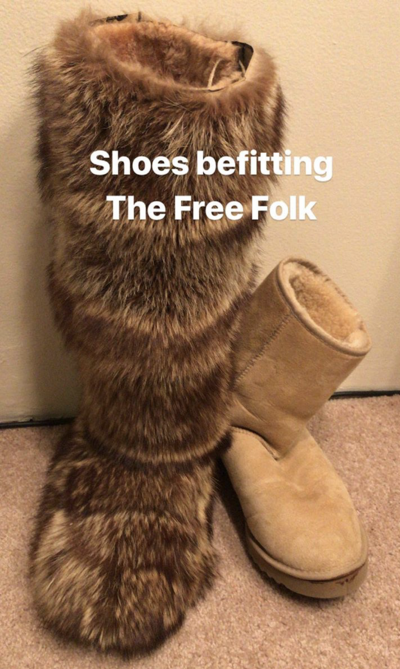 Next up was the sword and sheathe. To make the sword con safe, I made it out of 24 layers of 3mm sintra, with the intent to grind away excess. This worked SHOCKINGLY well.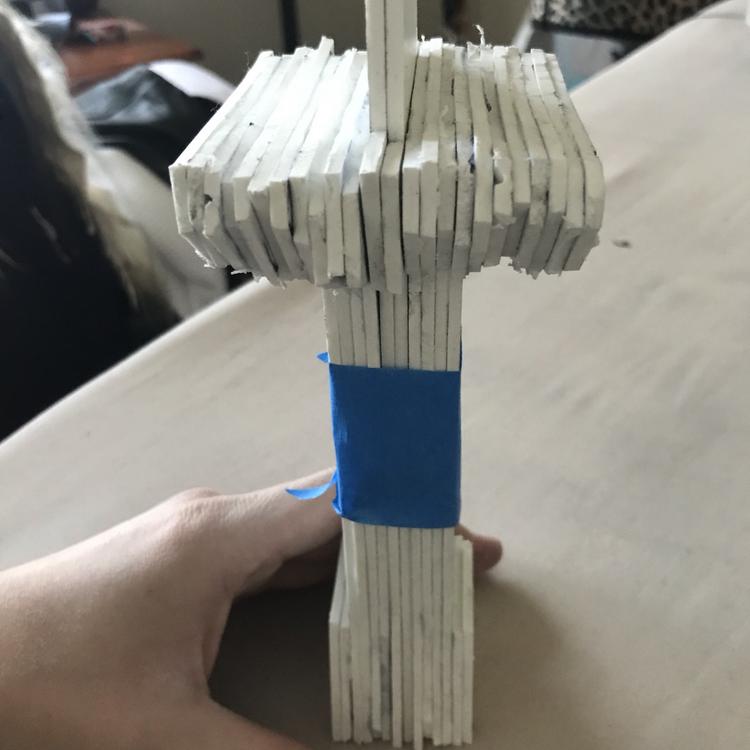 A lot of sanding and a quick coat of paint later annnnnd....
For no good reason, I don't have any photos of the finished hilt. It came out great, I'll take more photos of it later throughout the week
I made the sheathe out of a sintra box, and wrapped leather around it. I totally half-assed this process, and plan to make it more accurate this week.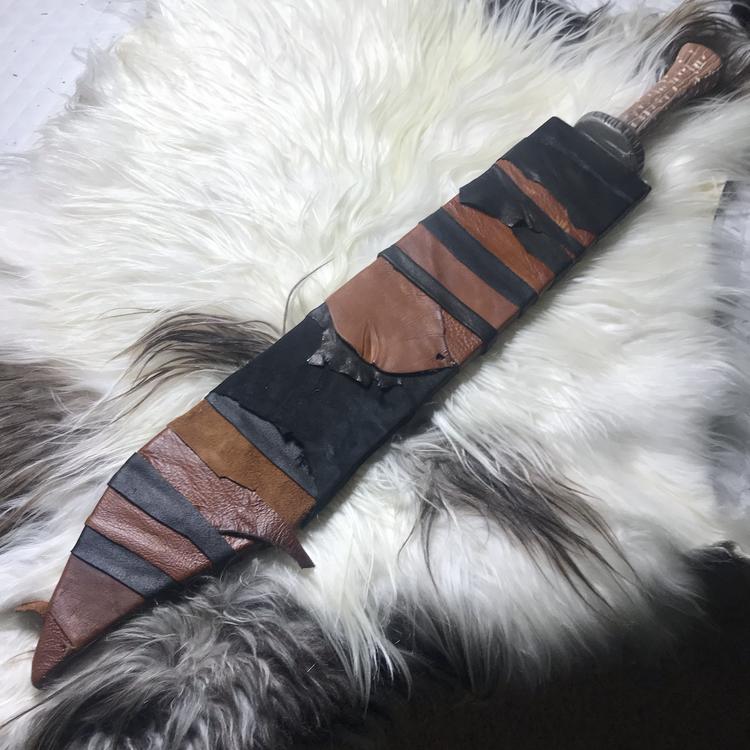 At this point in the build, I pretty much stopped taking progress pics for con crunch, but here was the "Finished," Product!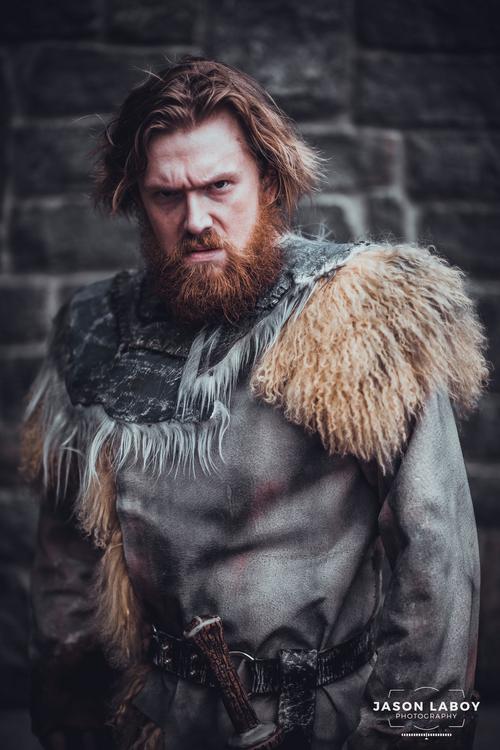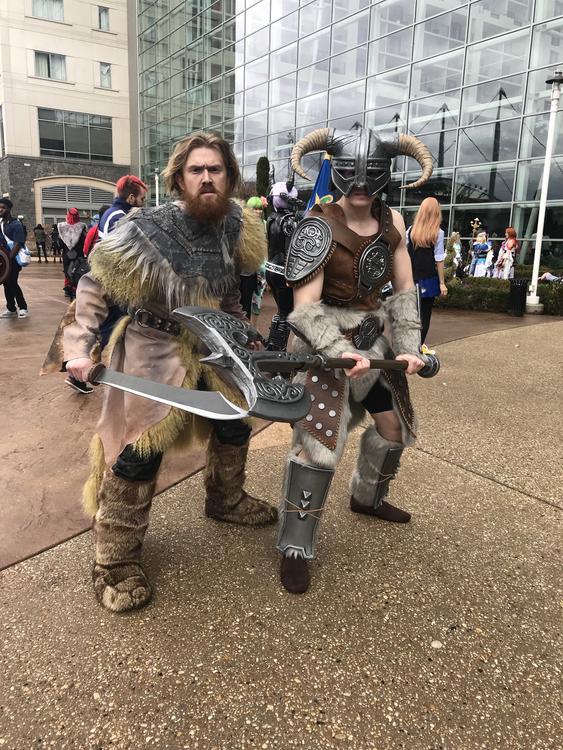 So over the course of the week, I hope to:
Finish my gloves
Color all my furs to be more representative of the show
Wrap my boots
Make my sheathe more accurate
Have Brienne of Tarth fall head over heels for me
Do all the accurate scarring/repairstitching on my leathers
Thank you for reading along!