Community Owner
Community Staff
I have been working on a Johnny Ringo costume for more than a decade and don't have a lot to show for it. I am in the process of closing a number of personal websites, one of which documented that process. In order to not lose information, I am posting those findings here. I am not sure it will necessarily help anyone, but who knows.
---
Catching Up
- Originally posted at playingforblood.com on December 04, 2007
Here I am, just starting and already I am behind. I have been actively researching Johnny Ringo's costume from the 1993 movie "Tombstone" for almost 2 months now, although I have had an interest in replicating the costumes from this movie since it came out. Shortly after the film's release, I bought a shoulder holster, and cross-draw holster as well as a pair of Ruger Old Model Vaquero's, with the intention of replicating Doc's Holiday's costume, but I never pursued it further. However, having recently moved to Arizona and having visited the town of Tombstone for the first time, my interest has been reignited.
My interest has shifted slightly from Doc Holliday to Johnny Ringo for a number of reasons. First, playing a "bad guy" is just more fun. Second, it would seem everyone and their brother seems to want to be Doc Holliday since Val Kilmer's performance stole every scene he was in. Finally, while Doc comes across more witty and clever, there appears to be something deeper and more intriguing in Michael Biehn's character... something that makes me feel that John Holliday and John Ringo aren't very different men, but fell into different circumstances. While Doc revels in his "bad boy" antics, Ringo appears to be one who has fallen from grace and found himself forced to consort with people who are socially and intellectually beneath him. While Ringo appears unremorseful, I can't help but feel a bit of pity for him and see him as a sympathetic character, ending up on the wrong side only through the toss of the dice.
As I said, I am already behind as I have found out much in the past two months and will post it as soon as I can get it somewhat organized.
---
Update: Considering this was posted on my own tiny personal blog, I was absolutely thrilled in 2010 when Joseph Porro, the Costume Designer for Tombstone, made a comment on the above post:
Text reads:
Go to josephporro.com and you will see original drawings from the movie including ringo's shirt pattern. As I said in other blogs most of these western clothing makers had nothing to do with this movie. I did purchase some pants from Wamaker for lesser characters. But they had nothing to do with the looks of Wyatt Earp, Doc Holiday and the Earp Brothers. I had all their clothes custom made.
---
Tombstone, AZ - Originally posted at playingforblood.com on December 15, 2007
In late October I visited Tombstone for the first time. While seeing that town and walking the streets famous people walked over 100 years ago was an awesome experience, I also was on the hunt for anything that would help me with my costume. Overall, I was very disappointed with the shops in Tombstone, although I guess I should have known that they were going to mainly pander to the typical tourist. There were dozens of black "preacher" hats and more Wah Maker frock coats than one would know what to do with... all the typical, mass-produced stuff. Until this time, I hadn't actually seen any of Wah Maker's products in person and I was very impressed with their quality. While the overall make seemed very similar to that of the movie costumes, it wasn't exact. Many websites claim that Wah Maker made the clothing for the movie, but they are nowhere to be found in the credits and the clothes they now offer are not the same as those seen in the movies. I suppose for the average fan who wants to be one of ten million cookie-cutter Wyatt Earps, this is ok, but I am not looking for clothes like this.
As I mentioned, I was a bit disappointed in the overly touristy nature of the shops in Tombstone, but I did come across three shops that are worth mentioning:
Oriental Saloon and Mercantile
This is THE Oriental, although it has changed quite a bit as has most of the town. There is an amazing painting (not for sale) by Buck Taylor. depicting a drunken Ringo, stumbling into the street, ready to confront Wyatt. The Oriental specializes in reproduction 1880's clothing and accessories. Period clothes are custom made/altered in the loft of the building, and sold on the main floor. At the Oriental, we met Phyliss, who not only sold us a complete replica period dress with all the needed accessories (the only thing they didn't have were the shoes), but also was very excited and willing to help search for material to help me recreate Ringo's suit and shirt. The important part was that Phyliss LISTENED to me and didn't try to tell me how it should be but took note of what I needed and that I was interested in having a movie costume reproduced and not necessarily a period piece made. I would highly recommend this shop to anyone who needs custom period clothing Below is contact info for the Oriental:
500 East Allen St.
Tombstone, AZ 85638
877.789.0080
Tombstone Old West Books
Tombstone Old West Books doesn't initially strike one as a place for costume pieces. However, it is owned by Geno D'Amberose who is a master leather smith. Geno is a true cowboy and more than willing to discuss the ins and outs of any leather made items. After a bit of discussion, he agreed to work with me on making Ringo's holster and belt (more on that later) and he also introduced me to Peter Sherayko's book Tombstone: The Guns and Gear. Below is contact info for Tombstone Old West Books:
401 Allen St.
Tombstone, AZ 85638
520.457.2252
Spur Western Wear
At first, Spur Western Wear might look like most of the other shops in Tombstone. They carry all the major lines of clothing and hats, but the difference is the owners! They were more than willing to help me, especially in regard to a hat. While most stores show you what they have, Sonya at SWW showed a genuine interest in helping me build EXACTLY what I wanted!
509E. Allen St.
Tombstone, Az 85638
520.457.9000
---
Hat Progress #1
- Originally posted at playingforblood.com on December 20, 2007
After sending numerous screencaptures of Ringo's hat from every possible angle to Sonja at Spur Western Wear, I finally got a recommendation and a first view of what will become my hat. First let me say that Sonja has been absolutely amazing to work with and is very patient with me even though I can sometimes be a bit overbearing and nitpicky. I couldn't be happier with her commitment to customer service. As anyone who has ever had to deal with hats might know, while the "X" of a hat used to denote the percentage beaver fur, there really is no longer a standard and it is hard to judge quality unless you know the company well. As I am a novice in the cowboy hat arena, I left the decision to Sonja and she chose an 8X (at my request to have an above standard quality hat) custom made hat from Beaver Brand Hats. The particular hat was order with an extra wide, unfinished brim and an unfinished crown so it could be shaped to our desire. The hat looks a bit silly right now as it is unformed, but it is a start. Now that I have had a chance to test fit it, I am sending it back to Spur Western Wear to be shaped!
---
Island Girl Clothes
- Originally posted at playingforblood.com on January 22, 2008
I am another step closer! Today I was contacted by Lhanie Dickson aka "Island Girl" of Island Girl Clothes, who was responsible for many of the clothing items used in Tombstone! I have been searching for "Island Girl" for several months now after reading about her in Peter Sherayko's Tombstone: The Guns and Gear but had turned up nothing worthwhile. Finally, I stumbled onto a page about Island Girl at Taylor Forearms and after a bit more research, was about to get in touch with Island Girl herself! I don't know what info she will have yet, but my hopes are very high!
---
Hits and Misses... mostly misses...
- Originally posted at playingforblood.com on January 24, 2008
Yesterday I received a tip that Stewarts Custom Boots from Tucson, AZ was responsible for making the boots used in Tombstone. I gave them a call and talked to Vic. What an incredibly nice guy! Vic was very willing to take the time to talk with me but sadly he confirmed that they didn't make boots for Tombstone. He said he believes some of the boots he made might have been reused in Tombstone, but he didn't directly make any for the movie. However, he informed me that the boots for Tombstone were rented out by Kings Western Wear in Studio City, CA. A friend followed up, only to find that Kings Western Wear had closed its doors in Dec…. ARGH! Just a few months too late! And now there is no telling where their inventory was sold…
Getting back to Vic and Stewarts Custom Boots, I found that they were responsible for making the boots for Unforgiven and Dances with Wolves. Vic was very nice and very knowledgeable. Even though he didn't make the boots for Tombstone, I talked to him about Ringo's boots. We discussed the details at length and due to his knowledge and interest, I might just have my boots made through him!
Stewarts Custom Boots
30 W. 28th Street
S. Tucson, AZ 85713
520.622.2706
stewartboots@qwest.net
Update: Again, in 2010 Joseph Porro, the Costume Designer for Tombstone, made a comment on the above post:
Text read:
No one in Arizona had anything to do with the boots on Tombstone. JR made them. He is now deceased. Another Liar!!!
---
Hat Progress #2
- Originally posted at playingforblood.com on March 08, 2008
My first hat came in yesterday from Spur Western Wear! Overall I am very impressed! For only having pics to work with, they were able to capture the essence of Ringo's look! As always, Sonja has been nothing but a pleasure to work with! I am a bit concerned about a couple of areas including the placement of the bend on the brim. I will have to look, but I feel it should be slightly more to the front and a little less to the wearer's right side. I feel like the way it currently is bent, makes it look like something from a swashbuckling pirate movie. Also, I think the crown might be just a bit too tall. I talked to Sonja and she pretty much agreed! I plan to take the hat with me to Wyatt Earp Days on Memorial Day Weekend and will have Sonja and her husband make the final corrections then!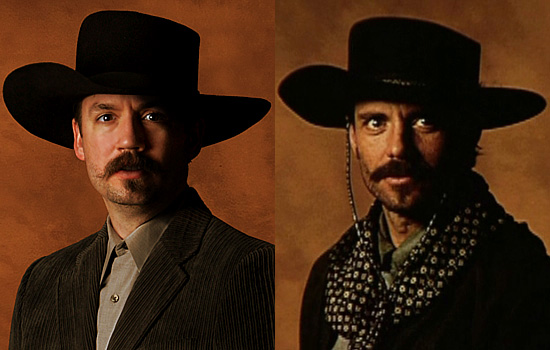 Note: It took me almost a year to grow that mustache!
---
Hats, Hats, and More Tombstone Hats
- Originally posted at playingforblood.com on April 21, 2008
Thanks to Dave Livingston, I now know that Tom Hirt made the hats for most of the cast of Tombstone. I talked with Tom and he is incredibly nice and down to earth. He explained that most of the hats in Tombstone were 50-75% beaver with Kurt Russell's being more due to the flat brim. He said that most of the cowboy hats were 50% beaver as they were considered "working" hats as opposed to "dress" hats.
Tom gave me a rough of $385 for the Ringo hat, minus the stampede strings and hatband. I am kicking myself for having a hat custom made but at the time I didn't know who the original maker was… so now it looks like I will have TWO Ringo hats!!! Tom asks for half the payment upfront and half upon completion which seems very fair. If you are interested in a hat from Tom, he is most easily reached via phone.
Tom Hurt Custom Hats
PO Box 209
Penrose, CO 81240
(719) 372-9399
info@tomhirt.com
www.tomhirt.com
---
Island Girl Clothes #2
- Originally posted at playingforblood.com on April 22, 2008
Well, I indeed was able to get in touch with Lhanie, aka Island Girl. Unfortunately, Lhanie didn't have a tremendous amount of information, but she was more than willing to share what info she did have. Below are select quotes from several emails that I hope might be interesting in regard to the original process by which Ringo's costume was created for Tombstone, as well as be helpful to creating a replica Ringo costume.
From Lhanie (edited and condensed by me):
"My involvement with the movie [started] with Peter Sherayko. He asked me to work with costumer designer Joseph Porro. Joseph [contracted me] to make shirts. I made about 300 shirts for them. I made the shirt for the character "Johnny Ringo". The dragon, Joseph had made to be embroidered. He sent me the bib part with the dragon and I made the shirt to complete the shirt. The 'cowboys' shirts are the ones I made. Joseph used them for all the actors except for the principal actors; (Kurt Russel, Val Kilmer, Sam Elliot, and Bill Paxton).
I didn't [make] the red sashes.
Since I moved [to the] East Coast, I left all my sewing business behind. I am no longer in business."
"I can tell you a little bit about the material on the red sash. We use "crepe" type material. Anything that is a little medium thickness with some texture will do. Of course, fire engine red. Any kind of tassels or upholstery tassels for the edges. 5 inches wide and from 2 1/2 to 3 yards long. There are different kinds of red sashes that they actually use in the movie.
Johnny Ringo's shirt is cotton, medium wt. Color is kinda bluish-gray. All shirts that I made for the cowboys are based on the same pattern shirt. We only [changed the] 'bib' style, including Johnny Ringo. The closest one that Joseph and I used [is also] the one that Michael Biehn wears on "Magnificent Seven". We used the same style bib-shirt."
---
Johnny Ringo Rig from Caravan West - Originally posted at playingforblood.com on May 12, 2008
Here is another article where I am going to be catching up on some events that happened almost 6 months ago that I have failed to get written for one reason or another….
Last fall I made a trip to Tombstone, AZ is mention in my Dec 15, 2007 blog entry. There I met
Geno D'Amberose
who introduced me to
Peter Sherayko
's book
Tombstone: The Guns and Gear
. This book has been out of print for quite some time but I began calling around to various places that had the book listed on the internet. One of the places I called was Caravan West Productions. A man answered and I asked if they had a copy of the book. He said they did not but asked me if he could help me himself as he wrote the book. This is how I was introduced to Peter Sherayko, the man who worked alongside Thell Reed to give Tombstone its authentic look and feel. Pete also played the role of Texas Jack Vermillion in Tombstone.
Pete and I talked for hours over the course of several phone conversations. He is very passionate about western history and also shared a great deal of info about Hollywood and how movies are made. He also gave me the lead that got me started searching for Island Girl who made the shirts for Tombstone. When I revealed to Pete that I was working on recreating a Johnny Ringo costume and asked if he could help in any way, he said he could indeed, and that he had several replicas of Ringo's rig in hand. As I was a little star-struck and very excited I purchased one right away for the price of $275… not bad at all, considering it came from the original source and considering I have paid a considerable amount more for rigs since then. Here is the rig I received:
Unfortunately, when the rig arrived I was very disappointed to see that though it did resemble Ringo's rig from the movie, it was certainly not a match. Considering it had come from the original source I was a bit shocked. The holster was relatively close, but the belt was not. I called Pete back and he explained that Robb Gang, the original creator of Ringo's belt was no longer in the business and he now had other skilled leather smiths who made his rigs. I explained my issues with the belt and Pete assure me we could get them straightened out. Unfortunately, after that, he hasn't returned my calls. It is disappointing to see someone do that, but what can you do? Sadly, I am selling this belt off because it is simply not what I am looking for and will have Will Ghormley recreate a Ringo rig for me. I hate to stray from the original source of the belt but with Will's talent and dedication, I am fully convinced that he will be able to provide me with a belt that I will be truly proud to wear as an accurate representation of the original belt worn by Michael Biehn. I will, of course, post pics and comparisons when I get my rig from Will.
Below is a picture of the original belt made by Robb Gang and seen in Tombstone compared to the replica belt I received from Caravan West.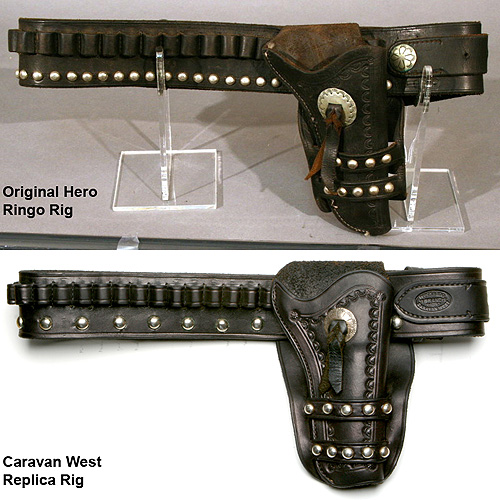 Update: This post received more responses than any other I had made with other customers, equally disappointed with the Caravan West version of the Ringo Rig.
---
Ringo Clothing Myths
- Originally posted at playingforblood.com on May 27, 2008
Having just come back from Wyatt Earp Days in Tombstone Arizona, I am confounded by a few myths that popped up repeatedly regarding Ringo's costume. I am going to tackle two of them here. I won't say much as pictures speak louder than words.
Myth #1: Ringo wore black pants… FALSE!
Contrary to popular belief neither Ringo's pants or jacket were black. They were a pinstriped GREY and were made from the same material. Please see the images below for proof of this.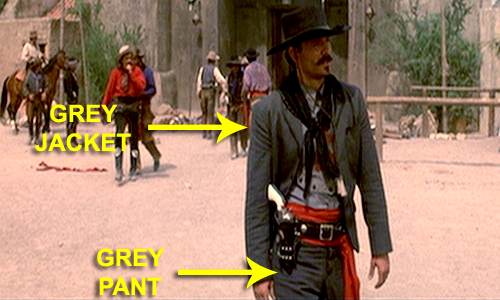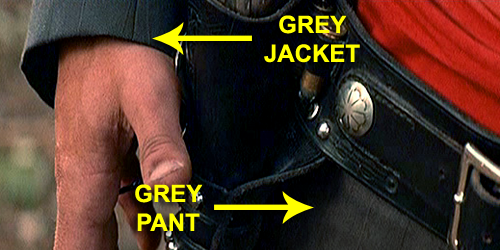 Myth #2: The Dragon on Ringo bib shirt has its head at the top of the bib and is highly detailed… FALSE!
Contrary to the belief of the few who even realize Ringo has a red dragon on his shirt, the dragon is one color, without great detail (mostly due to the single color of embroidery) and has the head at the bottom of the bib. The head at the top myth is most likely due to the discontinued Dragon Bib shirt, previously made by Wah-Maker, as seen below. Also, of note, Ringo's bib shirt is light grey, not black. Again, please see the images below for proof. Please note, the prototype dragon in the third image is only a work in progress. It is meant to show the general position and posture of the dragon but the details aren't accurate yet try this out.
---
Here be DRAGONS!
- Originally posted at playingforblood.com on June 18, 2008
Today, a wonderful and unexpected surprise fell into my lap! Island Girl wrote me out of the blue and sent me two AMAZING images, one which clearly shows the dragon on Ringo's shirt! For me, this is VERY exciting because there are no clear shots of the dragon in the movie! It is funny that I recently pointed out that most people who have replicated the dragon have done so incorrectly, as the images from Island Girl completely verify this.
Island Girl also provided the following info: "Ringo's shirt is made of cotton, medium weight in bluish grey, not denim. Most of the shirts are made of flannel and calico except Ringo's."
I believe the first image to be a prototype shirt as there are subtle differences between it and the final shirt seen in the film. However, it is a great reference and a place to start!
Note that on the final shirt, the eyes, flames, spine scales, and tail are an orange-yellow, while the main body is red.
An enormously huge thanks goes out to Lhanie, aka Island Girl, for making these images available! I hope to make a template of the dragon and will make it available here once it is complete.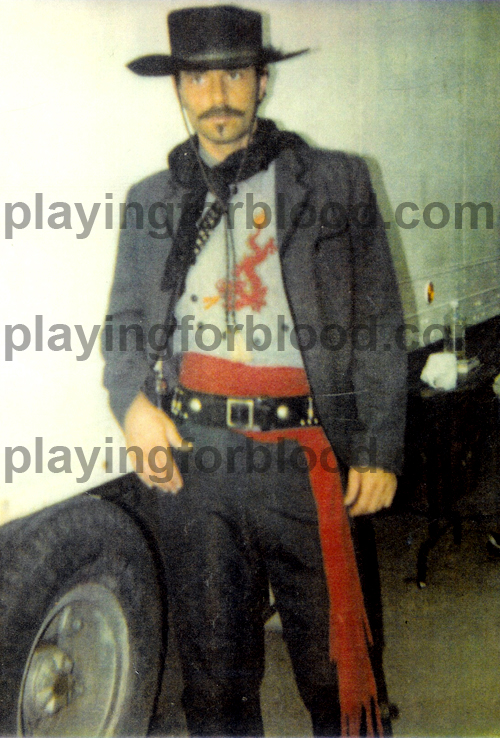 ---
Tom Hirt Ringo Hat has Arrived!
- Originally posted at playingforblood.com on June 19, 2008
HURRAY!!!! Anyone who has been following this blog knows that I had a custom Ringo hat made by Spur Western Wear. While SWW did an amazing job replicating the hat, during the process I found out that Tom Hirt created the originals. I contacted Tom in Feb and arranged to purchase a hat. The cost was $430 shipped, quite a bit more than I paid for my hat from SWW but when the hat finally arrived, it was worth every penny. I can't fully articulate the difference between the two hats except to say the SWW hat looked great but was never quite comfortable while the hat from Tom Hirt came out of the box extremely comfortable and when you look at it you just have to say to yourself "that is it." I have to say that getting the hat took a bit more time than expected and sometimes Tom was a bit difficult to get in touch with, but he was extremely kind and more than willing to share stories and information about the hats and some of his time on set.
According to Tom, there were 5 hats made for Ringo. If you look carefully throughout the movie you can see subtle variations in the lopsided aspects of the crown as well as fairly obvious variations in the brim curl.
Tom explained that it is difficult to perfectly match such things and even on my replica hat you can see some differences but they are pretty subtle.
Overall, I couldn't be more pleased. The hat from Tom will be my final Ringo hat as it is just amazingly comfortable, fits well, and has just the right look to it. If you would like your own hat from Tom, you can visit his website: tomhirt.com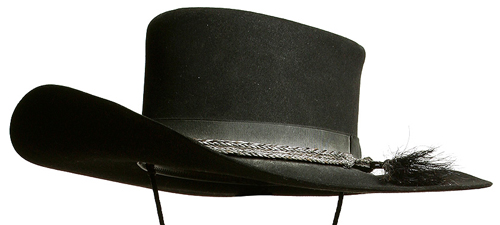 ---
Johnny Ringo Stampede Strings
- Originally posted at playingforblood.com on June 24, 2008
While my hat from Tom Hirt was almost perfect (and should be as he created the originals) the one area that was slightly lacking was the stampede strings. Tom doesn't make those himself but buys them from another company. The strings I received on my hat were similar but not the same as what Ringo is seen wearing in the movie. The key elements to the strings seen in the movie are that they are black braided leather (a thick weave) with two small keepers (the part that holds the two strings together) and two blond horsehair tassels that are attached to the braided leather by a black ball with a white stripe. Ringo's original strings are quite long, approx 24 inches visit the website. I won't go over the details of the strings I received with my hat from tom Hirt, and only will note, unlike the rest of the hat, which was a great match, the strings didn't match.
It took a bit of searching but I finally found exactly what I was looking for: M&F Western Products Braided Leather Stampede Strings. The color to purchase is Black (they come with the blond tassels). Only a few outlets sell them. I bought mine from Trixie's Western Outfitters. The staff was very nice, shipping was fast and the total cost was very reasonable. Getting these strings in really do finish my hat off perfectly and I would highly recommend them as I believe they are the exact style of string seen in the movie.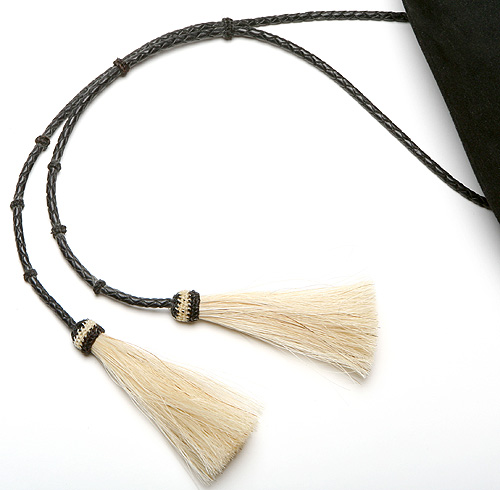 ---
Ultimate Johnny Ringo Rig
- Originally posted at playingforblood.com on September 11, 2008
For me, it just doesn't get much better than this.
Last fall I was SO excited to get in direct contact with Peter Sherayko and had the opportunity to purchase one of his replica Johnny Ringo rigs. However, I was really disappointed when it arrived as it simply wasn't what I wanted. It looked like the rig Ringo wears but there were a lot of easily identifiable differences. Being as picky as I am, I was unsatisfied and after expressing my dissatisfaction with Peter, he stopped taking my calls.
Well, today I have something new to report! After working very closely with Will Ghormley, I now have an all-new Johnny Ringo rig that I am absolutely THRILLED with! Thanks to Dave Livingston's help we were able to get some really good detail shots of the original and Will was willing to put every single detail into the rig that I wanted, even the screwups and errors.
I am sure others will copy this now that Will and I are making high res photos available, but let it be known here that Will did it first and Will did it right. If you are interested in getting one of the amazing rigs from Will, just go to
Will Ghormley Maker
.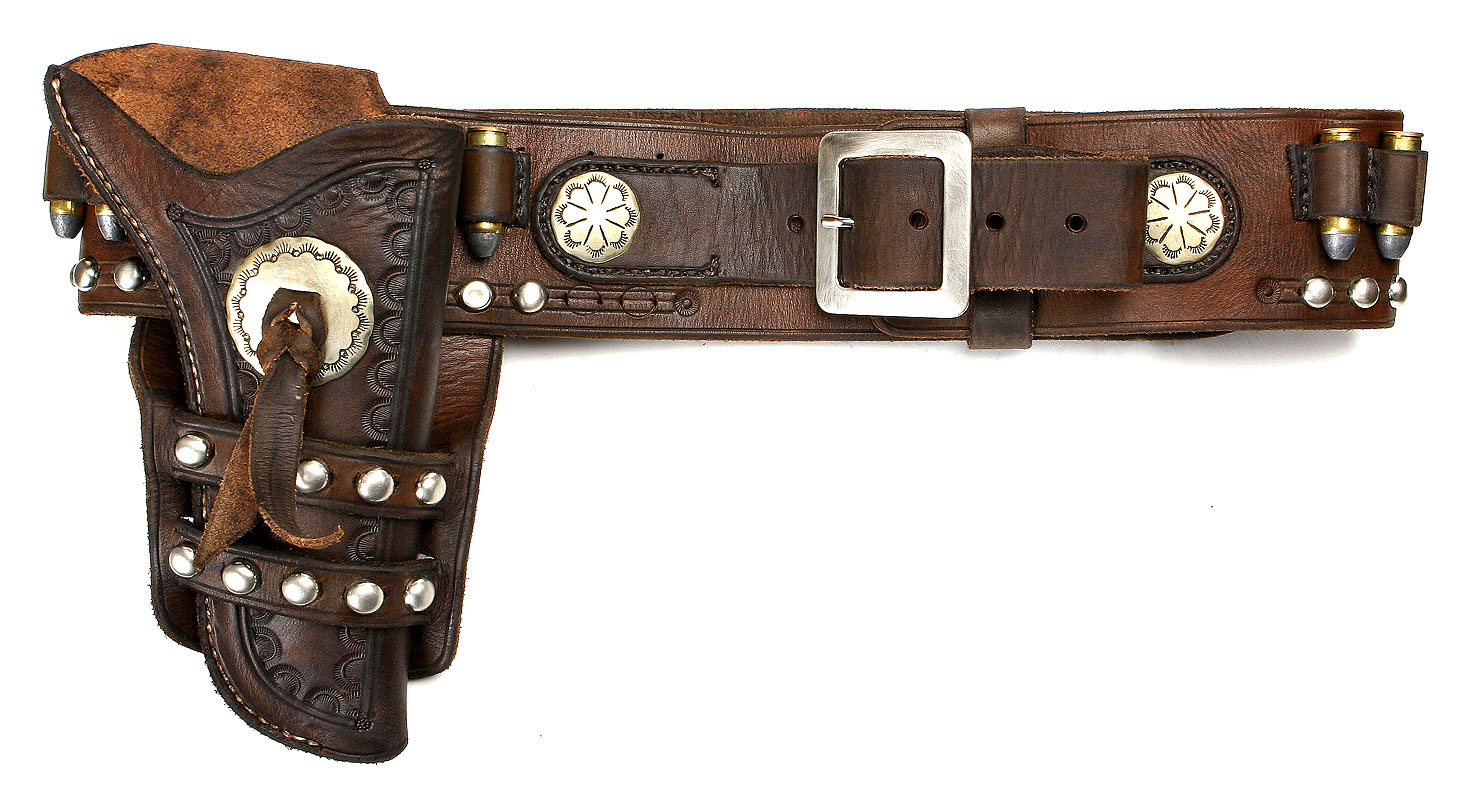 ---
There you have it.