PredatrHuntr was asking about how to find
Sculpey Bake & Bend clay
in just black, for use as quills. From what I can tell, Sculpey just makes the sampler packs of six 1-ounce bars or eight 2-ounce bars. But, I did a little experimenting this evening making some quills, and I have some results.
My mask had a lot of quills that had broken off at the base, probably from having the biohelmet crammed onto them so tight. And, I just happened to have a set of the one-ounce Bake & Bend clay samplers. Here's what I started off with: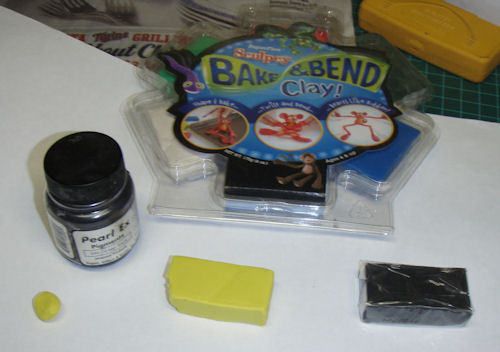 The jar to the left is
Jacquard Pearl Ex carbon black pigment
that I got at Blick Art. It's a solid black powder that makes a mess if you aren't careful. I extruded the clay with the
Kemper Klay Gun
, which makes a nice round clay tube. I rolled the end of each piece to make it into a point.
I did a little experimenting with mixing the pigment into the Sculpey, as well as coating the outside of the quills in the powdered pigment after rolling them into form. Here's the result, just prior to baking. Note my blackened fingers.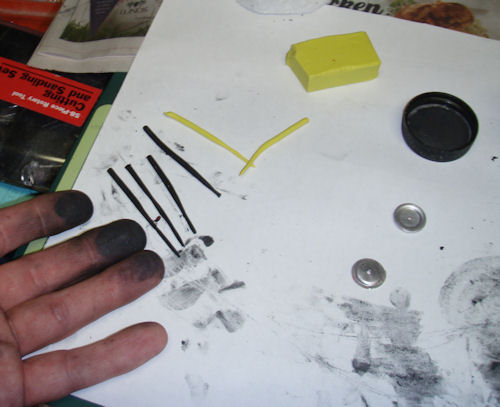 I baked them in my toaster oven for about 6 or 7 minutes at about 285 degrees. They say 15 minutes for every 1/4 inch of thickness, but these are pretty thin, like less than 1/8 inch. The result turned out pretty good: They were flexible, and the ones that I had pigmented looked like they were black to begin with.
I also experimented with some black liquid dye mixed into the yellow clay, but that got a little messy, and I still had to roll them in the carbon black pigment anyway. I also made some quills with the black clay, and I found that it was easier to roll them out smoothly if I rolled them in the black pigment. The powder acts as some kind of mold release, apparently.
Here's the result, both with the clay that was originally yellow and with the black clay: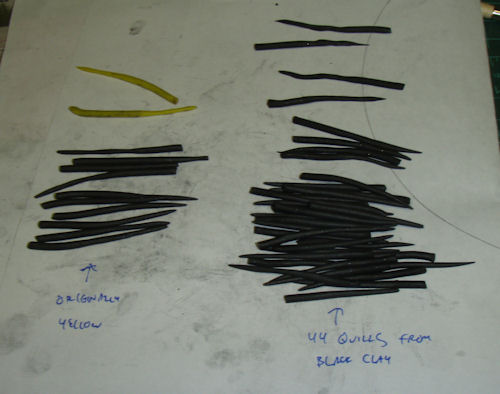 I got 44 quills out of 1/2 ounce of black clay, so using just the black bar from the set would probably give enough for the whole mask. If you're willing to mix some black pigment into your clay, though, you can use all of the clay in the pack.
Here's the end result, though I didn't fill in every single hole. I guess I made my quills a little bit thicker than the ones that I originally bought, but they don't look too horribly large.