Couldn't find an appropriate thread to add this to so it's a fresh one I'm afraid.
I've had a slight resurgence of interest in prop collecting - inspired largely by the Tomenosuke blaster (pictured below) but especially the
Blade Runner 2049
movie.
Having sold off a fair few 'Gucci' items in recent years, like the 2019 JW Whiskey bottle [sigh], my current display looks a little depleted but it'll build again all in good time (yes, the Kyriazi tin is screen accurate!).
The main reason for this thread is to show the
LED screen
I've installed above the 'collection' which I feel sets it off nicely with a rotating set of 'neon' Blade Runner themed images suspended above; artwork, screen grabs etc. There's a few pics of props too which fills 'holes' in the collection, albeit digitally.
For those interested, this is an LG 32LK6100 (32") which has a slightly unusual, bulky bezel design that I feel mimics certain aesthetics in 2049 (e.g. the Denabase) - and the franchise as a whole. It even reminds me somewhat of the Off World blimp's display in 2019.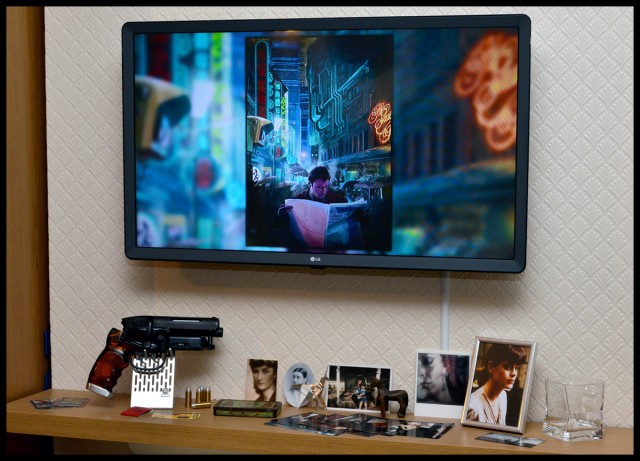 Some of the 170 or so curated images on rotation... all hail and props to the original artists.
Has anyone else done something similar?
Last edited: