Master Member
RPF PREMIUM MEMBER
Less germane to the
Tolstoy
, but brief sidebar. One of them...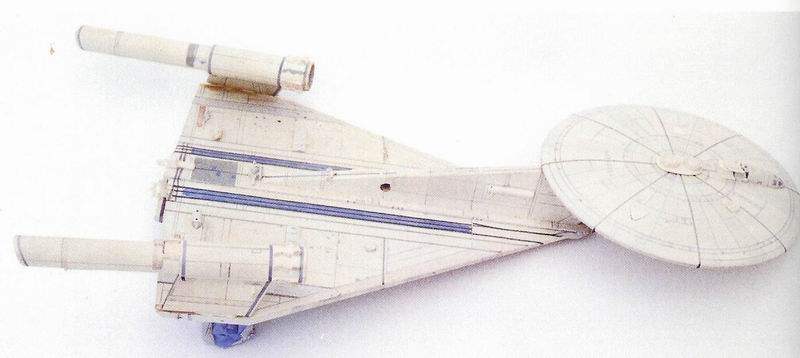 ...is in Spacedock in TSFS (to the left of the
Enterprise
, on the far side of the docking pylon):
So I treat that as its nearly-canon appearance, and also an indicator of what era tech it has. With a little judicious cleanup, it's a good contender for
Horizon
or
Archon
or
Baton Rouge
or
Valley Forge
classes.
The second one...
...is only actually seen onscreen in "Unification", which used alternate composites from the same shooting session as "BoBW":
I have personally turned it into my contender for the
Apollo
class, which I have being commissioned in a bit of a hurry after the Tomed Incident, when it was assumed that was a precursor to increased aggressiveness from the Romulans. Very little cleanup, and some
Ambassador
style nacelle endcaps, and it's good to go.
So both, since they've appeared onscreen -- albeit blurry and at a distance -- I treat as very close to their final appearance. As for the actual finished
Enterprise
in the actual finished movie? I like to think wiser heads would have prevailed and gone with something like the second study model, above, but adjusted to a bit more TOS-y appearance -- red nacelle domes, a more cylindrical secondary hull bulking out the wedge, the bridge back at center top (with that saucer blister remaining a battle bridge or similar). I've seen some fandom conjecture, but it's all over the place.