Sr Member
RPF PREMIUM MEMBER
This project is to build a "studio scale" model of Joe Johnston's original three-engine version of the Rebel Blockade Runner from
Star Wars
. It may have been considered as the deign for the Pirate Ship at that point, I'm not really sure, but I'm going to call it the Blockade Runner for this project.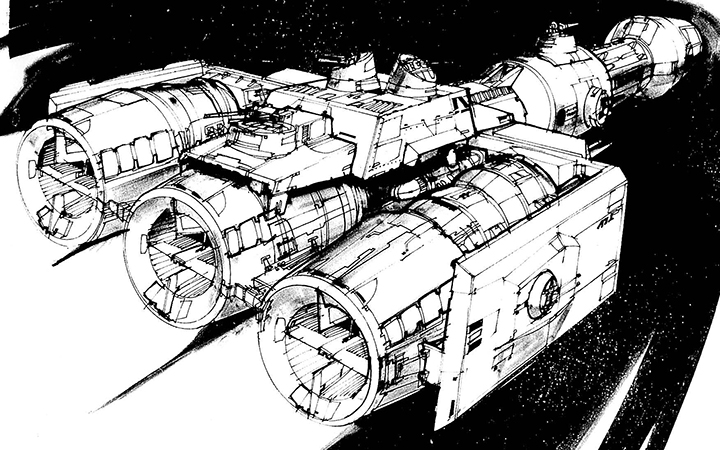 I'm approaching the project as if I were working in the model shop, was handed the sketch and told "make it about 32 inches long". This seems like a decent size, big enough to detail but not so big as to become unwieldy. It's also, coincidentally, the size of the Millennium Falcon model built for
Empire
.
The model will be built using a hybrid of technologies, designed using 3D modeling software and fabricated from plexiglass and styrene as were the original models, but also using 3D printing where appropriate. Details will be interpreted from the original sketch was well as the actual Blockade Runner built for the film but I will also feel free to change up or add cool things as the model evolves. That's half the fun of doing this kind of project. Nernie kit parts will, for the most part, be drawn from the same vintage kits used by the ILM model makers back in the day.
My goal is to get the model done in time for this Spring's So Cal RPF Prop Party, an ambitious deadline, to say the least!
The first step was to model the overall structure of the Blockade Runner, scale it to the desired length and resize the major components to fit available sizes of plexiglas and Plastruct tubing. The computer model will get more details added as the project moves forward, especially to those sections which will be 3D printed.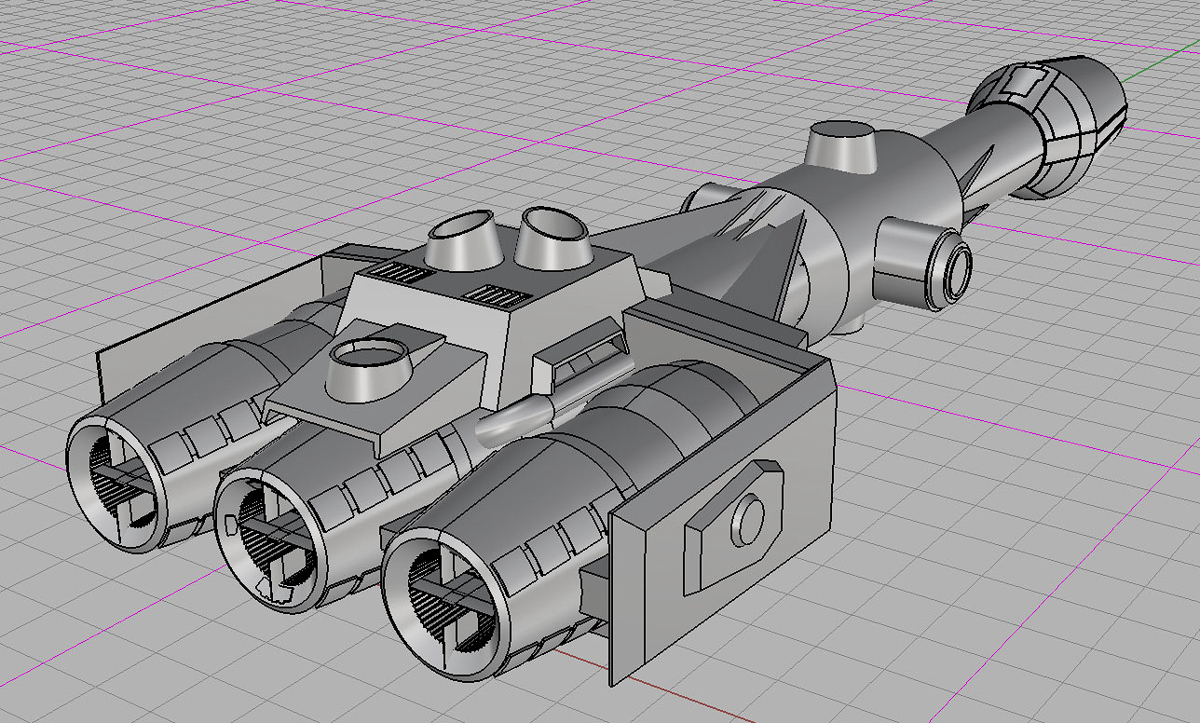 Construction began by "laying the keel" as it were. The main structural hull is comprised of 2 1/4" and 2 1/2" diameter plexiglas tubing. The trapazoidal bulkhead plate to which the three engines attach was milled from plexiglas sheet using a CNC router. I've made the bulkhead hollow to allow for wiring to light up the engines.
Last edited: