Hello Everyone,
This is a project that I have been working on for quite a while now. The intent was to compile all the researched data on the Doctor's Sonic Screwdriver from the RTD era, from all the various forums, my own private research, as well as research with other friends and collectors. It seemed to me like many fans were still stuck on outdated information because of all the forums threads across one forum alone, let alone multiple forums with multiple threads, had all become too much to wade through for the good data to get a true view of the history or known facts. So I did some digging of my own, lots of screen capping of very episode and digging for BTS photos and official BBC photos, I spoke with the prop makers where I could, and even the sale of the Grey Aztec Body to Brian Uiga in 2018 helped a lot of pieces and facts fall right into place. So a lot of thanks goes out to Brian!
I took all the known facts, threw in my own research or some unknown or lesser known facts, laid some other myths to rest and added Brian's Aztec body into the mix to have one resource for all the up to date information on the Doctor's RTD Era Sonic Screwdriver. I've wanted to share my research for quite a while but the question was always "where?", as I didn't want facts to get lost in the mix or not even read because someone doesn't visit that particular forum, so I chose to make a downloadable PDF file, dated March 2019, so that if any new facts come to light about these props after that date, then we at least have one place to look for any information prior to that date.
That said, I have chosen to release it on my old site, where I used to do a weekly PodKast (one is currently active about this write-up as well) at BeyondKasterborous.com
The file itself is downloadable straight from this link. I hope you all find it to be helpful.
EDIT May 15, 2021: This link will take you to the most up to date file of the PDF. It was last updated in August 2020, so any previously dated PDFs should be ignored.
http://kasterborous.co.uk/rtd-era-sonic-screwdriver-history-free-ebook/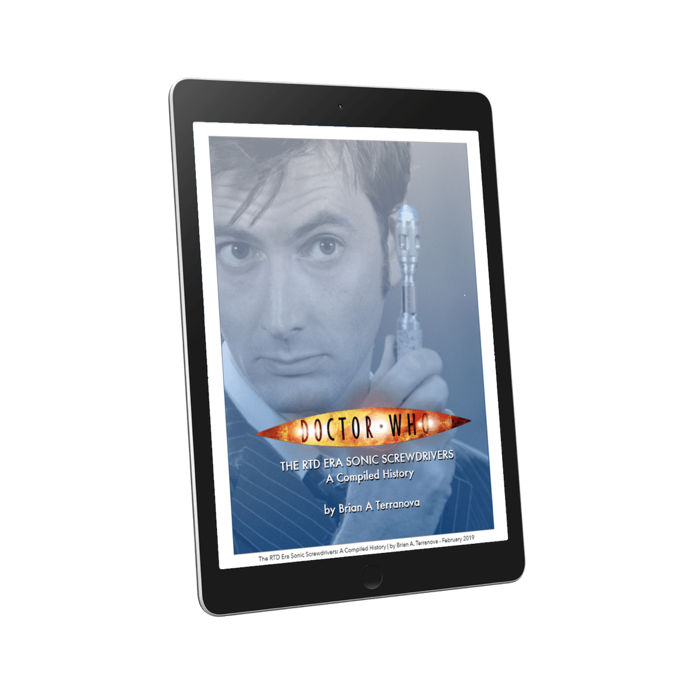 Last edited: