Alright, so I've been collecting bits for this for a few months, and enough things are coming together now that it's time to start working on it in earnest.
The Rook of Hope County, from Far Cry 5
While you don't actually wear the Hope County Sheriff's uniform for more than the game's intro, in my mind, he wears the thing the whole way through (might as well, with how quick the enemies can ID Rook as a Deputy, regardless of what he's wearing
)
Anyhow, the visual references that I'm working from.
The character select screen shows the rook with a holster with some sort of retention (possibly just an old leather holster with a strap) and some other minimalist police gear on the opposite hip.
And, What I've got so far.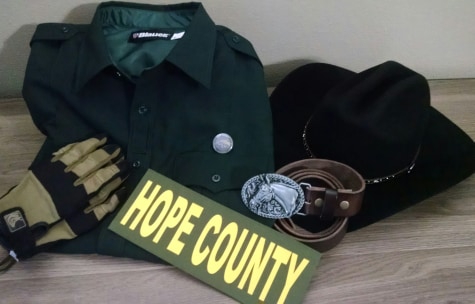 Green Deputy top, leather belt with horse head buckle (a surprisingly close buckle, at that), Hope County Cougars "team" button, some
relatively
uncommon tactical gloves, a hope county velcro strip for a vest if I want (will probably get replaced, I'm not thrilled with the quality) and a big black scary cowboy hat, because,
why not
?
I may try and make a "two hole" wider belt at some point, but for now, the belt I have is fantastic for the job.
I also have some of the hope county patches coming some time in April (the badge in the picture was not available for sale).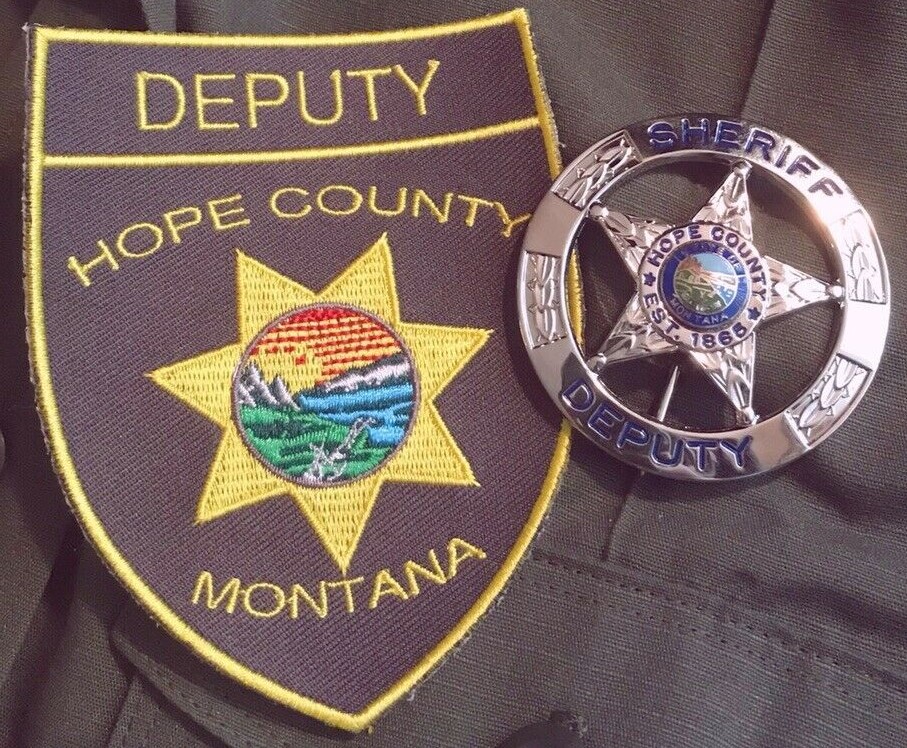 Now, as mentioned, the badge wasn't available to buy, but between the above picture, and my in game references, I'll be able to 3D model up a version I'll be more than happy with.
And I also plan to have a glorious and majestic SPAS-12 as a primary weapon that can be carried with the costume.
I've gotten a line on a few 3D models to print out. the more "plain" one, is actually what the one in game looks like (no stock, with an option for a sight).


any shotgun shells on the gun itself, or on a chest rig will be the blue cased "slug" rounds, because who really uses the other ones? Maybe an incendiary or two just for fun
I plan to have a side arm also (for when carting the shotgun around doesn't seem practical or fun). I'll either go with a large .44 style revolver from the game, or possibly one of the kitted out desert eagles available in game. I haven't decided. I'm also thinking some police belt pouches (cuffs, etc) on the leather belt (as shown in the character select screen).
Additional gear I'd need to get is a dedicated pair of blue jeans to weather along with the shirt. Possibly a pair of "plain" looking boots to weather up. Possibly a black or OD green plate carrier of some sort, if I can find one the right style that I'm looking for (all molle on the front) that actually fits. Sadly, all the ones I've come across are all labeled as fitting 2XL, and don't even fit my XL frame without making me wheeze (I know, body armor bought from amazon.com isn't high quality? who'd have guessed?). I'm also going to make the "ROOK" name badge as a removable "pin" on type of name tag, just for practical purposes, in case I ever want to do up a costume as Sheriff Whitehorse, I don't have to drop a ton of cash on another darn shirt.
I may also opt for knee pads of some sort. I have a pair of arc'teryx pads that are
amazin
g, and can be weathered just fine to make them look heavily used.
Or I may go for something more "all purpose" looking.
Alterations I'll need to make, are to get black epaulets and pocket flaps on the uniform top. I could replace them (a lot of work in my mind). I could sew a thin black layer of cloth over them (simpler, and less likely to completely ruin the shirt). Or, what I'll probably do, is to go look for a high quality cloth/clothing paint, and just paint them black. Any recommendation on a brand and type would be awesome.
I'm also debating an older style gas mask that I would gut the filter out of (so I can breath), as a nod to the enemies in the game having an eventual proclivity for poison gasses, and to help further differentiate me at a distance from an actual Sheriff's Deputy (when "dressed down" without any armor or shotgun).
Last edited: